Bar Refaeli, former supermodel of Victoria's Secret is the proud owner of "Hottest Woman Alive" title for 2012. All the credit goes to her athletic looks and hearty sex appeal that continue to grab the attention of countless fanatics. Without any doubt, this 5 ft 8.5-inch sensation is calisthenics fanatic, who tag on a healthy diet plan and daily workout. The beauty secret of Bar is her healthy lifestyle that is a dream of every health lover. Boxing, cardio, martial arts, strength trains and jump rope form a significant part of Refaeli's daily workout plan. Regardless of anxiety to be thin for modeling, Bar Refaeli aims to stay fit not size zero. This Israeli model is among the few, who boast of an appealing athletic figure and has autonomy to eat anything that she aspires to have. However, Refaeli works hard to burn extra calories even after having an additional bite.
What Makes Bar Refaeli Look Out Of The World?
Bar do not diet and starve in order to attribute her emaciated frame but hold enough confidence to abide by her fitness approach. Most of the fans do not accustom that successful models rarely speak of their personal approach and fitness issues. What keeps utmost significance in the life of a supermodel is losing weight while making an allowance for an overall health. For Bar Refaeli, it is the adversary of vogue diet plans and ideas similar to that. This Israeli model loves to eat healthy that can cope with essential nutrient required by her body. Besides this, Bar finds her personal tips more faithful to maintain her body in good shape. In spite of sticking to diet, Refaeli follow daily workout to look toned, especially when she has to attend fashion shoot.
Krav Maga Inspired Workout of Bar Refaeli
This Israeli stunner rocks the fashion world and looks amazing on magazine covers. Recently, Bar Refaeli came up with most sought-after and practiced martial arts of Israel known as "Krav Maga". This sexy supermodel looks phenomenal and flaunting with trademark curves. Krav Maga is an electric unarmed combat system created in Israel to serve the upcoming expectations of health-conscious people. This practice comprises wrestling, striking techniques and grappling that are known worldwide for its brutal and effective counter-attacks. Krav Maga is based on the philosophy that emphasizes threat neutralization and offensive aggression. Israel army used this practice of defense against common chokes, bear hugs, weapons, and grabs.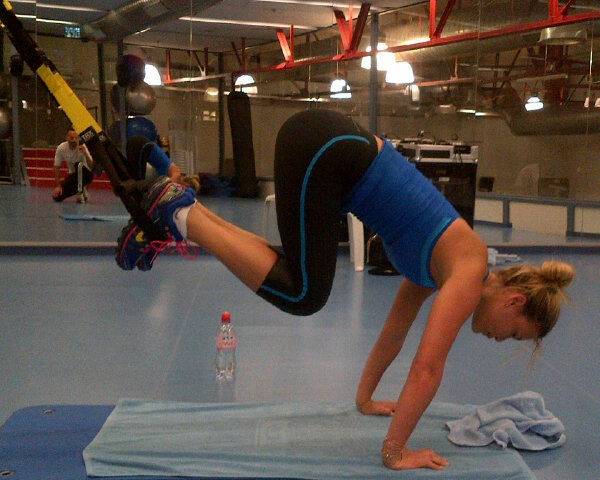 Bar Refaeli Diet Plan and Exercise
This supermodel cracks down on resistance training to treat the odd and leads to a thriving upshot. It is not essential for supermodels to look for a perfect diet plan that can bring about a great change in shape and total mass. To reduce 3 to 5 pounds, Bar follows a strict diet, eat a small portion and eliminate oil, nuts, caffeine, alcohol, sugar, and salt. However, Refaeli essentially goes for a well-balanced diet including juice, shrimp, lean beef, coffee, diet coke, tuna, cheese, yogurt, shrimp, chicken, lentils, celery, snow peas, salad greens, blueberries, banana, strawberries, almonds, and olives.
It is always worthy for models to go for yoga or Pilates but, but Bar Refaeli find it quite boring and unsuitable for her persona. TRX is the main workout that Bar Refaeli follows to work with body weight and reduce extra calories. Models prefer doing exercises through instructional video and classes three to four times a week that contributes to a healthy lifestyle. Other than typical home-based workouts, Bar loves to hike and take stairs in spite of elevator. Reverse crunch requires you to lie on the back while placing hands behind the head and raising your legs into the air by the time your knees reach to 90 degrees. This will further require you to curl hips away from the floor and press on legs towards the ceiling. Repetition of this movement for 12-16 times can lead to a toned and tempting athletic body.