Though the popularity of weightlifting belts has increased, there is still a debate on whether it is good or bad for CrossFit and other exercises. The truth is that if it is used properly, then it can provide lots of benefits. Weightlifting is very risky for health; it exerts a lot of pressure on your back. A good belt can support your back and reduce the chance of injuries. It also helps to make progress by letting you push or pull more weight. Particularly, if you have a flaccid midsection in the deadlift or squat, then a belt can support you well and improve your lifting technique as well. A weightlifting belt can assist your core during lifts and builds stronger back muscles and abs. 
When purchasing a weight belt, you should consider several options. You will find belts made of either fabric or leather. You should weigh the pros and cons of both to find out which one will be more durable. The belt closure is also an important factor to consider as the belt must be easy to put on and take off. You can find a clamp and buckle belt or a Velcro belt. Some other factors that should be taken into consideration are the price, size, width, and thickness. Considering all these factors, we have picked up the Bear Komplex Weightlifting Belt for review. Here, you will find out all the good things about this belt and learn why it is better than the other belts available in the market. 
Design
This belt looks stylish and is found in purple, plain black, and black with star patterns. It is designed to support you during Squats, Olympic lifts, Power Cleans, Deadlifts, and other movements. It has a steel roller buckle that keeps the belt in place even during intense exercise sessions. The belt is lightweight which makes it perfect for wearing during WODs. The belt is wider in front which helps to brace the abdominals. 
It has an adjustable Velcro that allows the belt to be tightened or loosened according to your preference and helps to maintain the maximum comfort and support. The steel roller buckle lets the belt stay in place even during intense exercises. It is very convenient to put in and take out the belt which allows you to quickly move between movements. The belt is available in both 4 inches and 6 inches wide which gives you the option to choose one according to your need. 
Build Quality
Bear Komplex has earned a good name for making quality fitness products and it has been the official sponsor of the Reebok CrossFit Games. This weightlifting belt is durable and made from genuine leather. It features high-quality stitching which prevents it from breaking, tearing or stretching like the other belts. When you will wear this belt, you will feel very comfortable. You will love the supportive grasp and it will help to boost up your confidence. 
Size
You will find this belt in sizes from X-Small to X-Large. The X-small size measures less than 27 inches and the largest one measures up to 43 inches. If you are in-between sizes, then it is recommended that you choose the smaller size for a tight fit. 
Comfort
This belt provides good lumbar support. It is wide and is padded so you will feel very comfortable even on the bare skin. You will be able to put it in your gym bag without worrying about any foul smell as it has moisture-wicking technology that keeps it dry always. The design and Velcro mechanism makes it super comfortable to wear. The belt will support all kinds of techniques without hurting the midriff. Its adjustable sizing makes it easy to wear and take out for multiple exercises.
Effectiveness
This belt can reduce the stress on your back as it braces and stabilizes the spine ensuring a safe form. You will be able to achieve balance and strength by using this belt. The weightlifting belt from Bear Komplex can improve your performance and help you to lift more weights. It can also prevent injuries and back stress. This belt is perfect for heavyweights. It is versatile and you will be able to do Powerlifting, Strength Training, Cross Training, Squats, and other movements as well.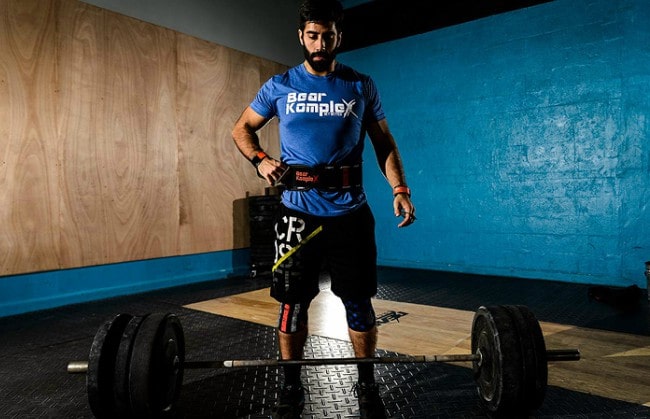 Price
You will get this belt for $29.98 to $44.99 depending on the size and the seller. The price is a bit high compared to the other brands. However, its unique features and benefits make it a top choice among the weightlifters.
Pros
It comes in an attractive black and purple color. You can pick a star-patterned belt as well. 

It is made of high-quality leather which makes it durable.

The steel roller buckle keeps the belt in place and during exercises.

It is light and so you can wear it during WODs.

It has reinforcement stitching on every edge that prevents stretching. 

The Velcro and steel roller buckle keep the midriff region tight without imposing any restrictions on the movement. 

It is great for those suffering from back ailments as it can reduce the strain on your back.

It is padded to provide extra comfort when you lift weights. 

It is versatile and ideal for different types of exercises. 

It is easily adjustable so you can get a snug fit. 

It provides great support and stability during weightlifting. 

You get great customer support.

Cons
The belt may be too wide for users having a short torso.

This belt is not suitable for advanced weight lifters.

It is not suitable for weights more than 300 lbs.

It may bend on the sides with repeated usage.
Final Verdict
When you lift heavy weights, it exerts a lot of abdominal pressure. So, it is necessary to wear a proper belt to reduce the level of stress. A good belt can increase your lifts up to 40% and reduce the chance of injuries as well. This belt from Bear Komplex is made of genuine leather which makes it strong and durable. You can get it in different sizes and colors. Unlike other belts, it doesn't produce any bad odor after usage. Its moisture-wicking technology helps to keep it fresh even when you sweat due to intense exercise.
The Bear Komplex belt makes weightlifting easy no matter what technique you perform. You can do deadlifts, power cleans, squats, cross-fitness training, and other exercises with it comfortably. It can be used as a back support as well during the day to day activities like golfing or bowling. It has a Velcro closure that is easy to adjust, so you can fit the belt perfectly. This brand provides outstanding customer service, so if there is an issue with the belt, you can easily contact them.
If you are looking for a leather belt that will help you in lifting weights and give full support to your back, then you should buy this belt. It has a perfect weight, width, and thickness needed to provide the right support to your body.
Buy Bear Komplex 6″ Weightlifting Belt
Buy Bear Komplex 4″ Weightlifting Belt