Victoria's Secret Angel since 2008, Namibian model Behati Prinsloo really likes swimming. She used to swim a lot during her school time and now also, whenever she finds a pool or beach, she indulges herself to enjoy the pleasure of swimming. She says that beach is the place where she feels like home. Hence, she is fit from her school days itself and she just needs to maintain her 5'10" tall frame. She is expressively doing that. Let's see how.
Behati Prinsloo Workout Routine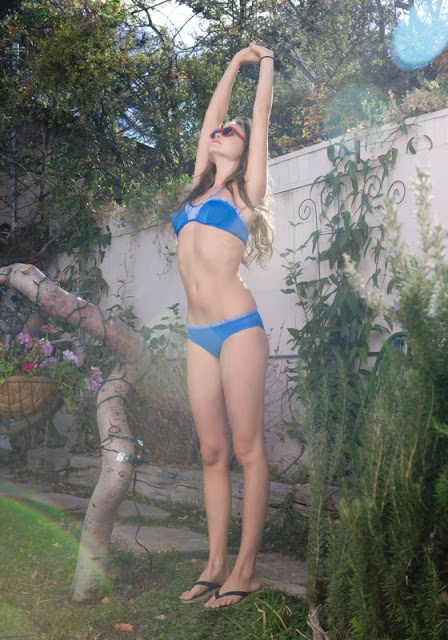 Adam Levine's ex-girlfriend has shown that it really needs serious commitment to stay in great shape. As told earlier, she does swimming, and that too regularly (as this is her one of the favorite exercise), which is a great cardiovascular exercise. It requires great power and due to tremendous water resistance, it strengthens your legs, arms, hips and torso muscles of the body.
Other than swimming, she does Pilates, paddle boards and surfs and yes the gym exercises also with her trainer. In her own words –
"I try to do pilates when I can all year around and I also like to swim a lot. I also have a trainer that kicks my butt when it's needed."
Pilates makes a person stronger, leaner, and flexible by developing core strength. There comes many exercises under this category which involve some kind of stretching, exercise balls and bands, warm-up exercises, mat exercises, etc. Overall, it's a great method for developing complete personality. Behati likes to perform on Pilates reformer, which involves moves such as ankle strap to target her rear and hips.
Paddleboarding, a water sport, makes you physically strong and mentally refreshed. It is, by the way, a good workout. As seawater is salty, so when it reaches the body it can help you to pull out some diet and toxins from the body. Additional benefit can be in leg stretching (as you turn you need to maintain balance), arms stretching, and it improves torso muscles upto some extent. If you stick to this sport, you can achieve some nice results but it is alone not a good form of workout.
She is actually a water games lover (as you might have seen) and drives her way to fitness by employing herself into water games. Ahh, nice way of relieving stress and making the body fit. She said –
"The beach is definitely where I feel most at home. It's my oxygen. I forget how much I need it sometimes when I'm away working. I am a mermaid after all."
Behati Prinsloo Diet Plan
Behati takes a good diet but simultaneously she also does smoking too. Earlier, she was in a habit of just smoking and eating a little food. This resulted in a much lower body weight and she was out of the Madrid's 2006 Fashion Show. She was recorded with a BMI, which was less than 18 (and the normal is 18.5 according to WHO).
She says she eats scrambled eggs (low-calorie protein source), avocados (provides fiber, potassium, Vitamin B and E), and toast for breakfast. Eggs may also protect from breast cancer.
Behati drinks of plenty of water. It is a good way for keeping the appetite low and reduces weight. Thus, she is able to keep her weight low by maintaining her beauty and body shape. She was also named the new face of Seafolly's Summer 2012 /2013 range recently. Behati is extremely happy and joined the brand's ad campaign after Miranda Kerr (VS Angel) and Jessica Hart.