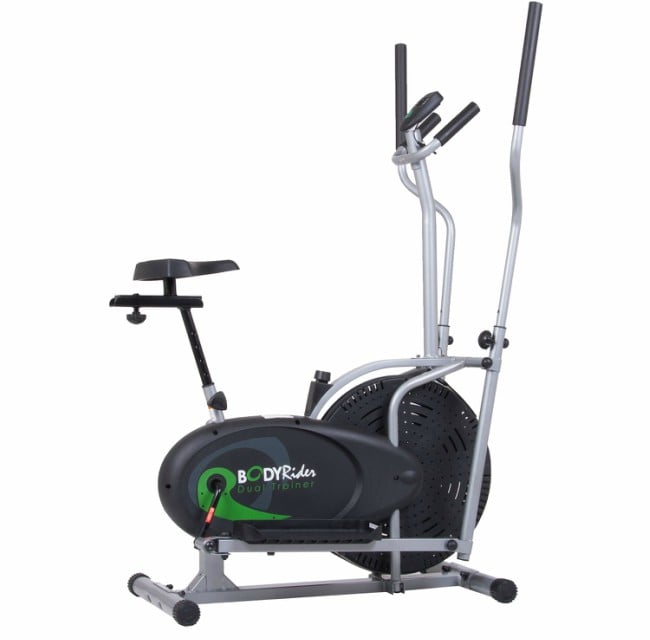 In the past, cardio workouts were limited to only treadmill, rowing machine, and exercise bike. In 1995, the first cross trainer was made which became popular ever since due to its low-impact nature. Using the cross trainer, you will get the same experience as running or walking, except that it won't have any impact on your joints and muscles as you won't lift your feet from the pedals while exercising. It is great equipment for both upper and lower body workout.
There are many cross trainers available in the market. When choosing a cross trainer, you must consider the flywheel, pedal length, construction, and design. You should ensure that the machine is stable and allows a smooth operation. Here, we are going to review the Body Rider BBRD2000 Elliptical Trainer With Seat.
Design
It is designed to be used as an elliptical trainer and an exercise bike. It has an electronic console that can track your speed, distance, time, and calories burned. Its high-momentum fan blade flywheel system allows smooth operation. You can vary the resistance level of this machine which will allow you to challenge different workouts. It has an adjustable seat which makes it comfortable to exercise. The seat is ergonomically shaped and padded that can adjust to the contours of the body. So, you won't have any saddle soreness. The handlebars are also ergonomically designed and padded with high-quality foam. This provides easy grip and your hands won't slip even if you sweat. You won't have any blisters on your hands after exercising.
Build Quality
It is made of steel which makes it very durable and strong. It has a maximum weight capacity of 250 lbs. The handlebars are both stationary and movable, allowing you to perform different types of exercises. It has a high momentum fan which helps to keep you cool during intense workout periods. The machine is silent and so you will have a comfortable and enjoyable workout experience as you will be able to watch a movie or listen to music while exercising. It has base stabilizers with protective end caps that make the machine stable, thus reducing the chance of accidents. There is a monitor that will help to keep track of how much distance you have covered, the time elapsed, and other data.
Size
It has dimensions of 48 inches by 28.5 inches by 59.5 inches and weighs 66 pounds only. It is compact and can be stored easily. It has transportation wheels that make it easier to move it from one place to another. So, you will be able to move it to your living room and watch TV while exercising.
Comfort
The pedals are textured that makes them non-slip. This will lower the risk of accidents during workouts. You can easily adjust the seat both vertically and horizontally to get to a comfortable position during workout. The machine is stable and you will have a comfortable experience.
Ease of Use
You can assemble the machine by reading the instruction manual. The manual contains detailed illustrations that will help you to set it up. Accessories like screws, bolts, wrenches, etc. are included with the equipment. You will be able to vary the resistance level. You can adjust the tension just by turning a knob.
Effectiveness
As this cross trainer can be used as both an exercise bike and an elliptical trainer, it expands your workout potential. You will be able to use the stationary handlebars to use it for the biking mode and the moving handlebars for the elliptical mode. It provides a low impact, so is suitable for those suffering from joint or muscle pain. This machine is very effective for cardiovascular health. It helps to build strength in arms and legs. It has a data monitor that can show what distance you have moved, how many calories you have used and other important stats.
You will be able to get to your desired resistance level simply by turning a knob. So, you will be able to switch from low intensity to high-intensity exercise easily and burn more calories. This will help you to build your muscular strength and stamina. As a result, you will be able to lose weight quickly.
Pros
It is constructed with high-quality steel.
It is affordable.
It is a great choice for beginners.
It is compact which makes it easy to store.
You can combine both standing and sitting workout with it.
It has high momentum fan blades that allow a smooth operation.
It has adjustable resistance which makes this machine versatile.
It has an electronic console that can track time, speed, distance moved, and calories burned.
It has built-in transport wheels that make it easy to move around.
It has zero or no impact on the knees and legs.
You get a 1-year warranty for the frame and 90 days guarantee for the parts.
Cons
It has small strides that make it inappropriate for large people.
It may wobble when heavier people use it.
Assembling can be a bit difficult
Final Verdict
This cross trainer is suitable for users of all ages. It provides the benefits of both an exercise bike and an elliptical trainer. It doesn't produce any sound, so you will be able to work out and watch a movie or listen to music at the same time. It has a wide range of features and is highly recommended for a cardiovascular workout. As it has an adjustable seat, you can either exercise in a seated position or start cycling. By adjusting the seat, you will be able to hold the handlebars properly.
It has a solid construction and so will be durable. It has been ergonomically designed so that no damage is caused to the body. It is a stable machine and you will be able to workout comfortably using this machine. This machine is safe to operate, which makes it ideal for people of all ages. It is a great trainer for your upper and lower body. You will get great value for money if you purchase this cross trainer for your home.