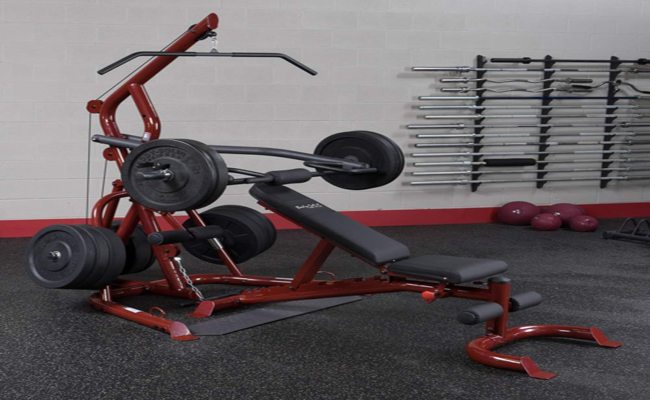 The home gym has completely taken the fitness industry to a new level. People can now build up their muscles and get into proper shape without going to the gym. The home gym now includes everything you will get in a gym. In short, you can say that the home gyms have actually replaced gyms. So, it is now much easier for people to do regular exercise more conveniently at home. The home gym doesn't only give you lots of options to exercise with just one machine, but it also saves you a lot of money. If you had to go to the gym regularly, then you had to pay a lot of money for the membership fees. But, you can buy a home gym at a much cheaper price and it will also last for many years.
The home gym manufacturers are trying to improve their product to meet the customers' demand and need. This equipment is becoming more sophisticated and can now target specific muscle groups. You will be able to get into shape quickly if you workout using the home gym. If you are looking for something affordable to start with, then you can buy the Body Solid GLGS100 Corner Leverage Gym. It is meant to save space and money. Here, we are going to review this product in detail.
Design
This home gym has a space-saving and functional design. There are 5 workout stations and a selectorized 160-pound weight stack. It is a commercial grade home gym that is compact and can be used at home and fitness studio as well. You will be able to perform different types of exercises such as squats, bicep curls, deadlifts, etc. The squat or press arm station can handle various movements. The pulley station is ideal for curls and multiple row exercises. There is an adjustable knee lock-down that is great for curls and multiple row exercises. There is attached weight horns that allow you to store weight easily. There are also hook-on rings where you can add resistance tubes, lifting bands, etc. The machine has a high gloss red finish that looks very attractive. Overall, it's strong, stable and safe equipment for exercise.
Build Quality
It is a very durable and strong home gym that has aircraft grade cable, nylon pulleys, and high strength metal tubing. It also has DuraFirm pads, sealed ball bearing on pulleys and welded metal caps in high traffic areas which makes the machine more comfortable and safer to use. You will be able to do various exercises with it including biceps curls, squats, shrugs, and more. It has attached weight horns that make storage easier.
The machine is constructed with high-quality materials. It is designed to be both comfortable and functional. It can handle up to 600 lbs of weight. It is stable and so you won't have to worry even if you do strenuous exercises. All the parts of the machine are durable and you get a lifetime warranty for it.
Size
This home gym is both compact and functional. It has a dimension of 69'' X 67'' X 83''. It doesn't have any bench like the other home gyms and this feature saves space. You can do exercises while standing. By removing the bench, the machine has a more upright configuration.
Comfort
The machine features DuraFirm pads that provide comfort. There is a convenient hook on rings that help you to add lifting bands, resistance tubes, etc. to the bar. This results in better range of motion and provides good muscle stimulation. The Lat Pulldown has thigh pads that you can adjust to your position. These pads also provide stability and comfort. This makes it comfortable and secure. There is a pulldown bar that ensures correct arm position throughout the exercise, thus making exercises more comfortable.
Effectiveness
This home gym is excellent for working your arm, back and shoulder muscles. You can do various types of exercises including standing biceps curls, upright rows, triceps extensions, etc. You can do different exercises with the low pulley station as well. The Chin Up station provides multiple grips. With this home gym, you will be able to work for every muscle group. The press arm station has more radius that allows straight up and down movement. The press arm bar can be raised to the highest point as well. There is an adjustable knee raise that makes lat pulldowns more comfortable. You can use the low pulley station for multiple row exercises and curls.
With this home gym, you will be able to build your arms and chest using the Press station and build various muscle groups with the help of the other stations. It is great equipment for total body workout.
Price
It is one of the best home gyms within the $1000 price range. You will get it for $995 at Amazon. You can buy a bench separately and will cost about $250.
List of equipment
Lat bar
Press bar
Low cable
Squat bar
Pros
Constructed with a sturdy and durable frame
Attractive design with a high gloss finish
Compact in size, so easy to store in small apartments
Has various stations to perform different exercises
Features DuraFirm pads that make the machine comfortable
Space for storing weight plates and other accessories available
Affordable price
Lifetime warranty with frame
Cons
The bench must be purchased separately which will incur an extra cost.
May not be ideal for taller people or advanced users
Not possible to do sitting exercises unless you buy the bench separately
Final Verdict
It is a great home gym that will help you to do different free weight type exercises. You will be able to work out all your body parts with heavy weight. If building muscles is one of your major fitness goals, then you will be able to achieve it easily. It is a well-constructed machine that is strong and durable. With gloss finish, it also has the style element. There are various stations to do different types of exercises.
Though it is meant for doing the standing exercises, you will also be able to do the sitting exercises by buying the bench separately. One of the best features of this home gym is that it has hooks for storing the weight plates and different accessories. The machine is compact and can be stored in a corner of the house. It is very easy to assemble it as proper instructions are given. As it's made of very high-quality materials, it needs less maintenance to keep it in good condition.
The machine is stable and so you won't have to worry about your balance while doing the different exercises. You will be able to do intense workouts regularly with this machine without thinking of replacing it or getting hurt. You won't have to go to the gym if you work on this machine on a regular basis. It can be a single solution for all your fitness needs. Whether you want to build muscles, tone up your body or burn calories, you will be able to achieve everything with this home gym. It is one of the best machines you will find at such a low price in the market today.