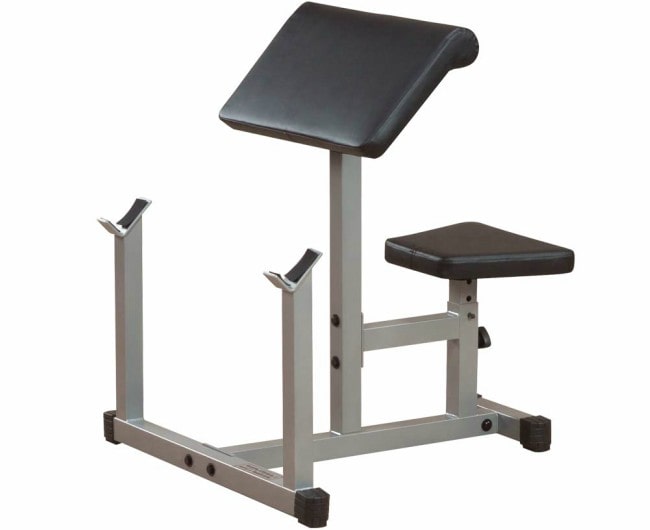 Who doesn't enjoy looking at a great body in front of the mirror? Well, one of the best parts of your body is the biceps. Strong and toned biceps look attractive and you will surely get praised by a lot of people for having such a toned body. Those who are into bodybuilding give much of their attention to the biceps. They work day and night to get those in shape. Biceps curl bench or preacher curl bench can help you to get great biceps within a short time.
When buying a bicep curl bench, you should consider the material with which it is made. If it is made of good quality materials, it can withstand a lot of weight. You should not go for a cheap bench as it will cost you more in the long run. You should consider the capacity of the bench and make sure that it can hold your weight comfortably. You should make sure that the bench is comfortable and has a lot of padding. Considering all these factors, we found the Body-Solid Powerline Preacher Curl Bench to be one of the best in the market. Here is the detailed review of this bench.
Design
This biceps curl bench is designed for people who are 5'10'' and under. It is compact and so great for home use. If you live in a small apartment, you can easily store it without taking up much space. It is simple, yet stylish. The goldtone paint makes it very attractive. You can adjust the height of the bench according to your preference. You can use this bench with an EZ-curl bar or dumbbell. It has an adjustable seat that makes it suitable for different users. You can adjust the seat to make sure that the arm pad is in the right position to perform the workouts to build your biceps. The angled pad provides optimum bicep isolation. The seat is extra wide and provides comfort to users of any size.
Build Quality
It has heavy gauge steel construction and welded solid seams. The steel mainframe has 2 inches by 3 inches high tensile strength, making the structure unbreakable. The bar holder is capable of holding a lot of weight. It has thick pads that make it comfortable. The bench is so durable that it will last for years. It has gold-tone paint that makes it anti-corrosive. It has a maximum weight capacity of 300 pounds which makes it suitable for heavy users as well. The weight capacity is more than many biceps curl benches available in the market. It has a wide base which makes it extremely stable. So, the bench is safe to use for different exercises. You get 10 years warranty for the frame and a 1-year warranty for the parts.
Size
It has dimensions 37 inches by 33 inches by 36 inches. The bench weighs only 42 lbs, so you can easily carry it around. It is compact and is perfect for both home and commercial use.
Comfort
This bench has cushioned arm pads that reduce elbow stress during workouts. It has an extra-wide seat that is well padded to provide comfort. The bench is stable and so you can work out comfortably.
Ease of Use
The bench comes with detailed instructions to assemble it. You will also get the necessary tools, so it won't take much time to assemble. Adjusting the height of the seat is easy. The armrest allows for a wide range of motion. You can do exercises to build your biceps comfortably with this bench. The bench stays firmly in place when you exercise.
Effectiveness
This biceps curl bench will let you isolate your biceps. You can perform exercises that specifically target these muscles. You can move your arms comfortably as there are pads for the elbows. You can do preacher curl exercise with it and the exercise is very simple but effective for your biceps. But you must make sure that you do them right. One way you can do so is by watching videos of professional trainers.
You can do exercises using your weight, dumbbells or barbells. You can comfortably sit down on this bench and do the exercises to tone your biceps. The pad is ergonomically designed so that you can bend the arm properly. You can do exercises to work the inner bicep that will make the bicep's peak larger. This bench prevents elbow stress and cheating, so you can do perfect isolation to build your biceps. You should include curls as part of your balanced lifting routine. You can also perform lat pulldowns, seated rows, upright rows, tricep press downs, and other exercises with it.
Pros
It has an attractive design and solid construction.
It is affordable.
It is preferred for small to medium users and is ideal for women.
It has an attractive gold tone paint that protects it from corrosion.
It has extra thick DuraFirm arm and seat pads to provide ultimate comfort.
It has an extra-wide base that provides stability during workouts.
It has a bar cradle so you can keep the bar when not in use.
It is ideal for both home and commercial use.
It is designed in such a way that it prevents stress on the back and elbows while performing curls.
You can buy curl bar collars and weight plates separately if you want to.
You get a 10-year warranty for the frame and a 1-year warranty for the parts.
Cons
The bench is not ideal for tall users.
The arm pad is not adjustable.
Final Verdict
This biceps curl bench is ideal for isolating the biceps to provide maximum concentration and development. The curls that you can perform with the help of this bench are super effecting in building your overall biceps, including both upper and lower biceps. The bench is angled at 30 degrees and is perfect for positioning the upper arm so that you can have the maximum stretch and a full range of motion. Exercising on this bench will reduce stress on the lower back and elbows. You should buy this bench if you are looking for comfort during exercise.