Cameron Michelle Diaz is an American actress and former model. Cameron Diaz's fitness secrets were revealed by her long-term fitness trainer Teddy Bass. One thing, that most women envy about Cameron Diaz is her sexy legs. This 5 ft 9 in tall celeb has such a long hot legs and looked amazing in her movie Bad Teacher.
Toned Legs Workout Routine
Check out the video to get the toned legs (even at the age of nearly 40) like Cameron Diaz. Teddy Bass told these 3 exercises:-
Single Leg Squat – 15 reps on each side
Side Curtsey – 15 reps on each side
Plie with a Calf Raise – 15 reps on each side
You can also use a fitness ball to add some intensity to exercises.
Cameron Diaz gets that body by incorporating into her workout routine, the combination of – Pilates, Cardio and Weight Training. Cardio is basically very important part of the workout. "Cardio should be included 3 to 5 times a week in our routine", says Teddy Bass.
Cameron Diaz does her workout 5 times a week from Monday to Friday.
Cardio Routine
Cameron's cardiovascular session includes the high-intensity workout and some rest, ie, she alternates between workout and rest.
Here is the sample of cardiovascular workout, which you can do:-
Firstly, run on the treadmill.
Walk for 60 seconds.
Jog for 30 seconds.
Walk for 60 seconds.
Jog for 30 seconds.
Keep switching like this for 15 minutes. So, by switching between, you will be able to burn more fat and control your metabolism rate.
Cameron Diaz goes to the gym as often as possible and if she is short on time, she just does 45 minutes of Pilates. But, when time permits, she would also do weights and flexibility training sessions also.
Teddy Bass says that he makes Cameron Diaz do a series of exercises – step up with a reverse lunge, squat with a curtsy, glider-side lunge, side lunge to curtsy, narrow squats with overhead press.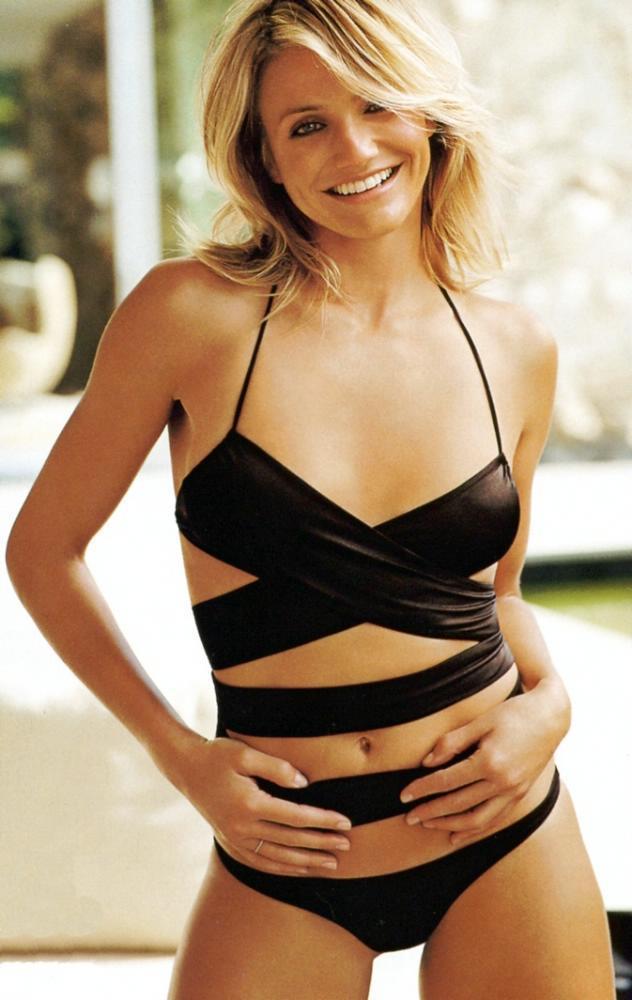 Arm Workout
Cameron Diaz has nice arms, which she got by the following workout, shared by Teddy Bass.
Reverse Flyes – 15 to 20 reps
Triceps Kickbacks – 10 reps per arm
Biceps Curls – 15 to 20 reps
If you are a newbie, do these exercises, with low weights and less repetitions.
See this video for a wide variety of exercises and you will be familiar with the method of execution of these exercises.
Cameron Diaz says that
"The more I work on my body at this age, the better it gets. I feel so much more attractive now. A thousand percent. I'm appreciating my skin and my wrinkles and all those things"
Favorite Exercises
Cameron Diaz favorites exercises include-
Golfing – burns around 266 calories per hour for a 130-pound person.
Tossing tires – Tossing tires is a part of intensive training. It will greatly improve your arms' shape as you have to push the tire hard enough to move it.
Jet-skiing – It burns around 460 calories per hour for a 145 pounds person.
Paddleboarding – It burns around 500 to 700 calories per hour. Paddleboarding requires a lot of upper body strength, lower body flexibility, and balance.