Starred as Caroline Forbes in The Vampires Diaries, Candice Accola is an American actress, singer, and songwriter. The blonde bombshell rocked with her debut album, It's Always the Innocent Ones in 2006. However, in acting, she entered in 2009. You must have seen Candice in TV shows, How I Met Your Mother, Drop Dead Diva, Supernatural etc.
Engaged to musician Joe King, the gorgeous star is blessed with captivating lean and curvaceous figure. Let's find out what kind of diet and exercises she swears by to maintain her angular hot bod.
Candice Accola Diet Plan
Being sentient about the influence of foods on body system, the stunner feeds nutrient loaded foods to her body. Since sugary, high carb, and high processed foods hamper various biological functions taking place inside your body, she steers clear from them.
Fruits, veggies, nuts, seeds, meat, chicken, fish etc. are her most trusted food items, which also provide balanced nourishment to her body. To make sure that she doesn't succumb to oily, fatty, and other unwholesome foods, she keeps her refrigerator full with nutritious foods. Let's have a look at one of the typical diet routine of Candice Accola.
Breakfast – Candice likes having oatmeal, Greek yogurt with strawberries, green smoothie etc. in her breakfast.
Snacks – She mostly has walnuts, hummus, kale chips, almond milk, granola bars etc. in her snacks.
Lunch – Candice prefers having grilled turkey, bacon, fish, meat, mixed salad etc. in her lunch.
Dinner – She likes having vegetable soup, green beans, baked chicken etc. in her dinner.
Besides eating wholesome foods, Candice hydrates her body with copious water, which detoxifies her body and has her own radiant face and sizzling hot figure
Candice Accola Workout Routine
Candice is prudent about her workouts. She is quite regular with them and practices them minimum three to five times in a week. Under the supervision of Mike Alexander, her personal trainer, she executes her workouts. Resistance training, which bestows her the influence of both cardio workouts and strength training is greatly adored by the glam star. Her personal trainer has exclusively designed the peculiar resistance training for her, which significantly enhances her heart rate and provides her body cardio workout as well.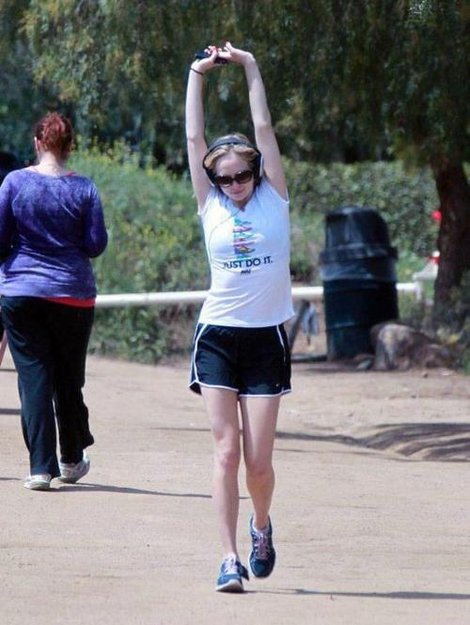 Her choice of exercises falling under resistance training is superb with gratifying outcomes. She makes three reps of exercises while giving twenty to twenty-five seconds to each exercise. Among cardio workouts, she adores dancing and loves to dance in dance studios while being observed by her fellow dancers. She executes tremendous dance moves, which have a terrific impact on waist, stomach, butts, and legs. Dance in itself is awesome aerobic exercise and when you make it focused to sculpt particular body parts, it can blaze you with astonishingly beneficial impacts.
Healthy Recommendation For Candice Accola Fans
Sleek and svelte figure of the flawless beauty indeed might make you feel tempted to acquire hot bod like her. To attain a slender body, your main focus should be on purging your body from all the ailments. Since a diseased body can seldom look alluring, try to rid your body from ailments by eating apt food.
Have you ever contemplated about the relationship between color of foods and your health? Well, here come varied colored food items through which you can heal your body and look radiant and blissful.
Red Color – By eating red colored foods such as tomatoes, apple, watermelon etc., you can purge all the cardiac, blood, and joint related diseases.
Orange Color – Orange colored fruits such as papaya, orange etc. dissuade the formation of cancer cells in your body, and foster the creation of new and healthy cells.
Blue / Purple Color – Purple colored foods such as grapes, berries etc. are great antioxidant food items, and they assist your body in the absorption of minerals.
Yellow Color – Yellow colored foods such as lemon, banana etc. ensure the total well-being of your heart, immune system and vision.
Green Color – Green colored foods such as broccoli, spinach, cucumber etc. are superb antioxidant food items. They detoxify your body and ensure optimum health of your immune system.
White Color – White colored foods such as cauliflower, onion etc. kill cancer cell and empower your prevailing cells to combat against all the foreign elements entering into your body.