Candice Swanepoel or sometimes nicknamed as Flamingo (due to her long legs) is a South African runway model who works for Victoria's Secret. Justin Gelband is her personal trainer who helps her in keeping toned legs. Justin says that there are 5 key exercises on which Candice works, the lower back, hip, butt, balance, and stability.
The most important thing which a model needs while walking on the runway is the balance. So, she works out to keep her body balanced. This 5 ft 9 in model likes kickboxing, jumping ropes and building muscles. She says
"I love walking up on the runway. I box, I do a lot of resistance, three times a week"
Candice also practices Yoga when she is too tired of boxing. She says that yoga keeps her to stay flexible and keep her mind quiet.
Further, Gelband insists on working out with quality over quantity. This video explains how Candice develops her body for runway with Justin Gelband.
As you must have seen that Justin works on Candice's lower half of the body. He uses ankle weights (2 pounds) to develop her muscles by making her to do various agility exercises. Agility exercises involves muscles coordination, balance development.
Gelband says that
"You can also use exercise ball to develop balance, stability, core strength"
Candice Swanepoel Diet Plan
Candice Swanepoel says that it is not hard for her to stick to a healthy diet plan. She can manage it easily. By the way, she can eat whatever she wants like her favorite foods pizza, pasta. Click here for her more favorite things.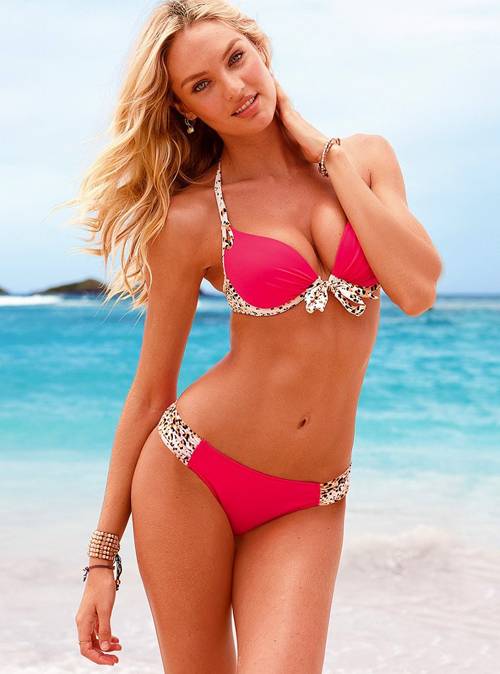 It does not affect much to her, as she has always been thin from her childhood. Also, besides eating her favorites, she eats healthy food as well like vegetables, enough protein, drinks a lot of water and steak to develop some muscles. She says
"I like a healthy breakfast. I like croissants, pizza, pasta, eggs, steak. I love vegetables, omelette."
She admits that it is too difficult to maintain a balanced diet plan while traveling. That doesn't mean that she will deprive herself from eating. Rather, she eats whatever she wants, whether it is pizza, Brazilian cheese bread or anything.
Some rumors revealed that Candice was recently suffering from anorexia. On being asked about it, she said that she tried to starve herself but it didn't help her much. Starving weakens your body and invites ailments. It is recommended by experts that rather than starving yourself, go for balanced diet along with some natural product which increases metabolism and helps in fat oxidation.