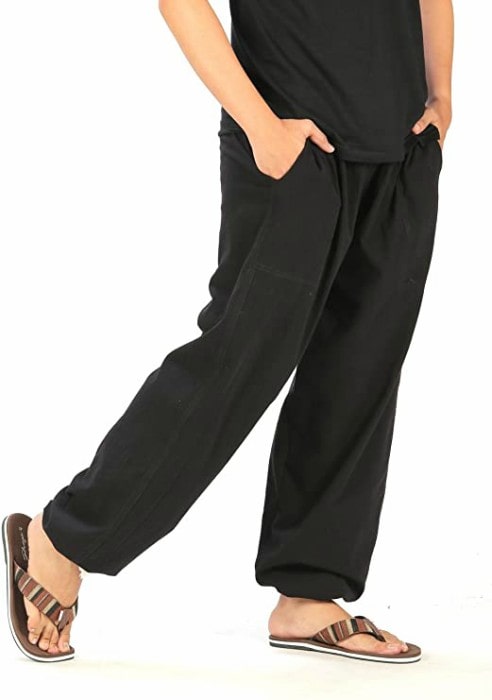 Yoga has become increasingly popular these days. One of the reasons for it is because people are now more conscious about their physical and mental health. They now realize that exercise can be a way to stay away from diseases. Yoga has a lot of benefits. It not only helps you to stay fit but also improves your mental health and physical well being. You can become more flexible, get rid of your work-related stress, and also improve muscle strength. In order to get the most effect from yoga sessions, you need to wear comfortable yoga clothes. You will now find different types of yoga pants in the market which can make your yoga sessions more effective, helping you to concentrate on your yoga poses. Here, we are going to review the CandyHusky Men's Yoga Pant.
Design
These pants look like pajamas. So, you will feel the same level of comfort you feel when going to bed in your pajamas. You can get these pants in different beautiful and soothing colors which include black, blue, white, brown, grey, beige, green, and red. Not all men are comfortable wearing leggings that are found in the market. These pants are loose-fitting and won't restrict your movement. It drapes attractively and feels very comfortable against the skin. The pant is wide-legged but cuffed, so you won't topple over while doing yoga poses or the pant won't come in your way. It has an elastic waistband which will help you to adjust the pant according to your needs. There are 2 deep pockets where you can keep your keys, mobile, and other important accessories. The things inside the pocket won't fall off even when you will be doing different yoga poses. The pant has a sporty look which many people like.
Build Quality
This pant is lightweight and made of cotton which makes it soft and comfortable. The stitching is of high quality, so the pant is extremely durable. It has waistband to help you get the perfect fit. For customizing the fit, there is a drawstring as well. The ends of the pant are cuffed which makes it more convenient to perform different yoga poses. As the material is cotton, it won't accumulate moisture, so will remain dry all the time. You can wash them easily with hands or in a washing machine using the cold setting. The color of the paint will stay vibrant even after multiple washes.
Size
You can get the pant in different sizes from Small to XXX-Large. The waistband can expand from 24 inches up to 48 inches. It also has a drawstring to help you get the perfect fit. The length from the waist to ankle hem is 42 inches. The cuffed ankles make the pant suitable for shorter people.
Comfort
The pant is breezy and you won't sweat easily. So, you will feel comfortable even in hot weather. It has an elastic waistband and a drawstring which will help to give the perfect fit even if your weight fluctuates. As the pant is made of cotton, you won't have any skin issues.
Ease of Use
You can simply put on the pant and go for your yoga sessions. Though there is a drawstring for more support and a better fit, you will be alright even if you don't use it. The elastic waistband will give you the support you need. So, it will take very little time to dress up for your yoga classes. As the pant is made of 100% cotton, you won't sweat much and the pant will stay dry. You can wash them easily and so keep them in perfect condition for your next yoga class.
Effectiveness
These pants are ideal for yoga, and also for pilates and different gym sessions. You can also wear them as casual or summer sportswear. The loose and baggy fit of the pant provides an unrestricted range of movements. Whether you are doing downward facing dog position in your yoga class or forward lunges, these roomy pants will give you freedom of movement. So, you can perform at your best at your yoga classes and get the best results out of it. The pant is made of cotton and it is lightweight which will make you feel comfortable throughout the yoga session. You won't sweat much; even if you do, the sweat will dry off quickly.
Pros
The pant is soft and lightweight.
It has a unique style which looks very attractive.
You can get it in 8 different colors.
The pant is made of 100% cotton which makes it super comfortable.
The stitching is of high quality, so the pant is durable.
It is available in different sizes to suit users having different waist sizes.
The waistband is elastic and you can customize your fit using the drawstring.
It is breathable, so it won't accumulate moisture and will keep you dry even during intense yoga sessions.
It is easy to wash and care for.
The color of the pant won't fade away after use.
Cons
As the pant is made of 100% cotton, it is not appropriate for cold days.
If you use hot water to wash the pant, it might shrink.
Final Verdict
These pants are super soft and made of 100% cotton. They are durable, breathable, and comfortable. You will get year-round comfort when doing yoga or other fitness activities. You can wear these pants for lounging, gardening, traveling, or for sleeping as well. You can wear it in seconds and go for your yoga class. It provides the perfect fit, so you won't need to worry about your pants coming loose during yoga classes. The waistband can accommodate 24 inches to 42 inches waists. The pants have cuffed ankles which help to keep the pant in place. These pants can be very helpful for your hectic lifestyle. You can wear it every day and feel comfortable.