Cara Delevingne's full name is Cara Jocelyn Delevingne. The English actress and fashion model was born on 12 August 1992 in London. Her acting debut was in the film adaption of Anna Karenina (by Tolstoy). She had appeared for catwalk for many world famous brands like Dolce and Gabanna, Burberry, Jason Vu etc. Currently she is in the Burberry's beauty campaign and she is the star face of it. The world famous blond fashion model has a height of five feet and nine and a half inches. Her eye color is green and her weight is 51 kilograms. Out of 50 top models, she is currently ranked 17th on the website models.com's 50 Top Model List. She was named top model of the year 2012 in the British Fashion Awards.
Cara Delevingne's Fitness Secrets and Exercise Plans
James Dulgan, the well known physical trainer of many Hollywood stars and model, appreciates Cara's body and derriere. According to James, Cara has got a careless attitude towards life and that she loves having fun when she works out her exercises. Dulgan says that to have good well rounded butts a person must eat good amount of proteins and a well balanced diet. He recommends chicken and fish as good sources of proteins. These proteins help the body to make long and lean muscles of the butts. He also advises to lower caffeine intake as it stimulates the nervous system and disrupts the sleep pattern. According to him, a slice of lemon and chopped ginger mixed in hot water can serve as an alternative to caffeine. His advice on sugar intake is to keep it low as 40% of the sugar consumed gets converted into fat.
Cara recently stated in an interview that she does not do many workouts. She also does not diet on meals. She says that she is naturally skinny and thin and therefore does not requires any of these measures for losing weight. On the contrary, Delevingne said that she would like to gain some weight and have a curvy body.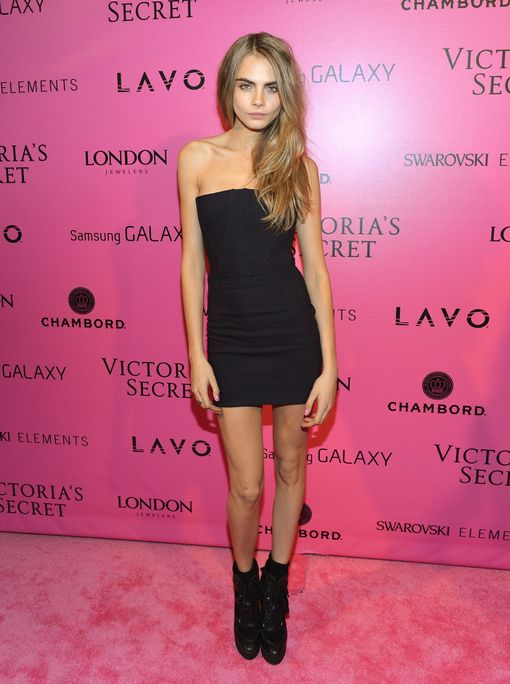 Day to Day Workout Plan
As the model is skinny naturally, she does not work out for long durations. The day to day workout of Cara Delevingne is listed below.
Monday
45 minutes of running and 15 minutes of skipping.
Tuesday
60 minutes of kick boxing.
Wednesday
15 minute of skipping and 20 minute of running.
Thursday
25 minute leg exercises, 25 minute abdominal exercises and 10 minutes of skipping.
Friday
45 minutes of yoga and meditation
Saturday
45 minutes of Pilates and 15 minutes of abdominal exercises.
Sunday
It is rest day for Cara. She does not exercise on this day of the week.
James Duigan lists a workout for Cara Delevingne's derriere in the Telegraph, UK. The workout is for tight and well shaped buttocks. The exercise is called tube walking. It helps in lifting of buttocks and in the stabilization of hip, knee and ankle joints. The workout consists of putting a band around the ankles, keeping the band tensed and then walking for 20 steps. The walk has to be slow. It is important to keep the upper body area straight and firm.
In the next step the band has to be placed in above knee area. Then after taking the squat position the performer has to walk for 20 steps.
Diet Plan of Cara Delevingne
Cara does not diet. On the contrary she loves fast food. She recently has a Mc Donald's for lunch and pizza for dinner during Victoria's Secret Fashion Show. Her love for fast food is quite evident on twitter and she has a good strength of followers as well. She says that she is skinny and therefore needs to eat a lot. In absence of frequent meals she feels weak and faints. She eats a full and well balanced diet and opts for more proteins in her diet plan. On occasion she feeds on fast food only. As she is skinny and lean she does not cares much about the extras calories of fast food.