Casey Neistat Quick Info
Height
5 ft 9 in
Weight
72 kg
Date of Birth
March 25, 1981
Zodiac Sign
Aries
Spouse
Candice Pool
Casey Neistat is a famous visual storyteller and filmmaker who has set a benchmark for quality YouTube content by posting daily vlogs edited into a compelling format. All his videos convey a positive message and promote values that enable further enrichment of life. He is known to collaborate with several other individuals and brands that reinforce his outlook towards life. When asked about the source of his creative ideas, Casey stated that all his ideas are mediocre and generic but he ensures they are executed with brilliance. Hence, he often spends anywhere from 2 to 7 hours to edit a raw footage into one YouTube video.
Born Name
Casey Owen Neistat
Nick Name
Casey
Sun Sign
Aries
Born Place
Gales Ferry, New London County, Connecticut, U.S.
Residence 
New York City, New York, U.S.
Nationality
Education
He dropped out of Ledyard High School in 1998 during his sophomore year (10th Grade) at the age of 17.
Occupation
Director, Editor, Cinematographer, Producer, Actor, Writer, YouTuber
Family
Father – Barry Neistat (Coffee Shop Owner) (Former Restaurant Supplies Salesman)
Mother – Amy Neistat
Siblings – Van Neistat aka Van Paul Moody (6 Years Older Brother) (Director, Writer), Jordan Neistat (13 Months Older Sister) (Field Marketing, Events and Operations Professional), Dean Neistat (2 Years Younger Brother) (Former U.S. Air Force Pilot & Instructor, Actor, Stuntman, Photographer)
Others – Louise Celice Neistat née Grossman (Paternal Grandmother) (Former Tap Dancer), Susan Devlin (Step-Mother). He also has twin step-sisters featured in one of his Vlogs.
Manager
William Morris Endeavor (WME)
Build
Athletic
Height
5 ft 9 in or 175 cm
Weight
72 kg or 158.5 lbs
Girlfriend / Spouse
Casey Neistat has dated –
Robin Harris (1998-2000) – Casey was 16 years old when his older girlfriend got pregnant with his first child. Robin gave birth to a son named Owen when Casey was only 17 years old. Casey dropped out of high school to work as a dishwasher in a restaurant to support his girlfriend and son because, despite his young age, he loved being a father. The couple lived in a trailer park for all the years they were together and at times they even had to sustain on welfare allowance. But, Casey did not like handouts so he worked hard and started making more money at the restaurant. However, his girlfriend was not happy with their relationship. After 3 years of their relationship, she broke up with him. He was 20 years old at that time. In June 2001, Casey permanently relocated to New York City to pursue his dream of becoming a film-maker. His son, Owen, continued to live with Robin in Connecticut. Casey used to save 100 dollars a week during the initial years of his struggle to travel back to his hometown and spend every weekend with Owen. No matter how strapped for cash Casey would be, he never touched his weekly $100 travel savings because he did not want to compromise with the time he got with his son.
Candice Pool (2005–Present) – Casey first met Candice, who runs a jewelry business, in 2005. She is 4 years older than him. Soon after dating for a month, the couple got married in a courthouse in Houston, Texas but got their marriage annulled shortly after a month. After years of dating on an on-and-off basis, they again got engaged in February 2013 and got married in Candice's hometown, Cape Town, South Africa, in December 2013. Together, the couple has 2 daughters – Francine aka Frankie (Born December 2014) and Georgie (Born October 2018).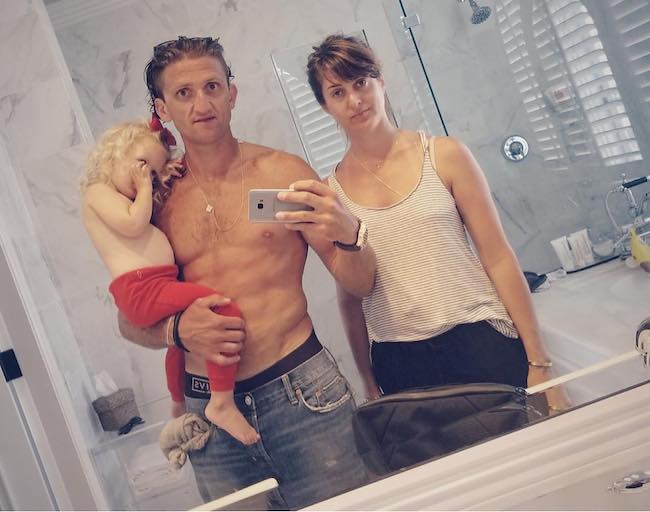 Race / Ethnicity
White
Hair Color
Dark Brown
Eye Color
Dark Brown
Sexual Orientation
Straight
Distinctive Features
Curly, wavy hair that Casey often grows out into a disheveled hairstyle
A small mouth with thin lips that gives an illusion of a convex lower face
Mole on the right cheek
Wears a signature style of Ray-Ban black sunglasses that he customizes for himself by scraping off the Ray-Ban logo and getting white spray paint in the crevices of the sunglasses
Big Chin
Random tattoos all over his arms and legs which include phrases such as 'Work Harder', 'Do More', 'Always Be Closing' (which is the outline of his home state), his wife Candice's name, and his marathon finishing times
Shoe Size
11.5 (US) or 10.5 (UK) or 44.5 (EU)
Brand Endorsements
Casey has promoted several brands by seamlessly integrating them in his online content. He has worked as an influencer for big companies such as Samsung, Mercedes, and Nike as well as for niche products such as Boosted Skate Boards.
He also sells merchandise in his name.
Religion
Judaism
He has shared in one of his vlogs that he comes from a Jewish family and that he wore a Kippah at his wedding in South Africa.
Best Known For
His YouTube content from which other YouTubers often imitate his unique and creative style of filmmaking which is replete with picturesque shots of New York City
First Film
Casey made his theatrical film debut as a 'Cat Burglar' in the independent film, Daddy Longlegs, in 2009. He also co-produced the film with Tom Scott.
First TV Show
He made his TV show debut as himself, along with his older brother Van, in an episode of the mini-series, The Neistat Brothers, which aired on HBO network in 2010. The mini-series was purchased by the network in 2008 for 2 million dollars.
Personal Trainer
While in school, at around the age of 10-11 years, Casey briefly ran cross-country but did not develop any affinity towards sports at that age.
He started skating and skateboarding in his teens which later turned into his interest in adventure sports as he grew older and entered his 20s.
Although Casey dislikes New York City winters, taking skiing vacation is his favorite way to experience nature.
At the age of 26, Casey met with a grave accident. A speeding car that had jumped a red light rammed into Casey while he was riding his then girlfriend's scooter. He remained hospital-bound for a week and in surgery for 12 hours. The doctors inserted a rod through his leg for traction.
Right before getting discharged from the hospital, Casey asked the doctor how long would it take him to regain his 100% health so that he feels strong enough to run. The doctor stated that upon healing, he might be able to jog or run after his kids or chase a taxi but he will never be able to run long distance again.
Casey was devastated.
When he turned 28, he ran his first marathon. The experience was physically taxing and Casey's timing was bad.
For the next 4 months, Casey trained seriously for his 2nd marathon and radically improved his performance.
The filmmaker has participated in and won several marathons and triathlons since then.
He prefers giving up a couple of hours of sleep to make time for exercise rather than not exercising at all.
Casey likes to start his day with 3 hours of workout which includes strength training at the gym and a long outdoor run.
After 2017, his routine has become increasingly busy so he modified his schedule by reserving the morning hour between 8-9 am for running and worked out at the gym during late nights from 10-11 pm on weekdays.
On weekends, particularly on Sundays, Casey heads out for a long run that may last for 3 hours covering up to a distance of 21 miles!
On an average, he runs 60-80 miles a week. Casey has repeatedly said that his time for running is non-negotiable because that is when he comes up with his most creative ideas.
He keeps his fitness routine interesting by giving himself mini-challenges such as performing 25 push-ups after running each mile or doing as many ring pull-ups as he can in his studio office after every hour. Casey is also strong enough to carry out advanced calisthenics such as the human flag, backflip, and handstand.
He rarely takes a cab or the subway while commuting within NYC and prefers to use his bicycle or skateboard as he likes to have the control of the time that it takes him to reach his workplace or other meeting places.
When looking for food, Casey usually prefers to visit a grocery store because he claims to have very specific choices for food and can be a control freak about what he exactly wants to eat.
Casey often skips his breakfast when faced with a shortage of time but does not recommend it as a dietary rule to other people. He possibly has breakfast at brunch time on weekends post-workout.
The YouTuber always wakes up between 4 am-5 am and starts his day with a cup of coffee.
When his daily diet starts slacking with frequent consumption of unhealthy food, Casey detoxes his system by going on a 3-day organic green vegetable juice cleanse.
He no longer smokes and keeps his alcohol consumption minimal.
Overall, he has a diverse culinary palette since he has traveled all around the world and has tried all kinds of food.
Casey Neistat Favorite Things
Sandwich – Peanut butter and jelly
Place – New York City
Movie – The Life and Death of Colonel Blimp (1943)
Color – Rainbow
Documentary – Little Dieter Need to Fly (1997)
Breakfast Meals In NYC – Bubby's, 120 Hudson Street, New York
Chinese Restaurant In NYC – Big Wong, 67 Mott St, South of Canal Street
Place To Hang Out In NYC – Washington Square Park, Greenwich Village
Coffee Shop – Think Coffee, 350 Broadway
Role Model – Malcolm X
Quote – "A man is a success if he gets up in the morning and gets to bed at night, and in between, he does what he wants to do." – Bob Dylan
Free Time Activity – Browsing real estate websites
Book – The Autobiography of Malcolm X (1965)
Building – Empire State Building, Chrysler Building
Cereal – Honey Nut Cheerios
Snack – Bilton Dried Beef
Source – YouTube, Ask.fm, Reddit, Tim.blog, TravelYourself.ca, YouTube, Mindbodygreen, Twitter, YouTube, YouTube, YouTube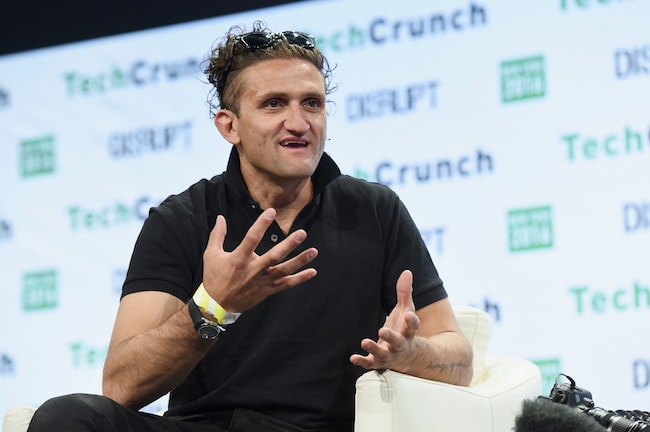 Casey Neistat Facts
The film-maker spent a mostly unsupervised childhood and often got into trouble at school. He was also bullied for his looks.
A part of the authenticity and creativity of his films and YouTube videos stems from the fact that he enjoys having a voice that has an audience which is contrary to his childhood when he was not taken seriously.
As a kid, Casey's biggest dream was to live a life where nobody could tell him what to do.
At the age of 15, he got into bad company and ventured into smoking weed and drinking alcohol. His parents got divorced about the same time which made him very angry. One day, after a fight with his mom, he ran away from home and has continued to fend for himself ever since.
At 16, Casey filed a petition in the state of Virginia to make his older brother, Van, his legal guardian. For 6 months, before he got his then-girlfriend pregnant, Casey was Van's adopted son.
Casey's attraction towards YouTube as a platform was developed by the fact that there was no downtime between the creation and release of the content as opposed to the barriers of several procedures that delay the immediate release of a movie or broadcast of a TV show long after it is ready.
Although the filmmaker loves New York City, his least favorite thing about it is the city's noise pollution. He often gets irritated by the fact that there is never any silence in the city during any part of the day.
He was living half a block from the World Trade Center, sleeping on a couch in a friend's apartment, when the disastrous September 11 attack occurred. He has repeatedly narrated that experience as one of the most terrifying days of his life.
Casey got his first break as a filmmaker by making promotional films for the contemporary American artist, Tom Sachs.
He created his first piece of viral content in the pre-YouTube era by posting a 3-minute video on the Internet that described the 18 months short-lived battery life of Apple's then iPod model, criticizing the company's lack of battery replacement policy. The film was named iPod's Dirty Secret (2003) and was substantially covered by various news and media channels.
After a couple of uploads in 2010 that gained him some audience, Casey got his first viral YouTube video in 2011 which was titled Bike Lanes. Casey criticized the NYC Police department in that video for giving tickets to bicycle commuters for riding outside the bike lane even when riding on those lanes was not feasible owing to the obstructions.
He co-founded a video-sharing application, Beme, which was acquired by CNN for $25 million in 2016. However, the app was shut down in January 2017.
Casey worked in advertising for 5 years during which he directed commercials and promotional films for major brands such as Samsung, Nike, J.Crew, Google, Finn Jewelry, and Mercedes-Benz.
While filming a car commercial in Bonneville Salt Flats in Utah, Casey liked the look of salt stuck in the rims of his sunglasses which inspired the creation of his signature sunglass customization.
To create the viral "Make It Count" YouTube promotional campaign for Nike, Casey blew all the budget money in 10 days to travel around the world with a friend. He created the final cut by compiling the footage of his vacation into a 4 minutes 37 seconds video.
The filmmaker has countless adventure stories to share from his life. He has jumped out of an airplane in Israel, jumped into a deep sink-hole in the Middle East, climbed Mount Kilimanjaro (the highest mountain in Africa) in 2007, flown on an attack helicopter in Afghanistan in 2010 to get footage for a feature-length documentary, and set up a tattoo-parlor there for American soldiers, and other than that, has crashed countless motorcycles.
However, he is the proudest of his successful summit of Aconcagua (the 2nd highest mountain in the world outside the Himalayan Range) on Christmas day in 2008. The arduous journey was a near-death experience but the day Casey made it to the top, he and his friend were technically the highest standing humans on earth since hardly anyone attempts climbing Himalayan peaks in December owing to the harsh winter.
When Warner Brothers gave Casey 25,000 dollars to create a promotional video called Live Your Dreams to promote the movie, The Secret Life of Walter Mitty (2013), Casey set off for the Philippines to personally provide relief packages to typhoon survivors with that money and created a 6-minute inspirational video with the footage of his journey.
He is a meticulous organizer of both camera footage and material objects because he does not like wasting time to look for anything that he owns. Casey also labels all his material possessions so that in case they get lost, there is a better chance of somebody bringing them back to him.
Casey hates managing people or getting managed by somebody else. The only time that he is willing to work in a team is when all the people push each other to do their best work. The filmmaker consciously eliminates people or circumstances that distract him from achieving his immediate goal.
In 2016, Casey won a Shorty Award for YouTuber of the Year, Streamy Awards for Entertainer of the Year and Best First-Person Series, and was also given the New Media Star award by GQ.
In 2016, he had quit the daily vlogging adventures and had left NYC.
In April 2018, Casey announced the launch of a new company called 368 to create more independent online content in collaboration with several other established creators.
On June 12, 2021, at 4:52 AM, Casey had started a 3200-mile cross-country road trip with his father-in-law Stanley and kept sharing his updates on Twitter.
Featured Image by Casey Neistat / Instagram