Winters are just around the corner and it's time, you prepare yourself to stay fit by eating right throughout the season. People tend to overindulge in the winters and end up gaining additional weight. To help you avoid this problem, celebrity chef Zoe Bingley-Pullin has shared a few vital tips that will come in handy if you follow them precisely. She also opened up about her own kitchen secrets that you can apply in your life to be a healthier person.
Be Smart
Before sharing the tips, the talented chef has shared that every person should try to be smarter and avoid eating too much for warmth and comfort. It can shift your focus from eating healthy. She also says that depriving yourself is also not the answer. Hence, your focus should be on eating the foods you love, but to avoid overindulging.
The popular personality has shared a few simple tips that can help you to feel lighter by cleaning up your diet without needing to eat less.
Satisfaction is the End Goal
The TV Show host wants you to tune into what is needed by your body. There is a difference between eating until you are satisfied and eating until you are overly full. The end goal should be the former approach, i.e. eating until you are satisfied. Satisfaction must always be chosen over comfort, she tells Daily Telegraph Australia. To make lighter meals, you should always buy fresh ingredients and plan your meals in advance. (We often end up eating heavy meals when we are starving, don't we?)
Depend on Seasonal Foods
Some foods are available only seasonally because they offer the vital nutrition required by a human body during that season, believes the wellness warrior. So, your focus should be on eating all the seasonal foods and enjoying them. It will also make your diet more diverse which is better for your overall health.
Customize Your Existing Meals
The skilled cook wants you to never waste the foods like stews and casseroles you have cooked earlier. Instead, she wants you to be creative and customize those into healthy meals. You can do it by serving casseroles with leafy green salads to get a lighter feel. You can also turn the slow cooked meats into a tasty salad and thicken the leftover vegetable soup to use it as a puree that can be served with grilled fish or chicken and salad.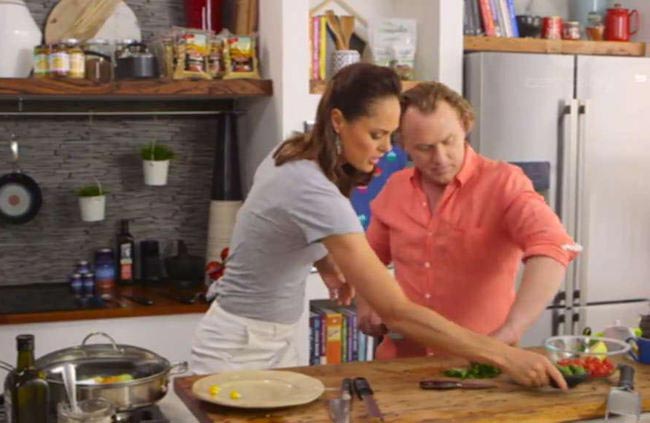 Easy Changes
To lighten your meals, you just need to swap the heavy stuff with a lighter version of the same says the ambassador of Rafferty Garden. You can change the casseroles to stir fry's and stews or replace the creamy pasta with lighter salads. You can also use herbal tea instead of hot chocolates or try broth-based soups rather than heavy ones.
Eat in the Right Manner
The author suggests that how do you enjoy your meals can also play a key role in your health. If you eat the foods mindfully in a calm environment, then you will be able to focus on the meal in front of you. You will also be able to savor each mouthful.
Zoe's Kitchen Secrets
The host of Good Chef Bad Chef (2011-Present) likes to use Australian olive oil in almost all her meals. She also loves using good salts for finishing a dish. Limiting processed foods is also vital for her. Tamari and apple cider vinegar are key elements of her dressings. Nut salads are her preferred quick snack option. She uses Barambah Organic milk in coffee and tea and depends on fruits and veggies a lot. She also puts butter on bread as if she is putting thick hummus. Some of the light ingredients that help her make boring foods into something amazing are chili, coriander, ginger and kaffir. She is also a fan of cheese but she never depends up on the processed cheese.
Beverage Preferences
The founder of Nutritional Edge begins her days with having a juice daily. She sometimes stirs some of the pulp from the juicer into the glass. Zoe also uses it in stock or replaces the flour in her cookie recipes with it. The mother of one also likes to indulge in a really strong Earl Grey tea that is strong, is made with T2 leaves and has some milk. She sometimes indulges in caffeine too. At those times, she goes for an espresso with cream as she doesn't like skim milk. She also likes to indulge in a glass of pinot noir occasionally, reports Good Food Australia.
Unique Food Experience
The brand ambassador of Only About Children says that if you wish to try something that's bursting with flavor, then you need to try a combination of roasted red capsicum and avocado on a piece of toast.
Did you like the ideas shared by the internationally trained chef? If so, you can follow her on Instagram, Twitter, and Facebook for more such tips. Don't forget to check her official website too.