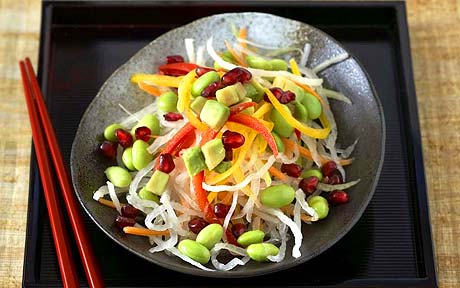 Chopstick Diet Plan is a magnificent weight loss plan drafted by Kimiko Barber. Newest among other diet fads, the diet plan is effective in shedding several pounds from your body.
Without asking you to count your calories, eliminating your beloved food items, and limiting your diet, the diet plan allows you to eat what you crave. The only requirement is whatever you eat, use chopsticks for eating.
Her exclusive dishes are rich in seaweeds, fish, seafood and vegetables, and are low in fat and animal protein. Kimiko has inculcated many low fat yet delicious Japanese dishes in her diet plan, which are simply nutritious and low in fat.
The Logic Behind Chopstick Diet
Chopstick diet plan asserts that there is no short cut way to losing weight; the only way is eat less. Kimiko contends that fast eaters tend to swallow food, which enhances their food intake. For getting maximum benefit from foods and to diminish its intake, you need to enjoy the foods you eat. Your stomach seeks time from you to pass the message to brain that it's full. Fast eaters keep gobbling up and before the stomach passes the message to the brain about its fullness, they already have overeaten so much of food.
Contrary to that, if you relish your food, eat it slowly, you will feel full without consuming much food. And chopstick has been added as a weapon in the diet plan. Reason being, it increases your time duration of holding food in it. Moreover, since chopsticks hold little food, small portions of food will go into your stomach through chopsticks, which naturally will prune your food intake
Why Chopstick Diet came into Being?
Kimiko is London-based Japanese author. She compared Japanese women with other women around the globe and came up with following observations.
Japanese women are far slimmer than women of other countries. Their sleek figure rises their life expectancy.
Good eating habits prevalent among Japanese women are primarily responsible for their glowing skin and hair.
The recipes followed by them don't compromise on taste and provides healthy body along-with taste.
Japanese women understand the magic of chopsticks and use them in their routine life.
Their low fat diet cuts their chances of cardio diseases.
Japanese don't appreciate spoiling the raw texture of food items and prefer consuming most of the food items in raw form.
The portion size consumed by Japanese is far less than it is in Western countries.
Recommended Food Items in the Chopstick Diet Plan
Chopstick diet plan emphasizes consumption of fruits and vegetables of different colors. The diet plan believes in buying and consuming fresh foods on daily basis and insists daily shopping of food items. Mouth-watering recipes of the diet program will simply make you a fan of it.
Umeboshi broccoli soba, mushroom donburi, baked fish and vegetable parcels, green tea smoothie, pomegranate scattered sushi, red meat, soy beans, porridge and smoothies, domburi, dish including rice with different toppings are some of the recommended food items, which you can include in your breakfast, lunch and dinner.
Healthy Food Items with Health Giving Properties
Adzuki beans – They are great anti-oxidants and predominantly used by Chinese people to treat high blood pressure. They are effective in bringing down the production of triglycerides fats, which are unhealthy fats and are main culprit responsible for increased cholesterol level.
Brown Rice – Brown rice comes under high fibrous food items. It trims belly fat.
Tofu– Tofu being rich source of protein and low in fat keeps check on your cholesterol level. It also prevents the pastiness of blood platelets. Phytoestrogen in them are effective in saving women from the unbearable problems coming along with menopause.
Green Tea – One of the great antioxidants has wonderful properties, which can bring down your blood pressure, detoxify your body, and save you from cancer. It also enhances the elasticity of blood vessels in your body and provides you a hale body.
Salmon – Rich source of omega-3 fatty acids has great antioxidant properties and enhances your immunity. Its powerful properties save you from cancer, high cholesterol, and inflammation.
Seaweed – Effective in dealing with the problem of thyroid, seaweed is rich source of iodine and plays an important role in the development of brain in infants.
Soba Noodles – Rich source of protein contains many vitamins required to nourish your body.
Garlic – Its wonderful antiviral, antifungal, and antibacterial properties are effective in reducing your high blood pressure and cholesterol level.