5 ft 1 in, hazel eyed, Christina Ricci is an American actress. Having gotten recognition as a child actress from Mermaids (1990), The Addams Family (1991), Ricci dazzled us with her outstanding performance in The Opposite S*x (1998), Black Snake Moan (2006) etc. Though the petite actress owns perfectly slender and curvaceous figure, however, like all of us, she too is not immune from the roller coaster ride of weight.
The stunner admits of being victim of low self esteem and eating disorder, anorexia while growing up. She shares, we all do mistakes, but the best thing is, to take lesson from those mistakes. Ricci too learnt some valuable lessons from her mistakes. She no more feels intrigued by crash diet programs or any other crap like that. She has gotten the fact that apart from regular exercises and balanced diet, there are no other shortcuts to fit and lean body. Without being obsessed with her diet and workouts, Ricci practices light workouts and moderation in diet. And the result is in front of us. The brunette bombshell shares, instead of being motivated by industry obligation to shed weight, she is self-motivated to be in sculpted shape because it makes her feel great.
Christina Ricci Diet Plan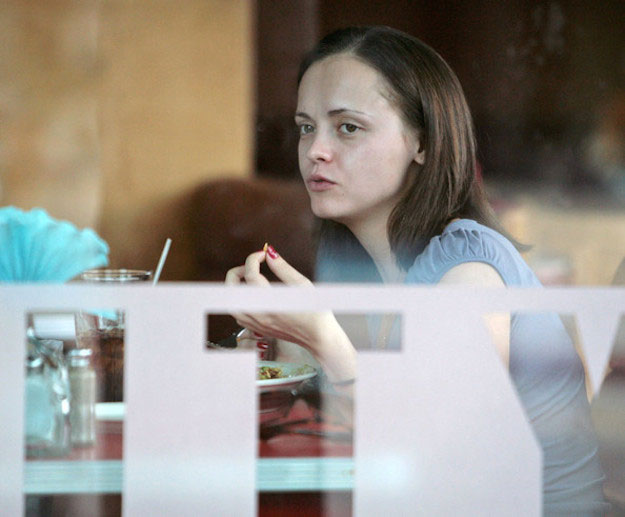 Without being too harsh and restrictive to her, the stunner eats everything in moderation. She contends it's alright to beat your cravings by consuming your beloved foods, unless you over-eat them. Ricci inculcates plenty of protein rich foods and veggies in her diet. Being loyal to low carb diet mostly, Ricci incorporates only 30 to 40 gm carbs and copious sources of proteins such as meat, cheese, salmon etc. in her diet. She is also on and off with Fat Flush diet. The healthy diet plan accentuates the consumption of whole and natural foods.
Her diet keeps varying with her roles. For example, to look slim and perfect in the movie, "Black Snake Mock," she abided by portion control. However, when people started saying about her ongoing diet, she switched to sugary foods. The non-pleasing diet actually made her look ailing in the movie.
Christina Ricci Workout Routine
Instead of loading herself with the thought of workouts, the gorgeous actress practices exercises whenever she gets free time. She does Pilates while watching TV and jogging whenever she is up to burn calories. Rather than wasting her time in mulling over useless things, she utilizes it in executing workouts. Not only do they divert her attention, they also tone and strengthen her body. She relies on yoga to enhance her flexibility, and lunges to strip off surplus pounds.
Apart from them, she executes varied exercises in gym under the supervision of her personal trainer. Having cultivated very pragmatic attitude towards workouts, the pretty actress cut her consumption of carb and calorie dense foods, when she finds herself unable to practice workouts. Among cardio workouts, she loves running on treadmill. Spinning classes are the most recent workouts, the kickass beauty has embarked on, to uphold her muscles in great shape. Her Pilates' instructor has deftly crafted three Pilates routine for her, which she practices to strengthen her core.
Healthy Recommendation For Christina Ricci Fans
Here is one healthy recommendation for all the fans of Christina Ricci who aspire to get sylphlike figure like her. Since your diet has remarkable impact on your health and weight, by following healthy diet regime, you can win control over both of them. Now the question arises, how to differentiate whether the food you are consuming is healthy or not. Well, here is a small tip which will guide you and will make it easy for you to judge the sanctity of food.
Should you witness the food containing myriad ingredients, which are either unknown to you or you cannot recognize them, these are lucid signals of over-processed foods. Since processed foods are high in carbs, which cause spike in your blood sugar level, it's best for you to forbid them. The simpler and more natural the food is, more nutrient dense it is likely to be. Processing of foods renders them good taste but at the same time robs all their nutrients.