Claire Danes, Hollywood actress is one of the actresses who always look fit, charming, and beautiful. Having started her acting career from very young age of 13, Claire is very proficient in acting. Some people are genetically blessed by nature and Claire is one of those God blessed people.
There is one common misconception prevalent among people and that is, women stop looking appealing and sexy after they become mother.
However, hot and sexy star have proved all those people wrong, because within bunch of months after giving birth to Cyrus, her son, she again appeared in the same toned figure which she had prior to becoming mother. Claire is one of the prudent stars, who have thoroughly been able to maintain her weight.
Claire Danes Workout Routine
Claire is not in favor of exhausting workouts and that's the reason she doesn't burden herself with thoughts of workout. She practices cardio exercises such as jogging, running, swimming, hiking etc. three days in a week.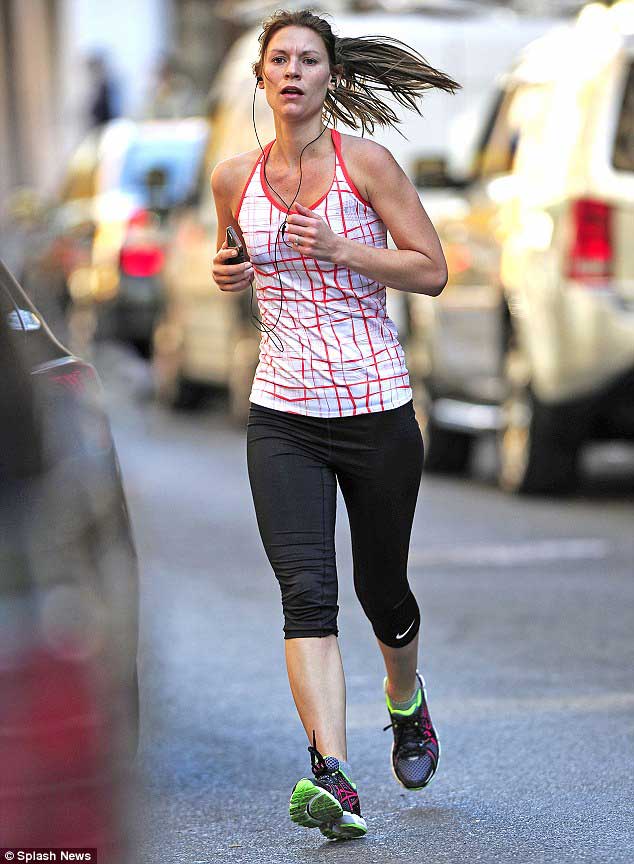 Besides that, she also loves dancing. Dancing is the best way of doing cardio workouts because the recreational activity builds up your muscles without making you feel bored.
Claire has also been through rough time, when after being in a long time relationship with Ben Lee, their relationship came to an end. Claire contends, workouts helped her a lot in coming out from that period of emotional instability, and refilling her with enthusiasm and joy.
Along-with workouts, Claire is also vigilant about her sleeping hours. She sleeps for eight to nine hours in a day. Instead of doing workouts on her own, she practices her workouts under the supervision of Joe Dowdell, her personal trainer. High intensity circuit training with dumbbells is something Claire practices very often.
Important Tips for Doing Circuit Training
Circuit training is superb way to strengthen your muscles and build strength. You too can attain sexy figure like Claire by practicing circuit training at home. Here are some tips which you should bear in mind while doing circuit training.
First of all, don't repeat same exercises while making circuit of exercises. For instance, if you already have practiced push press, don't do push up next to it. Choose four to six exercises which are entirely different from each other. For example, you can opt for push up, squats, two-hand dumbbell row, running on treadmill etc.
Don't focus on just one particular body part. You certainly can work more on any specific body part of yours. But exercise for other parts also shall not be overlooked. Allocate your exercises in three parts such as upper body, middle body, and lower body exercises.
Be vigilant about the number of repetitions and gradually enhance them. Spend twenty to thirty seconds on one exercise and then give thirty seconds to your body to make quick recovery. Giving recovery time to your body is as imperative as exercises themselves are, as it cuts the chances of your muscles being injured while doing workouts.
Claire Danes Diet Plan
Claire Danes follows healthy diet regime. Rather than believing in some crappy crash dieting, the star believes in judicious and mindful eating. She prefers having vegan foods and eating many small meals in a day. Her meals are loaded with fiber and vital nutrients, and she prefers organic foods over processed foods.
Claire has quite explicit views about diet and that's the reason she never succumbed to liquid and fasting diet plans in her life. It's not that the stunning lady has got supernatural control over her cravings. She shares the time when she consumed big meals to beat stress back in her college days.
However now, Claire has gotten mind body relationship. She knows the impact, elimination of foods has on cravings, and that's the reason she has set her mind free to select foods. Let's have a look at typical diet regime of Claire Danes.
Breakfast – Claire likes to begin her day with granola, blueberries, and strawberries dunked in low fat yogurt.
Lunch – Her lunch mostly consists of fresh fruits, vegetables, avocados, grapefruit, acorn squash, butter lettuce etc.
Dinner– Instead of having something heavy in dinner, immaculate beauty likes to keep her dinner light and prefers having roasted apples, crushed chicken, steamed potatoes etc. in her dinner.