Euphonious voice, mesmerizing beauty, Colbie Caillat is an American singer, songwriter, and guitarist. Having started her singing career with Coco, her debut album in 2007, the stunner came up with countless successful albums afterwards. The ravishing beauty who doesn't fail to charm her fans with her enthralling voice is now all set to imprison their eyes with her enviable figure.
She shares, there was a time when her waist was 32 and she was not very contented with it. To attain slimmer and curvier body, she tried various yo yo weight loss programs in the past. However, she only ended up getting vain results for within couple of days, all her lost weight resumed. Finally she got the fact that she needs to introduce radical changes in her lifestyle to attain flattering results. And not to mention, with the aid of vegetarian diet and regular exercises, she could attain size 28 waist and could accentuate her curves. Let's have a look at the diet and exercise routine of the mellow singer.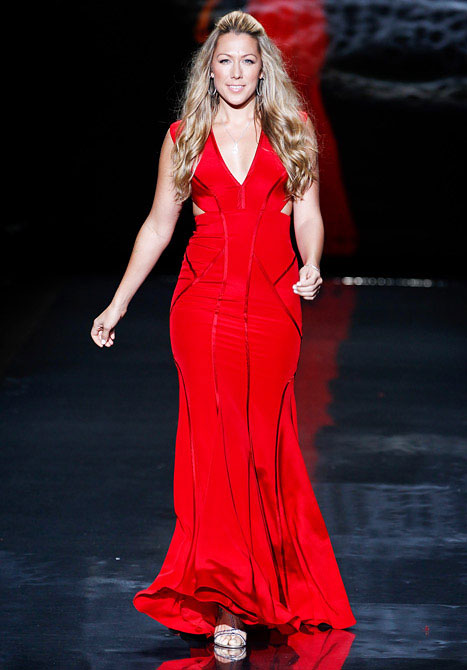 Colbie Caillat Diet Plan
Colbie is ninety-five per cent vegan in her eating habits and mainly relies on plant based foods. Even to fulfil protein requirements of her body, instead of eating meat, fish etc., she banks on vegan foods such as tofu, green beans, spinach etc. She contends, with the consumption of vegan foods, her metabolism has got an incredible boost and her weight naturally doesn't go up. Besides, plant based foods apparently don't remain moving around and creating disturbance in her stomach. With the consumption of low calorie yet nutrient dense foods, she feels much lighter and energized from within. She shares, she seldom felt this awesome in her life as she has been feeling lately. Here comes one of the typical diet plans of Colbie Caillat.
Breakfast – Colbie loves having almond milk, granola bars, strawberries etc. in her breakfast.
Lunch/ Dinner – She inculcates steamed veggies, quinoa, sushi, grilled fish, steamed brown rice, black beans etc. in her lunch and dinner.
Like all of us, Colbie too feels helpless in front of her favourite foods, so to keep check on her cravings, she eats small amount of ice-cream, and organic chocolates adored with nuts. By eating her favored foods in moderation, she keeps her from the craving of unhealthy snacks.
Colbie Caillat Workout Routine
Having got the realization that workouts are the healthiest way of dropping pounds, the euphonious singer embraced exercises. She executes circuit training for one hour in a day and practices workouts four to five times in a week. While being supervised by her personal trainer, she performs myriad exercises such as stretching, sit-ups with eight pounds balls, weight lifting etc. Irrespective of her hectic schedule at work, she doesn't let go the chances of providing exercises to her body. At times when she finds herself unable to denote one hour to workouts, she goes out for jogging for twenty minutes.
Although initially she was averse to running, but after being inspired by her former boyfriend singer Jason Mraz, she has developed liking for it and simply adores the great feeling running brings into her. She reckons, twenty to twenty five minutes of jogging not only speed up calorie burning process in her body but also provide great boost to her mood. Besides sculpting her body, workouts have also helped her in her singing profession.
She feels her breathing pattern has improved which further have elevated her stamina, for now, she confidently can give incessant long hour performances. Prior to appearing on stage, the brunette performs surplus workouts to give flattering and well-defined shape to her figure. She amplifies the number of sit-ups and executes varied workouts with weights meant to tone her arms, legs, and butts. She doesn't like listening to music or watching TV or being distracted through any other way while running on treadmill. And when she goes out for jogging, she adores invigorating her body and mind while being surrounded by nature.
Healthy Recommendation For Colbie Caillat Fans
Colbie Caillat being very realistic in her views about weight loss recommends all her fans to find peace with their body. Since no one is perfect in this world, you need to learn to appreciate what amazing you have got blessed with. There are both flaws and commendable parts in our body, but we often get so obsessed with mending our flaws that we forget to appreciate what we are blessed with.
Until you will learn the art of overlooking your flaws and celebrate your awards, you cannot feel or look awesome. While sharing one of her experiences, she tells, there was a time when she was supposed to be on stage in front of massive public in bikini. And the worst part was, she didn't have sleek body at that time. But without being panicked, she took the first step and appeared in bikini while reminding her of the best features of her body.