David Villa, born on 3rd December 1981, is considered as one of the most flexible football players in Europe. He can move balls from both left and right wings. His physique is really admirable as well as fit, and his height is 5 foot and 9 inches. He has been classified as one of the fittest players in the world of football by the experts. If you are one of those, who are interested to know about the secrets of Villa's fitness, then this article will be of great importance to you.
David Villa Workout Routine
As a rule of the club, Villa attends training sessions six times every week. Before these sessions, David Villa takes pre-training sessions to warm up his body. These include running for about 45 minutes to burn some calories from his body and stretch muscles for preparedness of the training.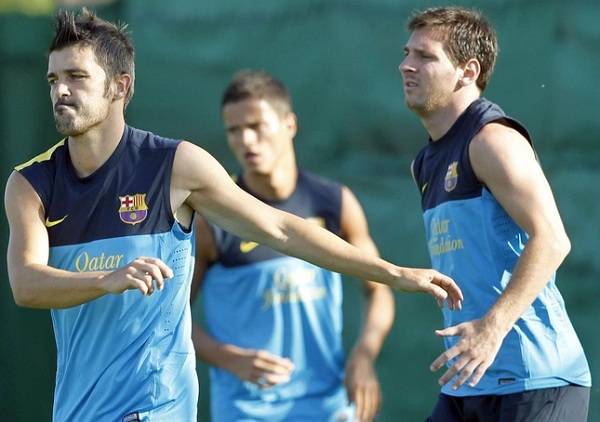 He also attends weight lifting sessions for two or three times per week. In addition, he also undertakes exercises such as squatting, bench pressing, press-ups and box jumping during the gym sessions. Football is a game that requires agility, flexibility and a lot of energy. These exercises enhance his flexibility and strength during the game. The squatting sessions also form part of the training for any football match. Other exercises, which Villa takes, include leg-raising, push-ups and lat pull down. These exercises provide strength and flexibility to the player.
Gym sessions are also important for preparation of any football match for Villa. Press-up exercises are important in strengthening muscles of both hands and feet. Strong muscles are important for David as a striker for improving his stability and strength while struggling with defenders. Villa undertakes various press-ups during and after every training session. Most specifically, the strength of the hand muscles is important to enhance his stability and balance when in possession of the ball.
David Villa Diet Plan
Proteins are most important for strengthening and building our body strong. David Villa's meals are rich in proteins since it is necessary for repairing the worn out tissues during training and match. Openly, Villa has declared his liking for fabada (Spanish bean stew). Beans are natural source of proteins, which do not have fats. Villa also takes protein supplements to ensure sufficient proteins in his body during training sessions. Proteins also enhance agility especially for his ability to play strong in the air.
David Villa has a low fat content in his body. His meal contains low fatty content and he avoids fried potatoes, crisps foods, etc. He avoids junk foods because these foods have high content of fats, which accumulate under the skin causing abnormal fattening and gain in weight. In a typical day –
Villa's breakfast contains fresh fruits, vegetables and snacks.
The lunch includes fresh salads, beans, whole grains, chicken and fish.
The supper comprises of whole grains, fresh beans and vegetables.
Villa also includes lean meat and fish in his supper. Before going to bed, Villa takes protein supplements. To provide fats in the body, he eats salads and vegetables, which provide carbs to the body, instead of foods with fat content.
Low Drinking And Enough Rest
David Villa does not drink a lot and he spends most of his free time (off training) with his girlfriend. Additionally, Villa takes further exercises during his free times also. During these times, he runs for short distances. It also includes light gym exercises such as lifting lightweights and soft squats and press-ups. Villa enjoys the time with his family and friends, which reduces stress in his life as we know that stress-free life is important for physical fitness.
The maintenance of physical fitness is dependent on diet and physical exercises. However besides these, social life is also very important for admirable fitness like that of David Villa. Avoid foods with rich fat content and eat a balanced diet to achieve a fit and healthy body.