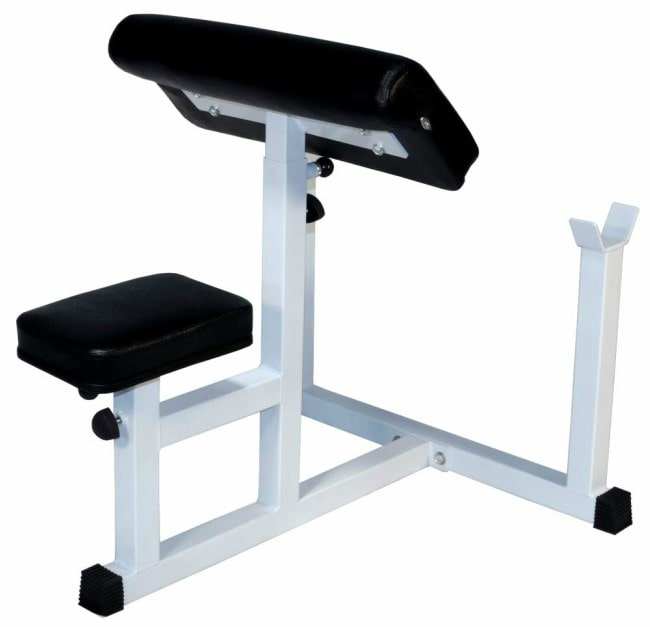 Many people today dream of having great biceps. So, they spend hours in the gym to get the body they desire. Gym membership fees are expensive and it is time-consuming to go to the gym as well. Now, you can find a biceps curl bench in the market which you can buy for your home. Once you have it, you won't need to go to the gym anymore. The fitness equipment manufacturers have come up with different compact fitness equipment for home use and the biceps curl bench is one of them. Today, you will find a biceps curl bench with various features. They are now versatile and allow you to do other exercises as well, besides working on your biceps. So, you can buy this bench for a total body workout also. There are some high-quality benches and Deltech Fitness is one of them. Here, you will read the full review of this bench.
Design
You can get this bench in white or black color with black padding. The bench has an attractive design and a glossy finish that looks good. This bench is mainly designed for developing the biceps. It has an elbow budding so that the users can position their forearms. There is a bar rest to hold different weights. The seat is wide and comfortable and the users can workout for a long time without feeling uncomfortable. Both the seat and the armrest are adjustable, so you can change the positions according to your need and preference and workout comfortably. It has huge weight capacity which makes it ideal for large and tall people.
Build Quality
It is made of heavy gauge steel tubing that makes it strong. The tough powder-coated finish makes the bench durable. It has a user capacity of 500 lbs, which is higher than most other biceps curl benches. So, it can be used by heavier people and professional bodybuilders as well. The armrest and seat pads are made of high-density foam padding that is sweat resistant as well. The bench is easy to clean and so it will have an extended life. It has high-quality rubber feet which makes it stable. So, the bench won't wobble when exercising, making it safe to use. It has a strong bar stand where you can keep different bars for exercise.
Size
It has dimensions 37 X 41.4 X 33 inches which are small compared to some of the other brands. This makes it easy to store without taking up much space. You can buy it for small apartments. It weighs 52 pounds only, so you can move it from one place to another easily.
Comfort
This bench is very comfortable as it has thick padding. The seat and armrest are padded as well. You can position your forearm properly to get effective results from the exercises that you do. The bench is stable, so you will have a risk-free exercise session. The bench is ergonomically designed, so you won't feel any back pain after exercising.
Ease of Use
This bench is easy to use, making it suitable for all kinds of users. You can easily adjust the seat and armrest padding. You can put on bars on the bar mount comfortably. The bench is stable and won't shake during exercise. You will get detailed instructions on how to assemble the bench, so you can do it quickly and without anyone's help.
Effectiveness
This bench will help to increase the arm's muscle mass and give you a wonderful physique. With this bench, you can target your forearm extensors and brachialis. The bench is well crafted to facilitate the correct positioning of the arms so that you can get the best results from exercising. Both the seat and are armrest pads are adjustable, making the bench versatile. The arm pad is set at 45 degrees which makes it ideal for biceps isolation. You can use this bench to exercise with various weights and bars to get the toned body you have always wanted.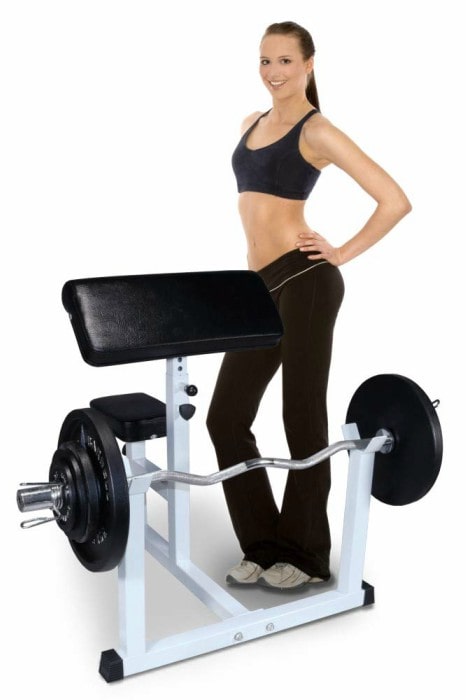 Pros
The bench is very attractive and has a glossy finish.
It is made of high-quality materials that make it strong and durable.
It has a powder coating that makes it anti-corrosive.
The bench is covered with a thick pad that makes it comfortable to use.
It has an adjustable seat and armrest.
It has a wide base which makes it stable.
It is a safe bench to exercise with different weights.
It has secured mount for the curling bars.
The high-density foam padding is sweat-resistant, so it won't become as slippery as you sweat.
It is easy to assemble.
You can get it at an affordable price.
Cons
Unlike some other biceps curl benches in the market, weights and bars are not included with the bench. You have to buy them separately.
You can only adjust the height of the seat; you cannot move it back and forth.
Final Verdict
It is a commercial-grade bench that is made of high-quality materials. The strong frame and thick pads will make the bench last for years. Its corrosion-resistant finish will preserve the attractive look for a long time. It is one of the best biceps curl benches for big and tall users. It has a maximum weight capacity of 500 lbs which is more than that of the other brands. So, it is a great choice for heavy lifters. It feels very stable when using it, so it's safe. It is easy and quick to assemble, so you can start using the bench right away without going through much hassle. This biceps curl bench is one of the best quality benches you will find in the market at such an affordable price. The ergonomic design will prevent any pain, so you will be able to exercise for hours without feeling any discomfort. This bench is a great investment for your home gym and you will get lots of benefits from it.