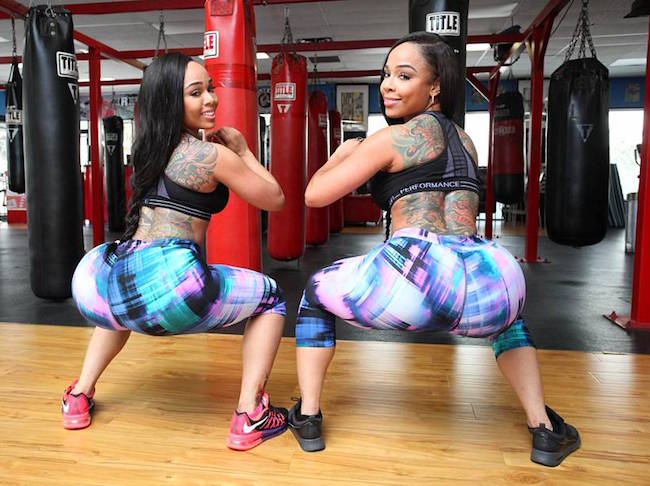 People do all kinds of stuff to get attention. But some do the most extraordinary things. The double dose sisters are a perfect example of the extraordinary. They got fame due to their derrieres that are about 4 feet round. Though they admit going under the knife to enhance their breasts, the shape of their derrieres is a result of their workout and diet efforts. Want to know what Miriam and Michelle Carolus do to maintain such enviable butts? Keep reading on.
Mirroring Each Other
The aspiring models mirror each other's routine to stay fit and look so great, reports Daily Star. They eat the same type of food, exercise in the same manner and do almost everything like one another.
Workout Routine
The duo works out by doing about 2,000 squats in a day. They don't do all these squats in a small span of time but rather stretch it over a duration of nine hours. They squat up to 100 times each in a single day. They also get help from the owner and founder of King Fitness, Bahiem King. He has created a special workout routine for them. It includes a combination of weight training, boxing, plyometrics, and MMA. The result they get after these sessions have been termed as part Serena Williams and part Beyonce. (Sounds tough, don't you think?)
Their workout schedule is so identical that even if one of them does a few extra squats or weight training, the other catches up to it.
Diet Plan
Maintaining the desirable 36-22-46 measurements is not an easy feat. The popular sisters work hard for it. Apart from following a grueling workout routine, they also eat a pre-defined diet. Their diet plan consists of relying heavily on healthy foods such as salads, smoothies, fat burners and many protein shakes. They have a healthy diet plan and they stick to it as much as possible. The sisters are very strict about their diet. They even compare their calories when they are not together so that they can eat alike. (Love that dedication!!)
Breast Enhancement Surgery
The sisters had a boob job done and went from a B-cup to a good D-cup.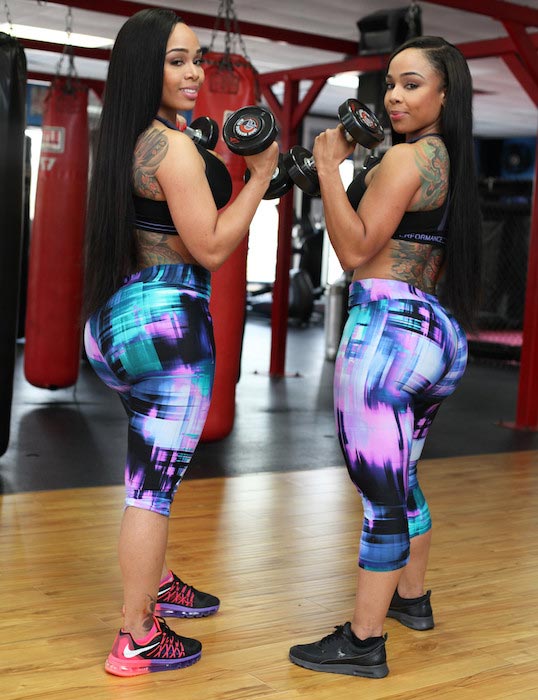 Butt Surgery
They don't plan to undergo any butt surgeries as their workout is enough to shape up their butts the way they like. (Well, all their fans love it too!!)
Feeling Great
The Florida residents think that when they get naturally well-toned butts through exercises, it makes them feel great about themselves. (Who wouldn't?)
Being Closer
The stunning sisters were always close to one another. They were together since childhood and even their mother's attempt to separate them by putting them in different classes at school didn't work towards breaking their bond. They went to college together and now they work together as Medical technicians in the same clinic.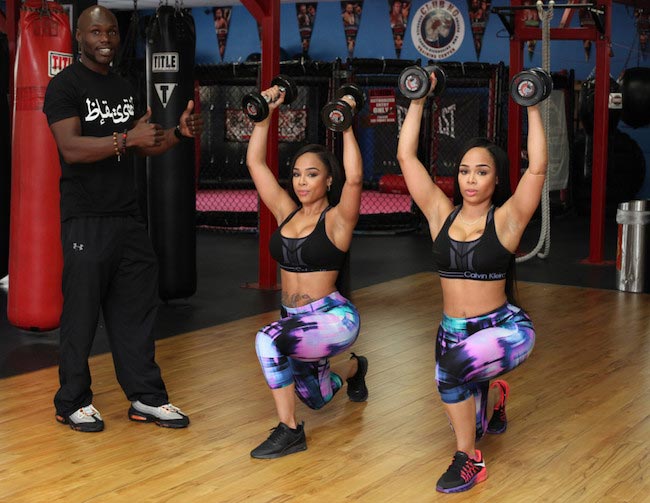 Instagram Success
The sexy duo has got thousands of Instagram followers right now but they share that they didn't even have social media presence before starting their Instagram accounts. They posted a picture, got loads of attention and then got some good modeling opportunities. They both consider modeling to be a lot of fun, reports NY Post.
The Perfect Mirror
The amazing sisters compare their own progress and body shape by looking at each other. Seems unusual right? Well, it's true. Michelle admits that when she needs to know if she is looking good or not, she just glances at her sister.
After going through the workout routine and diet plan of the superb sisters, we would just like to say that they are a living proof of the fact that if you create a customized exercise regime, you would get great results too.