Some people remember her as the cover girl of Vogue, Vanity Fair, and Maxim. And some remember her as the ex-girlfriend of Hollywood Star, George Clooney. But the Italian supermodel and actress has moved on with her life and is enjoying her new life as a mum to be. Yes, we are talking about Elisabetta Canalis who is now happily married to an orthopedic surgeon, Brian Perri and expecting a baby. The couple took their vows on September 14, 2014, in Sardinia. The beauty is 7 months pregnant but she is still becoming an inspiration for a lot of pregnant women by not slowing down her pregnancy workout routine, eating the right foods in right quantities and posing an example of being a strong woman for those who suffered a miscarriage in the past.
Workout Routine
The brunette is working out 4 to 5 days every week and is concentrating on varied exercises. She prefers doing a combination of hiking, swimming, and Pilates. She likes Pilates the best because it helps her to keep her muscles defined.
No Pregnancy Classes
Unlike most pregnant women, the famous actress is not taking pregnancy classes but has opted for taking regular advanced Pilates classes as a part of her workout regime.
Staying Motivated
The hot model is keeping her motivated by knowing that she will indulge in the near future. She knows that she can't stay away from sugars and if she doesn't work out, she won't permit herself to eat any sugar. So she has turned her weakness into her motivation…We must say…Not bad Elisabetta.
Diet Secrets
Like all normal pregnant women, former Dancing with the Stars participant also has some pregnancy cravings. She is very obsessed with bread puddings and potatoes. She also craves for carbs these days. Though Canalis jokes that she would like to have the craving for spinach, but she knows that it's not going to happen.
Finding the Balance
The former performer of TNT drama Leverage also opened up about finding the balance in her diet. She knows that having an appetite for two is the part of the pregnancy deal, but she is resolved to not eat too much and regret it later. She is committed to not eat anything that is not good for her body and health. Good thoughts, we must say.
Doing What She Says
Elisabetta has proved that she is following a good and healthy diet when she was spotted buying healthy juices in Urth Caffe in West Hollywood, which, we must add, showed her dedication to staying fit.
Near Future Plans
The talented model is already making plans to get back to the work after giving birth to the child. She is planning to return to work just two months after giving birth to her baby, and she has already penciled in a fashion campaign in Italy for the same. If she will keep working out little bit during pregnancy, it will help her to get back in shape easily after giving birth to her baby. Moreover, exercises will assist her remain active during pregnancy.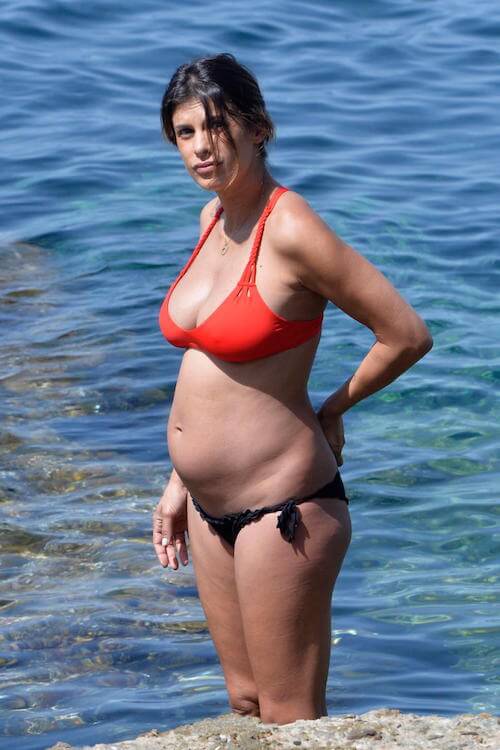 Making the Announcement
Elisabetta and Brian demonstrated unity in breaking the news to the world by using Instagram like most superstars. They added a cute and innovative picture of a pregnant Barbie doll sitting on a note that said, they are having a girl. They made the announcement in May this year.
Elisabetta also captioned the image by adding that she is excited to share the news with her fans that she and her husband are expecting a baby girl. She topped it off by writing that she couldn't be much happier than she already is. The last bit of the message said that they expect the little one to be the boss and are eagerly waiting for her arrival. The note ended by thanking the fans on behalf of Eli and Brian.
Moving On
After seeing all the efforts made by the Italian showgirl, we think that she has moved on from the tragedy of losing the first child with Brian last year. EOnline had reported her admission of a miscarriage last year in which she confessed that it was an unexpected reality that was very hard to accept. Even when she thought, she was prepared for the worst; the news of that tiny heartbeat stopping devastated her.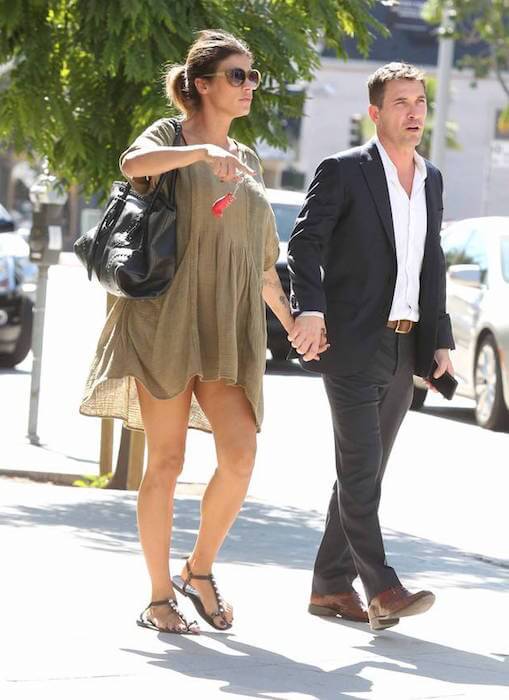 The Goodwill Ambassador UNICEF Italy also motivated other women dealing with the similar situation to not lose hope. She conveyed the message that you should stay strong because life goes on and you can't really blame anyone for it as nature sometimes acts in incomprehensible ways. She also added that you should accept it as an incessant sorrow and try to move on in life.
Well, we would like to add that not only Elisabetta is a fitness motivation for pregnant women, but she is also a role model for such ladies who lost their child. She has proved that moving on with life and welcoming a new happiness is not so tough. Well done Elisabetta and best of luck for welcoming your baby girl.