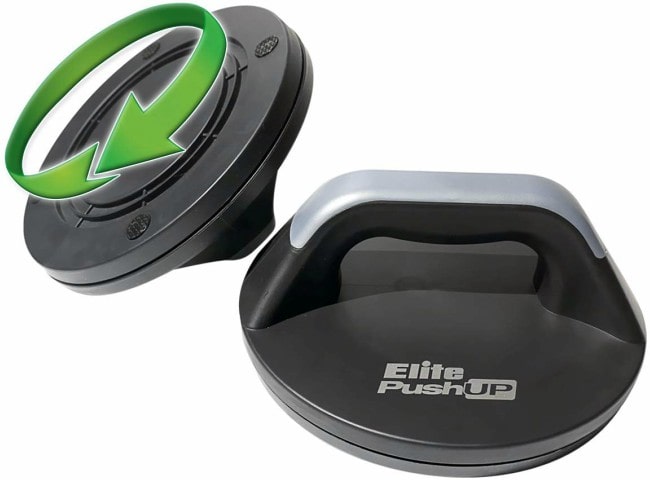 You must have heard about the importance of doing push-ups from the fitness trainer. This exercise helps to build your upper body. Whenever we do freehand exercises, push-ups remain a part of it. However, instead of doing it on bare hands, it is better to use push up bars as they can give you better results. Doing push-ups on bare hands makes your wrist bend at an extreme angle causing pain. Push up bars reduce the strain on your wrists and prevents injuries. If you suffer from wrist ailment or carpal tunnel syndrome, then you will feel comfortable doing push-ups using push up bars. It makes it easy to do push-ups on any floor; whether rough or smooth. Push up bars are great for a home gym. Unlike the other gym equipment, push up bars are compact and easy to store. You can easily carry it with you wherever you go.
Design
If you suffer from wrist pain, then this is one of the best push up bars for you. They have rotating stands that can protect the wrists and vary the level of difficulty of the exercise. There are 2 square-handled rotating bars. The rounded edges of the bars won't gouge your hands accidentally. The grips fit on the floor well and remain in place due to the anti-slipping technology.
The black push up bars with silver accents look stylish. These push up bars are designed to activate various muscles. These bars distribute stress across the muscles. They rotate to provide more flexibility and more angles to target various muscle groups.
Build Quality
The Elite Sportz Push Up Bars are made of steel, rubber, and plastic. The handles made of durable plastic and rubber and the rotating component is made of steel. They are made to be strong and durable so that you can perform intense exercises with them. The bars have a weight capacity of more than 300 pounds. You can get a perfect push-up rotation with these bars. These push up bars will cause less strain on your wrists. So, you won't have to worry if you twist the bars too much. They are sturdy and won't slide. They won't move around or collapse. They are very comfortable and you will be able to have a long workout session with them.
Size
These push up bars are compact and lightweight. They only weigh 2.4 pounds, making them suitable to carry inside your travel bag. They are also easy to store due to the small size.
Comfort
These push up bars are designed to give you the ultimate comfort. The rotating stands will reduce the twist of your wrist, thus reducing the strain on your wrists. You will get less exhausted by working out with these push-up bars. They are fully assembled, so you won't have to spend extra time assembling them like the other gym equipment.
Ease of Use
As it comes fully assembled, you can start exercising with it right away. It is lightweight and portable which makes it very convenient to use.
Effectiveness
You can use these push-up bars to perform push-ups and a whole range of exercises. You can use it for bench presses, chest flies, dumbbell flies, cable crossovers, and more. You can use them to hold yourself in the plank position. As the push-up bars are rotating, you will be able to change the distance and angle between the press up handles. With these push-up bars, you will be able to work out different parts of your body including your chest, shoulder, upper arms, back, stomach muscles, and the entire core.
You will be able to increase the difficulty of your exercise with these bars as well. If you want to activate several muscles in a single push up, then this is for you. These bars distribute stress across different muscles and don't concentrate on one muscle. So, you get a full upper body workout. When performing fuller extended push-ups you get good support to your back. You get free skipping rope and access to online videos with it which allows you to make the best out of your daily exercise routine. The rotating stands will protect your wrists. The base of the push-up bars has anti-slip pads, thus allowing you to work out on any surface.
Pros
They are made of high-quality steel ball bearing, thus making them durable.
They are cheap, so anyone can afford them.
They are stable and won't slide.
As the handles are covered with the foam they will give you the maximum comfort.
They are light and portable, making them easy to store and travel with.
The rotating stands allow you to change the angle and grip, adding variations to your exercises.
They give good shoulder and elbow protection so reduces the chance of injuries.
You get a free jump rope and downloadable workout guide with it.
They come fully assembled.
You get a 100% money-back guarantee if you are not satisfied with this product.
They provide excellent customer service.
Cons
As the push-up bars are not tall, the range of motion is limited.
As they spin, the beginners may find it difficult to exercise.
Final Verdict
These push up bars are highly rated in the sports industry for their innovative features and build quality. They are sturdy, durable, and provides the support that is needed. They won't break and will boost your confidence. The foam-padded handles provide great comfort and support. They have an ergonomic design that makes it safe to exercise. Due to the excellent weight distribution, you won't feel any strain on your wrists. They allow smooth rotation, allowing you to vary the exercises you do. Elite Sportz already has a good reputation for manufacturing quality products. One great thing about them is that they also educate customers about fitness. You will get 100% satisfaction after buying these push-up bars.