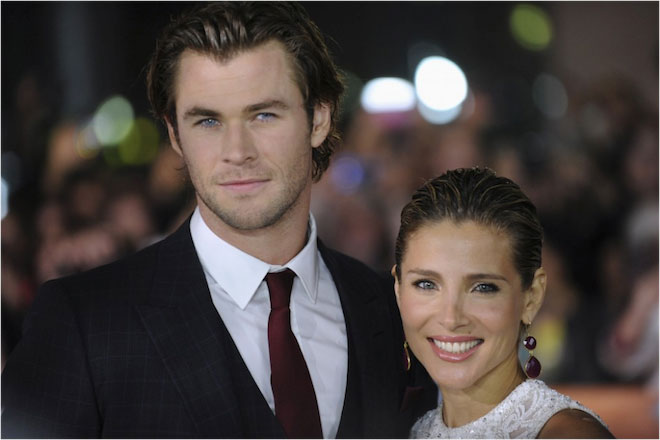 Elsa Pataky had no clue who was Chris Hemsworth when she first met him. He made his name first on the Australian soap, titled, Home and Away, which had absolutely no following in Spain. Now, happily married to the man who plays Thor, there is more to this Spanish actor, then simply playing wife to the Hollywood star tagged as the sexiest man in the world by People magazine in 2014.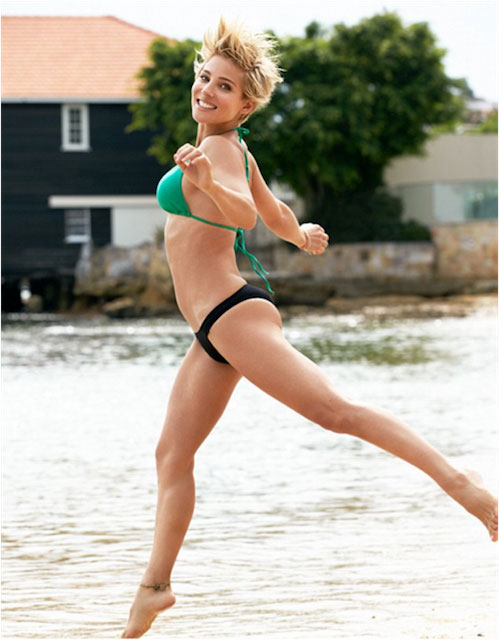 Pataky is tough and more than just a pretty face!
Other than Spanish, she speaks fluent English, Romanian, Italian and French. She has been a part of 11 Spanish TV shows and more than 25 Spanish and English films that includes playing the cop Elena Neves in the super hit, Fast and Furious franchise. In 2013, she worked in her first production, The Wine of Summer. Barely, three months after giving birth to her twins in 2014, she released her fitness book in Spanish, Intensidad Max, displaying taut midriff and defined arms on the cover! Now at the age of 38, Elsa's body and face still refuses to show that she is older than her husband by seven years or mother of three kids!
Sustaining peak energy levels while planning travel and appearances in multi-time zones, alongside, parenting a 3-year-old daughter and 1-year-old twins is no-coincidence. It takes a lot of planning and discipline and of course the support of a strong, caring partner. Elsa Pataky seems to have it all figured.
For those who get jealous, Elsa modestly dismisses her rebound to pre-baby leanness to genetics. Nevertheless, beyond genetics, a body's pre-defined tendencies are nothing but a sum of one's lifestyle habits. A self-confessed tomboy, Elsa claims that the only girly thing about her at 15 was her love for high heels. She often found herself to be the smallest one among kids of her age, throughout school, but that only spurred her love further, for both sports and fitness.
Muscles look good on women
Contrary to the aversion, that many people feel towards well-built, muscular women, Elsa Pataky looks up to the rock-solid, athletic builds of professional sportswomen. This lofty benchmark alone has kept Elsa consistent with exercise for over two decades. In an interview to Women's Health magazine, she confided,
"Even when other people say, 'oh she is too muscly,' I always like it. I will never be in that professional shape, but I like to get as close to that as I can."
Exercise, because you love your body not because you hate it.
Elsa has never really quit on exercise, ever. Even right up to week 35 of her second pregnancy when she found herself with a belly too big to do any movement even remotely complicated, she hired a Pilates instructor to supervise with prenatal exercises that primarily involved the legs.
Cutting right back into the present, Pataky sneaks in a quick 40 minute gym circuit with weights, rowing and riding a stationary bike at least four times a week during her kids' nap time. Other days, she tries to fit in Yoga and swimming as much as she can.
Elsa started practicing Yoga seven years ago and much to her surprise she swears by it as the ideal top off to lifting weights, especially for women. She insists that women should not choose between Yoga and lifting weights. Both, practiced alternately reinforce a strong, well-defined, feminine body; regulate the appetite and aid in sustaining a balanced state of mind. Hence, she does not really feel the need to hog desserts anymore. A few spoonfuls are good enough to satisfy her cravings. In case, the itch for something sweet refuses to quit, then she and her husband binge on her kids' fruit purees.
Meal planning, what art thou?
Pre plan your portion sizes according to your hunger pangs and daily activity levels and then stick with it. As reported by Dailymail, Pataky keeps it simple by following the popular nutritional adage of eating breakfast like a king, lunch like a Prince and dinner like a pauper. She also finds a way to consume goji berries, flaxseed and Kukicha tea as often as possible.
Cooking is a valuable life skill that comes in handy, no matter where you are in life. Chris Hemsworth and Elsa Pataky relocated to a remote, coastal location in Australia in 2014, to perform their duties as busy parents in peace, away from the Hollywood crazed LA paparazzi. They rarely have the energy to indulge themselves with restaurant visits. As such, prepping salads and vegetable soups alongside quick fix grilled meat or fish serves them well to keep their fitness on point without worrying much about calories.
Elsa also recommends starting the day with a glass of lemon water or a green smoothie. E! News elaborated upon one of her blog posts, in which she explains:
"The juice I like to drink once in a while and that helps me to clean my system is made with a blender: an apple, a carrot, some celery with the green leaves, a lemon without peel. Once it's done, you add a few teaspoons of olive oil. Super good."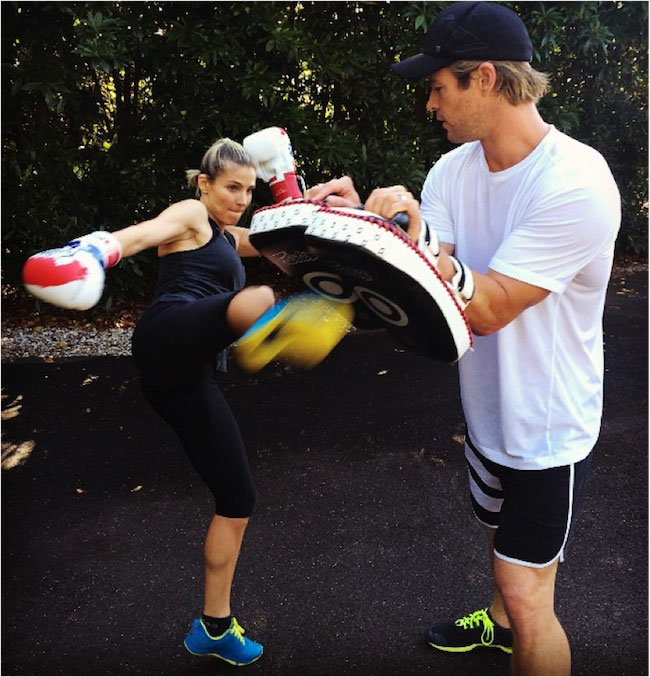 Weighing your weight is NOT the only way to measure progress.
It helps to learn more about your own body composition to prevent being too hard on yourself and enjoy the ongoing process of building the healthiest version of you. Learning new skills helps you set clearer, more specific goals for the kind of body you want. Elsa turned into a Muay Thai enthusiast to enliven her usual workouts.
While training for Thor, when Chris Hemsworth brought home a pair of body fat measuring calipers, Elsa admitted, she used them to figure out where in her body she was holding the most fat to provide a fresh perspective to her workout goals.
When you are fit, you just want to tackle everything that kicks ass!
A self-confessed adrenaline junkie, Pataky claims that she is riding horses and bikes from a very young age. Living in Australia, she unwinds with her husband surfing or racing dirt bikes in the nearby forest! In an interview to Women's Health UK, she proudly revealed that she once jumped off a helicopter to ski down the Pyrenees!
If that sounds crazy to you, then there is no need to take up radical outdoor sports to justify your fitness. However, think long and hard to unravel a clear vision of what a fulfilling life for you will look like. Once you realize what you are working for, investing in the seeming discomfort of exercise will turn into a natural inclination. As Elsa Pataky advocates in her fitness book:
"A week has 168 hours, invest at least 6 hours to your body."

For a life-changing physical transformation that makes you feel fantastic, intensity is the name of the game. Long hours at the gym, spent on lengthy workouts are not much of a worthwhile investment, if they do not equip you to perform at near full throttle exertion for half an hour, at least now and then.
Elsa Pataky's personal trainer, Fernando Sartorius provided taste of her short and hard workouts in Women's Health UK, by disclosing the following sample of three-way circuits that focus on cardio, strength and core stability. These circuits may not be suitable for absolute beginners, but clearly set a resounding benchmark for the desirable level of physical proficiency, a fit person should possess.
If you think you are tough enough to try it out, perform each circuit on three separate days of the week and before you know it, you will start feeling lighter and stronger by the end of the month.
Note: All the exercises performed on a Swiss ball can also be performed using a regular bench.
Perform all the exercises in the given circuits in one quick succession without any break. Take a minute's rest before attempting the circuit again. Go for as many rounds, as you can, within 30 minutes.
Circuit 1: Cardio Blast
High Knee On The Spot Run – for 2 minutes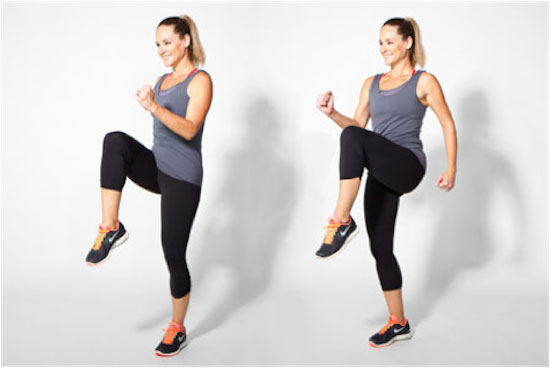 Medicine Ball V-Pass – aim for 20 repetitions
Swiss Ball Push-ups – 15 repetitions
Burpees – 30 repetitions
Circuit 2: Full Body Strengthening and Sculpting
Jump Rope – 2 minutes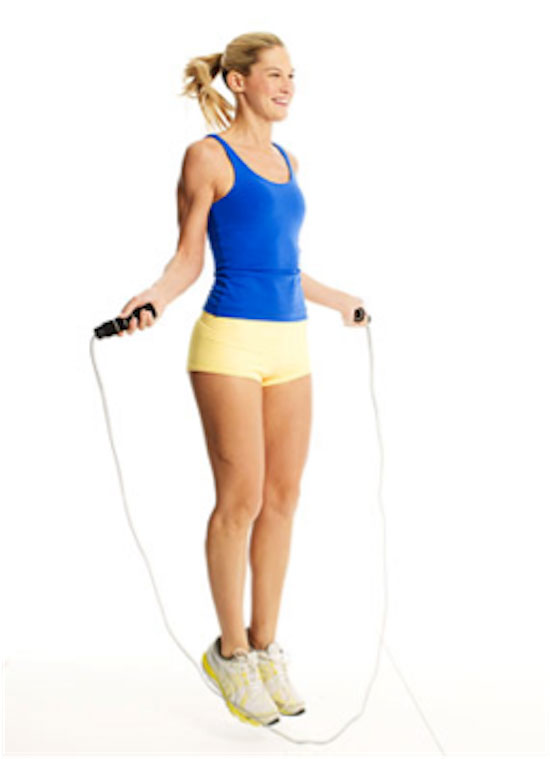 Medicine Ball Pike – 20 repetitions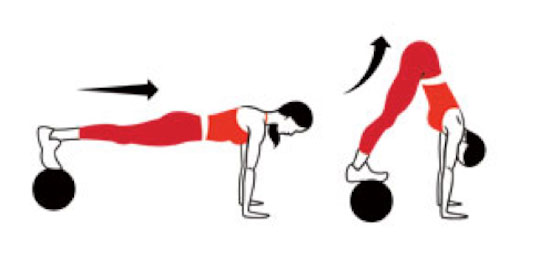 Overhead Shoulder Press – 20 repetitions
Bulgarian Split Squat – 15 repetitions per leg
Circuit 3: For a Smaller Waist and a Stronger Core
Jumping Jacks – 2 minutes
Windscreen Wiper – 20 repetitions (Can be performed without the Swiss ball)
Back Extensions – 20 repetitions
Swiss Ball Leg Curl or Hip Raise On a Bench – 20 repetitions