5 ft 6½ in, sleek and slender Emmy Rossum, lead actress in Shameless has a marvelous figure to die for. Giving bare shoots in Showtime's TV drama Shameless, Emmy is not only an actor, but also a renowned singer.
Reaching to the heights of her career, Emmy is more confident than she ever was. Her spectacular role in "Beautiful Creatures" fostered her to lose six pounds of her weight. While spilling the secrets behind her perfect figure, Emmy shares that she was never this flattered with her body shape as she is now. Though she has seen great variations in her body shape, but now she considers her in the best shape and size of her life.
How did Emmy Rossum LosE Six Pounds?
For assisting the young star in shedding six pounds, her dietitian, Carrie Wiatt sent her meals from L.A. While abiding by pre-packaged meals, Emmy consumed 1500 calories in a day. But she somehow maintained to have two ditch days, which were full of fries, steak, ice cream sundae, and pink berries. However, except for these two ditch days, she strictly followed the meals sent to her, which included poached eggs, green apple, and other healthy foods.
Emmy Rossum Workout Routine
The workouts have contributed a lot in bringing the star in the most enviable shape. Candidly speaking about her diet and workouts, Emmy tells that she practices regular workouts, and keeps strict watch on her diet. To her, remaining fit is both, her commitment to her body and to her work.
The star having admirable inner core-strength confesses that dropping or gaining five pounds is not a big deal to her. Emmy believes in remaining pesky throughout the day, and likes to discover new and exciting ways of workouts. She reckons that workouts should be felt at all the levels of body. The sensational star believes in variety since it adds flavor into our lives. And that actually is her magic spell, which makes her jump from one workout to another.
While keeping her workouts in rotational mode, she does cardio-workouts and weight lifting. Lunges, walking, leg raises are some of her routine workouts. In addition to them, she also practices 15 ballet plies in a set of four, and lifts weights weghing 15 pounds. Actually, these are her all-time favorite workouts.
The brunette takes hell lot of dance classes but she has extreme aversion to push-ups. While making fun of push-ups, she shares that she can do only 8 proper push-ups, and after that, her body gives up, and she comes down on her knees.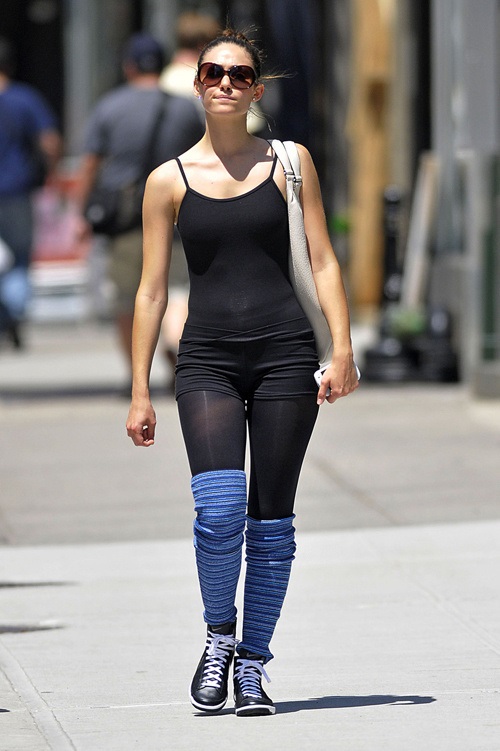 Emmy doesn't appreciate the idea of one to one training from personal trainers. She rather enjoys spinning and a lot of other group activities. Since group activities fill her with immense positive energy, the bombshell executes varied group activities such as Physique 57, burn 57, soul cycle etc. Totally in love with physique 57, she practices her workouts on the rhythms of her adored music, and often finds herself lost in a different world.
Emmy Rossum Diet Plan
Owning to her upbringing in a strict family, which followed macrobiotic diet, Emmy often yearned to eat junk foods in her childhood days. But she admits that it's the influence of her family's restrictive eating habits only that she now knows what she should eat and what not.  And she gives the entire credit to her mother, who was so particular about maintaining a disciplined diet regime in the family.
After starting her day with Tangeloes, a citrus fruit, Emmy likes having scrambled egg whites with tomato sauce in her lunch diets. In desserts, she likes to have cheery clafoutis, which is completely made of fruits.
Habitual of gluten-free diet, Emmy doesn't eat anything just like that. Her routine diet consists of steamed spinach with garlic, brown rice, and lemon roasted organic chicken. Eggs being one of her favorite food items can be part of any of her meals. She doesn't restrain their consumption to her breakfast only. String Cheese, Gala apple splices with peanut butter on them, and grapes are the parts of her healthy snacks.
Emmy doesn't like the idea of depriving her body from something it craves for. The gorgeous actress cherishes crème brulee on the weekends. She believes if you deprive your body from something for a very long time, you are very likely to accentuate the craving for that thing.
Emmy likes to cook her meals on her own, which diverts her mind from the stress of the day. She prepares carrot ginger soup on the weekends and keeps having small portions of it in the week days. Besides that, she inculcates low-fat proteins and lots of fresh fruits in her daily diet.