Actor Emraan Hashmi failed to gain much recognition in his first film Footpath (2003), but his erotic thriller Murder (2004), managed to create a lot of stir in Bollywood. The songs of the movie starring Mallika Sherawat, were phenomenal and broke many records by being on top of all the music charts for weeks. The actor was labeled as the Serial Kisser, but the good looking man proved his acting finesse and managed to silence his critics with a number of great performances in many blockbusters.
He currently has his hands full with movies like Power, Badtameez Dil and Bajrangi Bhaijaan. Despite a busy schedule and a demanding personal life (he has a 5 year old son Ayaan), the actor has maintained an amazing level of fitness. Emraan is capable of transforming his body shape as per the demands of his movie scripts. So how does he do that? Read on to know more about his fitness and diet mantras.
Emraan Hashmi Workout Routine
Emraan believes in exercising on a regular basis. "When I don't work out, it seems like a sin to me," says the actor. He is a fitness freak, but not a die hard gymming fan. Nevertheless, he daily spends a few hours in the gym. He advises his fans to spend at least one hour in the gym on a regular basis to stay fit.
Full Body Workout: The handsome hunk does not believe in focusing on any specific body part to stay fit. He likes to try varied exercises that help him develop all his muscles. If you also want to look fit rather than having bulging muscles, then a full body workout would work wonders for you. Here's a useful link of the varied full body exercises that you can include in your daily workout routine to attain the overall fitness level achieved by this good looking actor.
Chest Muscles: Chest is a sensitive area for Emraan because if he doesn't work out properly, his chest gets too bulky and ruins his entire look. The Bollywood icon tries different variations of the simple push ups exercise to keep his chest muscles in good shape without getting exhausted. Check out the various chest muscle exercises and get to know about the best push ups variations everyone can try.
Yoga: Yoga is an important fitness mantra for this dashing dude. It helps him fight off stress and keeps him calm. Yoga is also very beneficial for improving athletic performance. If you have heard a lot about yoga exercises and are confused about where to start from, then livestrong.com should surely help you out.
Emraan Hashmi Diet
As far as the diet is concerned, control and discipline are the keywords for this dashing actor. He believes that one should have a complete control over his food cravings. He says that he has not had a pizza slice for many years (even though he loved gorging on pizzas) and doesn't even pine for it anymore.
Here are some useful tips shared by the actor that will help you stay fit:
Stay away from junk food. It may seem impossible at first, but you should be determined to keep trying until you succeed.
Keep a safe distance from alcoholic drinks. They give you momentary pleasure, but harm your health in the long run.
Having a sweet tooth can be very harmful for your health. Keep away from sweets and focus on eating fresh fruits to pamper your taste buds.
Instead of having large meals, try having several small and nutritious ones. It will help you avoid overeating and you will feel energized all day long.
Do include chicken, oats, fruits, chapattis, pulses, egg white, bread, butter and fish in your daily food intake.
Avoid dishes that contain lot of spices as they are hard to digest.
When you travel, you should carry some fruits, curd, juices etc. with you, so that you don't end up eating the wrong food items. Also avoid experimenting with the food options in a new place, as it may not suit your body. So, always keep an eye on what you are eating.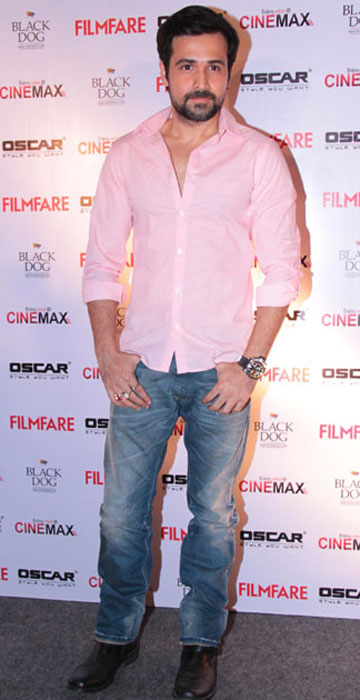 It's Okay to Slip Sometimes
The good looking actor believes that it is very common for a person to indulge in a weakness once in a while, like eating a chocolate cake or skipping the gym for a week due to work pressure. Even if you have slipped, the actor feels that you should make a comeback and work harder in the gym for the next few days to get back in shape.
Emraan believes that fitness is not about building six pack abs, but it's all about having a good and flexible body. We tend to agree.