Eva Mendes is one of those few lucky people who have everything they want. She is professionally successful, has a loving husband, two little daughters and a near perfect body. Here, we try to explore her workout routine, diet plan, diet indulgences, beauty secrets and her future plans. Let's know the actress better, shall we?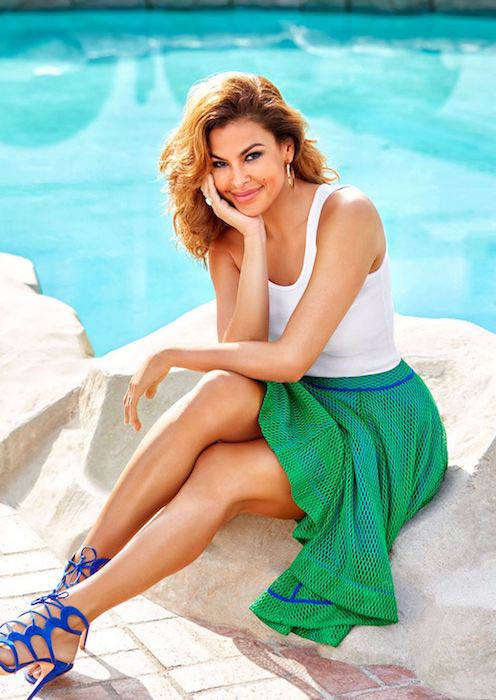 Workouts are Essential
Ryan Gosling's leading lady relishes exercising as it allows her to spend time with herself. Spending an hour towards wellness is her priority. But she admits that often, she doesn't feel like working out, she does it to stay fit.
Workout Routine
Eva likes doing sprinting and running, switching between these two. She sees great results with these exercises as compared to steady speed cardio on a treadmill which she did earlier. Between intervals (sprinting and running), she prefers lifting weights. Right now, she is using light weights as she has herniated disc in her lower back. It is quite severe, so she needs to work around it. She loves doing squats but can't do them because of the herniated disc. Instead, she is doing lunges.
As the diva is off-season now, she works out for three days a week only. But when she is getting ready for an event or its summer, she starts training for 5 days a week. She never exercises more than five days a week as her body needs rest and she sees better results when she enjoys regular rest periods.
Getting Back in Shape
The mother of two says that getting back into shape after her second daughter Amada has been more challenging but, it's not as hard as she believed it to be.
Diet Plan
Breakfast
The brunette starts her day with eggs like scrambled eggs and couples it with a piece of Ezekiel toast. If someone brings a delicious treat like a muffin, she has it with coffee.
She regrets indulging in the mornings but can't resist it often. Starting her day with protein by having eggs definitely helps her.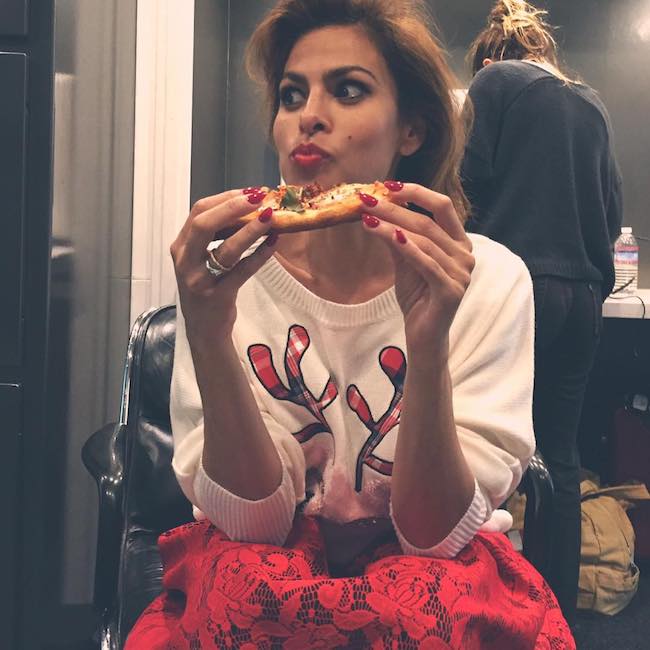 Lunch
During lunch, the Miami-born likes to have rice or quinoa and some salmon. She tries to add in a salad as well.
Dinner
She often has the same meal as lunch at the dinner because they don't have a sit-down dinner anymore. She frequently has to eat on the go with two toddlers in the house.
Diet Indulgence
The head of a fashion line, the Eva Mendes Collection at New York & Company likes to eat as clean as possible but likes to indulge at times. When indulging, she loves having Cadbury Creme eggs and black beans cooked by her mom.
She is also addicted to sweets (like us!). She eats a sweet item just after lunch or dinner and justifies it by working it off in the gym.
No Junk Food
The hottie doesn't keep junk food in her house anymore because she is trying to set a good example for her kids. It allows her to have no Krispy Kremes available at home. But when she really craves something, she uses an app called Postmates which deliver whatever she needs in minutes.
Beauty Secrets
The owner of the beauty brand, Circa believes that glowing skin comes from the inside. If she is not eating well, she starts to get pasty. She takes fish oil supplements and loves applying coconut oil on her face. She also forces herself to drink more water daily by keeping a water bottle with her. Her skin looks better when she is properly hydrated.
Kids are Her Priority
The American actress has been away from acting for a while now and thinks that it would take something special to get back to work and leave her daughters. She loves being a mom, and she is enjoying motherhood to the fullest. Eva even prefers to stay home rather than go to any big events (including the Academy Awards). When at home, she enjoys letting her kids be who they are and just protect them from harm. She likes that her kids have their own stuff and she lets them be engaged with it.
Have a look at a small part of her latest interview with Shape below and see how gorgeous she looks during the photoshoot.