Exercise cycles are very convenient equipment for home use. You will be able to exercise at your own pace within the comfort zone of home. Though you will find this equipment in the gym, you have to share it with others. Not everyone likes exercising in a crowded place and buying an exercise cycle can be a good alternative for them. Exercise cycle can be used for a total body workout. You will be able to tone up your body, build muscles, and lose calories.
The demand for exercise cycles has increased recently as more people are looking for convenient exercise options. The fitness equipment manufacturers are also coming up with exercise bikes having many interesting features to make the exercise routine more fun and flexible. You can get some bikes at a very low price and that's why the demand for these bikes is increasing. Here we are going to review the Exerpeutic Folding Magnetic Upright Bike and find out why it is so popular today.
Design
It has a heavy-duty design and can support up to 300 lbs. It has a large display that shows the distance covered, calories burned, speed and time of workout as well. There are hand pulse sensors which help to monitor the heart rate. The seat is large and is comfortable for users of any size. You can easily adjust the seat as well. It has a 3-piece high torque cranking system that ensures consistent and smooth pedaling motion.
You can easily fold the bike to make it more compact so that you can easily store it inside your closet or in any corner of the house when not in use. It has transportation wheels so that you can transport the bike anywhere. It has 8 levels magnetic control system which lets you adjust the tension level so that you can work out at your own pace. You can easily increase the intensity of the workout by increasing the tension or resistance level or decrease it for an easier workout session. It doesn't make any sound, so you can workout comfortably at home without waking your kids up or disturbing others in the house.
The pedals are large and have safety strap so that your feet don't slip off. The flywheel provides good balance and the V-belt drive ensures smooth operation. It won't make any sound, so you will be able to watch a movie or listen to music without any interference.
It includes Bluetooth Smart Cloud Fitness which will help you to track your workouts using the free MyCloudFitness app. It comes with an accessory holder where you can keep your keys, mobile phone or other accessories.
Build Quality
It has a heavy-duty steel frame construction that makes it very durable. You won't feel wobbly when you ride on it as it is very stable and will be able to support your weight comfortably. It has a large ergonomic seat with padding for extra comfort. There is a leg stabilizer that prevents the bike from tipping over during intense exercise sessions. The flywheel is wide and provides stability during workouts. The operation is smooth and consistent ensuring that you have a great workout session. There is a 3-piece high-torque cranking system that provides a smooth pedaling motion. You will find it very easy and comfortable to use this bike. As the overall construction is of high quality, the bike will last for several years. You get a 1-year warranty for the frame and so will be able to get your bike fixed or exchanged if anything goes wrong within this period.
Size
It has dimensions 31'' by 19'' by 46'' and is designed to save space, making it perfect for small apartments. It is lightweight and weighs only 39 lbs which makes it easy to relocate. Once folded, the size becomes half and makes it easy to store as it takes very little space.
Comfort
It is very easy to ride on it and get off, so you will be able to work out comfortably. It is suitable for heavy users as well as it can support up to 300 lbs. You can easily fold it to half it's original size when not in use and stores it inside your closet. There are transportation wheels for your convenience. It has a big flat seat and is covered with extra padding that gives comfort. The pedals are wide and so your feet will slide in perfectly. You will be able to secure your feet with straps as well. It has a quiet and soothing motion which gives you the scope to relax and even listen to music or watch a movie while exercising.
Effectiveness
You will be able to have a total body workout in a small space if you purchase this exercise cycle. It has a folding feature and so can be stored easily. This bike has the option to vary the resistance to different levels so that you can vary the intensity of your workouts. You will be able to see your progress on the display as it will show the distance you have covered, the number of calories you have burned, and other data. There are sensors on the handlebars which lets you monitor your pulse during a workout.
It has a precision-balanced flywheel that gives stability. The v-belt drive ensures a smooth and quiet operation. You will easily be able to watch a movie or listen to music while working out, thus making your exercise sessions more fun. It has extended leg stabilizers so that you don't tip over during exercise. The high-torque cranking system gives a smooth pedaling motion.
Overall, this bike has all the features to ensure a smooth exercising experience. You won't hurt your back or knees by exercising regularly on this machine. You will be able to lose weight fast and get into shape by varying the resistance levels and maintaining a regular workout session every day.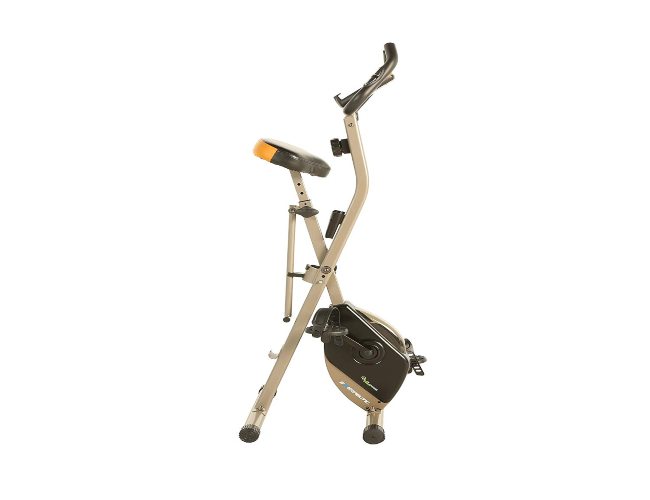 Price
You can buy this exercise cycle for under $150. At this price, the cycle is suitable for any type of user. The design is strong and you will be able to exercise for many years without incurring any problem.
Pros
It is foldable and has a space-saving design.
It is made up of sturdy steel frame which makes it durable.
You can get it for under $150, which is very cheap.
It provides 8 resistance levels which help to vary your workouts.
The seat is wide and padded which makes it very comfortable.
The pedals are also wide and have straps to ensure that it is secure.
It has a smooth and quiet operation to give you a comfortable exercising experience.
The display is big and shows the distance covered, speed, calories burned, and other important information.
It has sensors to monitor the pulse.
There is an accessory holder to keep your mobile, keys, and other things.
You get a 1-year warranty for the frame.
Cons
It is not suitable for advanced level athletes.
The seat may be too large for some people, thus giving an uncomfortable experience.
It cannot be used as a spin bike.
Final Verdict
The best features of this bike are affordability and durability. It is a great entry-level bike that will help you to achieve your fitness goals. This bike is constructed with solid and high-quality components and so it will last for many years. You may not get all the features you get of a high-end bike, but it is more than sufficient for you to have a comfortable training session. It's definitely a good exercise cycle to purchase.