Ferne McCann has always been known as a woman who speaks her mind. She is a talented actress as well as a confident woman who likes to stay fit but is not aiming to get too slim.
[toc]
She recently opened up about the social media body shaming that happened when she was participating in a reality show, I'm a Celebrity…Get Me Out of Here! (2002-Present). She talked about the reason behind her fuller body. She also shared what fitness measures she had been taking to get back in shape even before being a victim of the social media body shaming.
Ferne McCann 2016 Workout and Diet
The Controversial Incident
When the TV star was in the jungle, her on-screen photograph was compared with a previous photograph of hers wearing a lingerie. The difference between her body shapes created a stir in the social media and many people criticized her.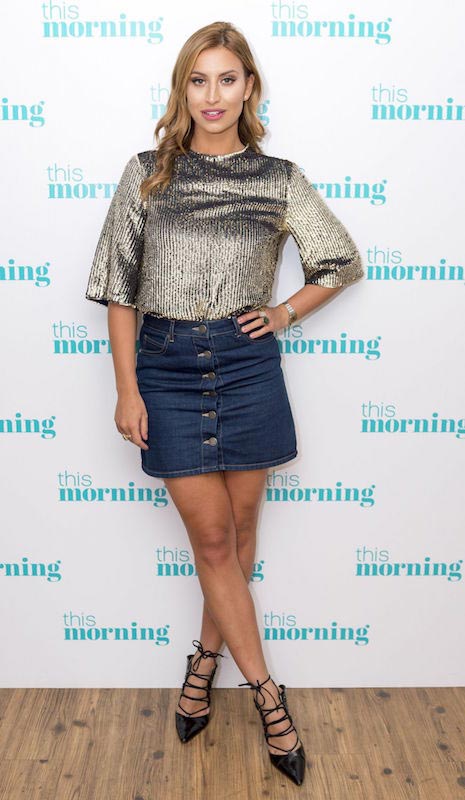 Her Reaction
The actress had two reactions over the controversial pictures. Firstly, she was angry about being body shamed in the social media, which we think was natural enough.
The second reaction was much more positive. She realized that she had accidentally become a "poster girl" for real women.
The celebrity stated that the time difference between the pictures was two years and the jungle photograph might have been taken at a bad angle. She also gave a positive outlook of the issue by stating that she is proud to be in the jungle photo if it helps other women realize that their body shape is also okay. She doesn't want women to feel that they are not perfect body wise because in her view, the superficial ideal woman does not exist and a perfect body is not achievable.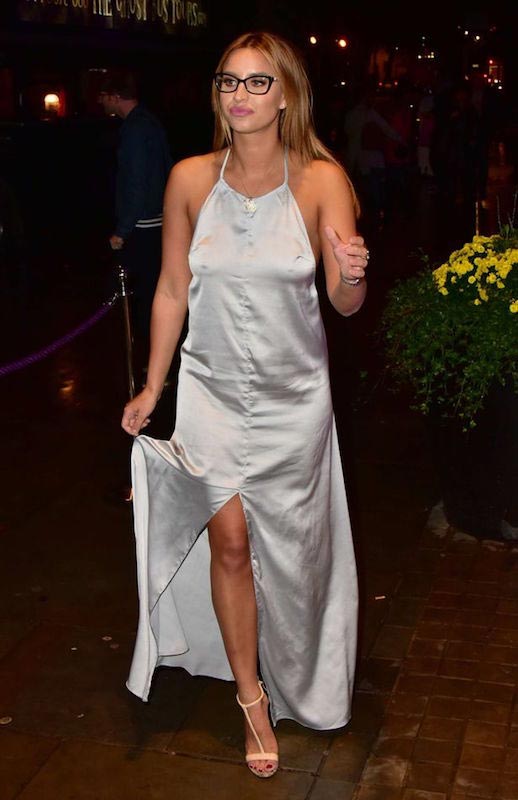 Be Real
The gorgeous lady also added that people should not look airbrushed and Facetuned as it's not healthy for them. They should accept their flaws and not pine for a perfect body. (And we couldn't agree more!!!)
The Reason behind her Weight Gain
The diva had gained so much weight due to an injury, she sustained in June 2015 while playing netball. The injury forced her to wear a large plastic boot support for 2 months. As a result, she ate a lot of comfort food and didn't exercise much which made her curvier. (Oops, that was a mistake Gal)
Facing the Harsh Reality
When she took a look at the photographs, she felt bad. She also realized that her weight has increased from 10 st to 11 st 7 lb. She even referred to the realization as soul destroying. People also added a lot of fuel to her sadness by calling her fat when she attended the Specsavers event in October 2015. The weight gain not only made her feel stressful, it also made her feel heavy, sluggish and even bloated. Her body also did a lot of water retention that made her feel bad too. She didn't feel like herself and things were so bad that she even wanted to avoid public appearances.
Working towards Fitness
Ferne was dedicated to get back in shape as soon as the boot came off. She signed up to the annual fabulous charity challenge organized for helping CoppaFeel! for breast cancer. As a part of the event, she went trekking in Peru and trekked on the Inca Trail to Machu Picchu in August. The event gave a good start to making her physical life get back to track again.
Workout Routine
The English TV personality worked out for 4 days in a week. Her preferred exercises varied from boxing to pump classes. She worked out with a personal trainer to get back in shape.
Committed to Exercise
McCann has always been a big fan of netball as she has been playing it since she was 10-years-old. She was a part of the sports teams at school and gymming was liked by her. Exercising is a lifestyle choice for the young woman and she doesn't do it to get in shape. (That's very healthy indeed)
Diet Plan
The Only Way Is Essex (2010-Present) actress changed her diet too. She replaced carbs with healthy food options and stayed away from unhealthy foods like cheese, bread, Chinese food, butter and sauces like mayo, ketchup and salad dressing.
She now begins her day with a healthy slice of rye bread which she complements with avocado mashed in as your spread, some cottage cheese and smoked salmon, salt, lemon and black pepper. It helps her stay full for a long time and reduces unwanted hunger pangs.
The amazing actress has also started including loads of fishes and vegetables. She is also making wise diet choices these days which includes replacing wine with a vodka soda when she is out.
The beauty also likes to cook healthy and clean dishes herself so that she knows what is going into her body. She likes making smoothies, curries, fish and other protein dishes the best.
Diet Indulgence
The diet indulgence of the hottie is a hearty Italian meal that consists of home-cooked bread and pasta. Unlike many women, she has no sweet tooth but she has a weakness for carb-rich foods like meats, pastas, and cheese.
The Results
The efforts made by the skilled actress led to great results. When she entered the jungle, she had already lost 1½ st. She lost another ½ st while she was in the jungle and her weight finally came around to 9st 10lb.
The Contentment
The striking actress is happy with her weight right now and she never wants to drop to 8 st (that was when the lingerie shots were taken). She loves her food and feels content with her shape now. Food makes her happy and now, she feels great about herself.
Ferne McCann on Exercise, Motivation, Food and The Buddy Project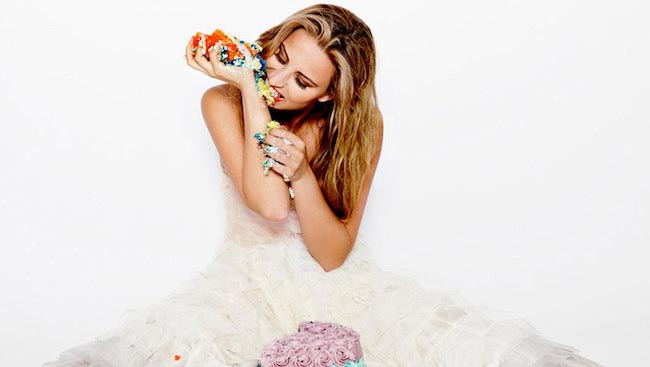 Your workouts can be better when you hit the gym with a buddy. This has recently been proven via research conducted by UK-based biscuit brand, go ahead! The brand has launched a Summer Body Project to motivate people to work out with their friends. The faces of these projects are British TV Personality Ferne McCann and the co-founder of You're Fit Fitness, Bradley Simmonds. McCann opened up about what she thinks of the entire project, how to stay motivated for workouts, the pressure to look good on screen and how can one maintain a healthy lifestyle. Let's have a look at all that plus some diet and exercise secrets shared by the diva in this article.
The Buddy Project
The former The Only Way Is Essex (2010-Present) actress confessed that she is among those people who go on a crazy fitness routine or try a fad diet regime during summers. Then she gets bored with the thing and gives up. The project would help people with this habit to stay motivated to stick to the new exercise or diet routine because you are doing it with a buddy. You are 74 percent more likely to stick to the new fitness plan if you do it with a pal. Apart from motivating people to workout or diet with a buddy, this project also shares some useful tips on keeping active and snacking healthily.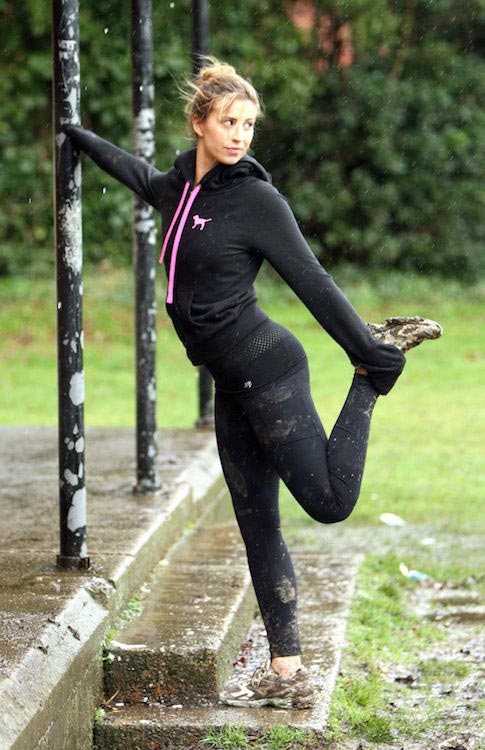 How to Maintain a Healthy Lifestyle?
The TV star believes that you can enjoy a healthy lifestyle if you keep your goals realistic. If you chase hard to reach goals, you will end up losing which may also harm your self-confidence. The feeling of failing to achieve your goals may have a negative impact on your mental health too. So, you need to choose those exercises and diet goals that are achievable, fun and realistic at the same time. Opting for healthy choices in life should not be a chore, it should be something that can become a part of your lifestyle.
Why Women Workout Better with a Friend?
Most people love to workout with a friend because they have a lot of fun and they don't compromise their social life for hitting the gym. To make exercising more fun with a buddy, you can opt for any workout method that you both like, it can be running, walking, dance classes, etc. Ferne also shared that research has proven that women in Britain particularly love to exercise with a buddy because they often are not confident to go and do it alone. They are often worried about looking silly.
How to Motivate Yourself for Workouts?
If you are trying but failing to motivate yourself to workout, then the Essex-born wants you to start with baby steps. You don't need to do tough weight training from the first day. You can begin by making simpler and better lifestyle choices like walking to your office if it's close to your home, taking stairs instead of lift, etc. In case you make the excuses like not being able to walk due to the killer heels you love, you can carry a pair of comfy shoes with you.
It doesn't matter if you are walking 2 miles or 20, what matters is your effort to change your lifestyle. If you need further motivation, do it with a buddy so that you stick to the positive lifestyle changes you have opted for.
The Pressure
This Morning (1998-Present) reporter has admitted that women feel a lot of pressure to look great, especially the ones who appear on TV. She personally felt the heat of it when she broke her ankle last year, could not exercise for a few weeks and gained some weight. People body shamed her and she felt bad about it. Now, the stunner just avoids what people think. She firmly believes that if you are healthy and active, you are doing it right. It's far better than being skinny and unhealthy. She adds that women would almost always be criticized. They are criticized if they are too skinny and they are criticized if they are too big. Women should just ignore the pressure and concentrate on making healthier choices in life without taking it too far.
Workout and Diet
The former I'm a Celebrity…Get Me Out of Here! (2002-Present) participant also shared her own workout and diet ideas. She believes in being realistic about exercise and diets. Like every other woman, she loves to indulge in carbs, biscuits, and a Chinese takeaway but she resists. How? When she has a craving for chocolate, she just has a piece of it and if she wants a glass of wine, she contents herself with sipping it like a tonic. She also likes to cook because this way she knows what she is putting into her body.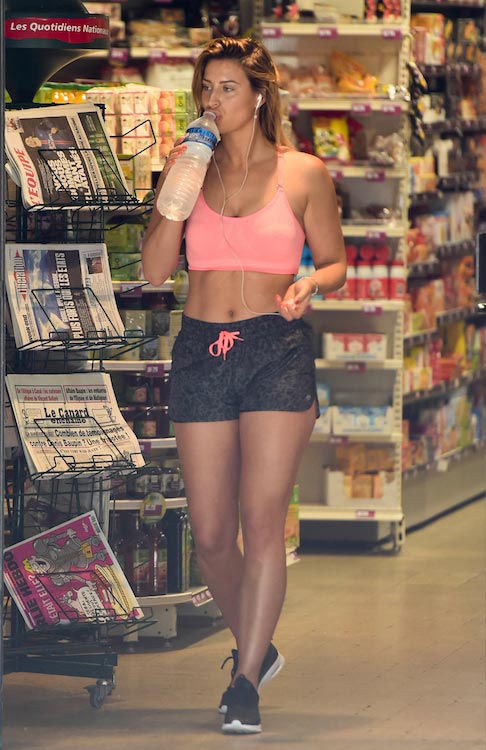 Talking about exercise, she said that her workouts are always fun. There is no point in going to the gym without a motivation and if you are feeling that way, you need to make them fun. Choose the exercises that make you happy as it will make things easier on you. The food & fashion blogger does a lot of boxing to stay in shape. Her exercise routine varies with time. If she has time, she will hit the gym and if she is too busy, she'll just do ten squats in the morning and won't do anything else.
Learn to Relax
The English TV actress also believes in taking little relaxation breaks in life as they will help you stay mentally strong. She prefers to relax by curling up on the sofa and watching TV. She also loves going out with her mom or her friends and cooking in her free time.
Ferne McCann Post Pregnancy Workout and Diet Secrets – 2018 Edition
Ferne McCann is one of those celebrities who work hard to transform themselves completely by using a healthy combination of proper exercise and diet routine. She lost a lot of pregnancy weight after giving birth to her daughter Sunday Sky in 2017 and admits that the birth has changed her completely as a person. How? Let's find out.
The Changes
Some of the changes that she has noticed include her skin, her wardrobe, her blonde hair and her body shape.
Before
Before her daughter was born, she was a party girl who liked to go out and have fun at all times as she had no responsibilities.
And After
Now, her life has changed dramatically as she is not so outgoing anymore and she is in the best shape of her life too.
Mental Shift
The new mom has also had a mental shift as she has now learned to love her body for what it is and has become more body confident. She has also developed a lot of respect for her body because her body helped her to create her little munchkin.
Meaning of Exercise
The true meaning of exercise for the diva is to take some time for herself, which we presume most new moms want. The hour she spends in the gym is her real "me time" now.
Staying Fit
The celebrity got into the habit of staying fit when she was pregnant because she knew by knowledge, that women who were healthy during pregnancy, had got comparatively easier childbirth.
She also opted to breastfeed her baby not only for the baby's sake but, her weight loss goal as well. About 6 weeks after giving birth to her baby, she returned to the gym after getting a clean chit from her GP.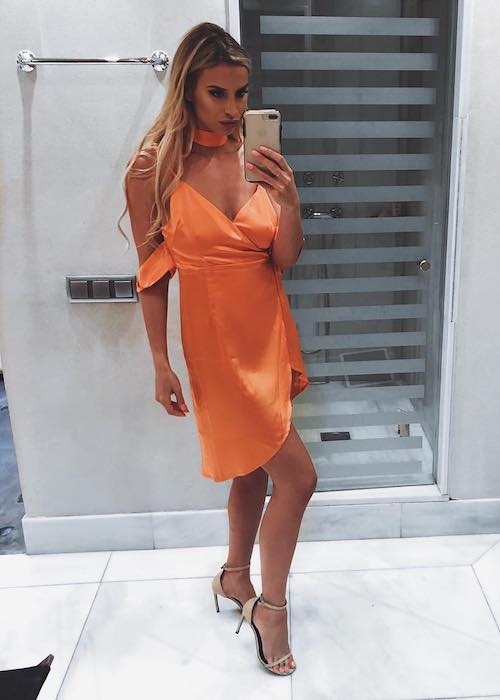 The Incentives
One trick that helped her to stick with being healthy was that she set little goals for herself and accomplished them every day rather than having big goals that can't be achieved and often make a person feel incapable.
Another incentive was that she wanted to be able to feel good during the red carpet of the National Television Awards that were organized at the end of January 2018.
Workout Secrets
Ferne took the help of personal trainer Ellie Hopley to get her workouts right and saw her twice a week for hour-long sessions. The focus during these sessions was on weight training and body weight exercises. They worked for her as they helped her achieve a great definition.
She didn't do much of cardio as she wanted to have some curves and believes that cardio leaves a person too skinny. The duo started working on her bum and shoulders to make them appear large and make her waist look skinny.
Feeling Proud
The English model is quite proud of the results she has got and likes to show off her tiny waist. In her opinion, if you have worked hard to achieve something, you should flaunt it. Apart from two grueling sessions in a week, she also trained on her own. For instance, she did squats while watching Made in Chelsea (2011-Present) when her daughter was asleep.
Diet Changes
The stunner also made some diet changes which she adhered to primarily during the weekdays and slightly less on the weekends. She doesn't say that she tried a new diet because whenever she had tried to follow a particular diet in the past, she has ended up overindulging on junk foods or sweets.
Her focus now is on eating organic foods, cooking everything in coconut oil and making healthy choices with regards to food. She also likes to know what's in her food and has limited her alcohol intake.
Bad Experience with Foods
The beauty admits that she ate whatever she wanted until she was in her 20s because that was when her weight started fluctuating. At that time, when she partied with her friends, she ended up feeling bloated due to bad food choices.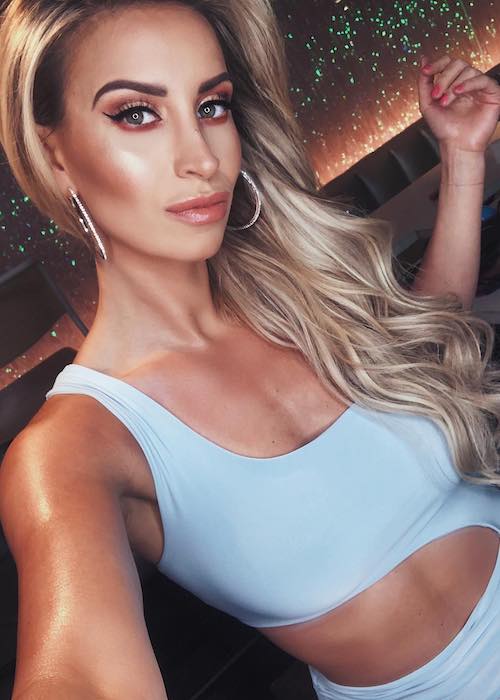 Diet Indulgence
Even now, she likes to indulge every once in a while, and cannot cut out everything she loves. If she has a mood to indulge in Chinese takeaway or have Italian food with her friends or even have a glass of wine, she doesn't stop herself but maintains a balance between indulging too much and eating healthy.
Moderation is the Answer
Nowadays, she focuses on having everything in moderation. She tries not to have bread or pasta too much. But when she is with friends, she has a bit of both. Her idea is to have the right portion size of light pasta because it has good carbs and good energy while avoiding pasta that comes with the too much creamy sauce or a lot of cheese.
No Weight Loss Numbers
McCann has never owned weighing scales and even after a visible weight loss, she can't say how much she weighs. McCann just weighs herself by the way her clothes fit or how she looks in the mirror. She thinks that weighing yourself constantly is not a good idea as they end up depressing you.
The Support
Though she has a busy professional life, a commitment towards fitness and a little one at home; she can't manage it all without the help of her mother Gilly and credits her for the same.
Feeling Happy
For now, she is also content with her life without a guy or a partner. Her life revolves around having a good time with her daughter, enjoying amazing food, focusing on her career and watching Netflix in her free time.