People are now very cautious about maintaining good health. One of the main reasons for it is to prevent chronic diseases like diabetes, high blood pressure, and others. If you have good health, you will look good and feel good as well. One of the recent inventions in the fitness world has been the activity tracker. This simple device is extremely useful that it will always keep you on track when it comes to health.
If you have a fitness tracker, you will be able to monitor your overall health. It is like an electronic watchdog for health. It will measure your vitals, heart rate, stress, and a lot more. Here, we are going to review the Fitbit Charge 3 Fitness Activity Tracker and find out why it has captured such a big market.
Design
Fitbit Charge 3 is slim and stylish. You can get it in some wonderful color combinations like graphite/black, graphite/white silicon, lavender, and gold/blue-gray. It has a 0.8 inch rectangular monochrome OLED display that shows how many steps you have taken, how many calories you have burned, the quality of your sleep, and lots more. You can use it to track multiple sports like running, biking, yoga, hiking, and more. Charge 3 is a nice watch, too. You can select from different clock faces.
The bands feel comfortable to wear and you can change your look by purchasing different bands. The display is a touchscreen that makes it easy to operate. It has sensors such as optical heart rate monitor, altimeter, and MEMS 3-axis accelerometer. You will get notifications for text, call, and calendar events. There are socialization features that allow you to share your stats with the people you know. Along with activity tracking, this device also includes inactivity alerts to remind you that you need to get moving. As a bonus, you get some extra features such as guided breathing sessions and female health tracking. It has Bluetooth 4.0 and it is compatible with iOS, Windows, and Android.
Build Quality
Fitbit Charge 3 is light as it is made from aluminum. So, you will feel very comfortable wearing it all day. Its full touchscreen makes it very easy to use the tracker and the large display lets you read the notifications and messages. It is swim-proof and water-resistant; you can also wear it in the shower as well. When you go on outdoor runs or rides, you will be able to connect this tracker to your smartphone GPS to get real-time distance and pace. With this tracker, you will be able to stay connected through everyday apps like weather, get text and calls, notifications, and more. Though it doesn't have a built-in GPS, you can quickly latch it on to your phone's GPS.
It has a SpO2 sensor that can measure your blood oxygenation levels. So, you will know whether you had any breathing disruptions while sleeping. One of the features that differentiate a good activity tracker from a poor one is battery life. As you will be wearing it all day, the battery life must be long. Fitbit Charge 3 has an impressive battery life of 7 days. It is an excellent quality activity tracker and you get a 1-year warranty for it.
Size
It has dimensions 0.6 inches by 0.4 inches. You can get the wristband in small and large sizes. The small wristband has a size of 5.5 to 7.1 inches. The large ones are between 7.1 to 8.7 inches. It is lightweight and weighs only 0.9 ounces.
Comfort
The plastic strap feels comfortable and is easier to wear throughout the day. It fits snuggly on the wrist and provides an accurate heart rate. The screen of Charge 3 is 40% larger than it's the previous version which makes it much convenient to read the various stats. Even in bright conditions, the device displays information. It is a touchscreen and is very easy to use. The resolution of this device is excellent which gives a good user experience.
Effectiveness
This activity tracker can measure the number of calories you have burned, track your heart rate round the clock, track the quality of your sleep, and much more. It has a long battery life of up to 7 days. It takes 2 hours to get fully charged. There are more than 15 exercise modes like bike, run, yoga, swim, etc. You can easily set a goal and get real-time stats during the workout. It can automatically recognize exercises like runs, swims, sports, and elliptical. It has an auto start and stops feature that lets you stop to take a breath if you want to.
Charge 3 has features beyond activity tracking. It has a lot of health features that are very interesting and useful. It will monitor your heart rate, breathing, sleep, time of inactivity, and more. You will be able to detect whether you have sleep apnea with this tracker. There are more than 15 goal-based exercise modes that you can choose from. You will be able to see real-time progress that will motivate you to stay fit and healthy. It has female health tracking options that let you keep track of your periods and estimate ovulation. The Fitbit app syncs automatically and wirelessly to more than 200 Android, Windows, and iPhone devices. So, you can track your steps, calories burned, log food, and set new goals using the FitBit App. You can get access to the personalized video workouts from Fitbit Coach to help you with your fitness goals. This app lets you earn achievement badges and share your fitness results with others.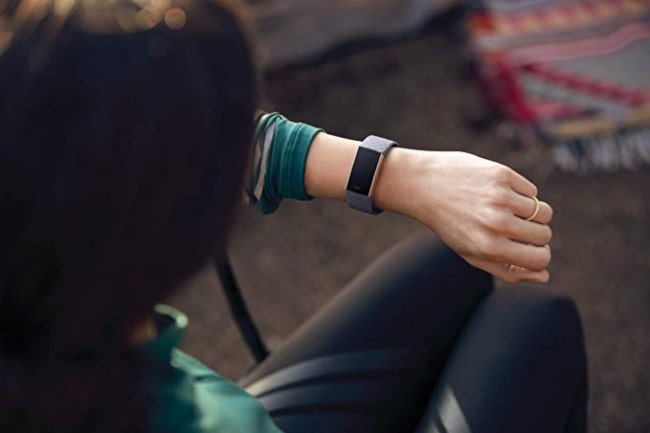 Price
The base price of Fitbit Charge 3 is $ 149.95. You can choose from various bands like the Graphite tracker black silicone band or the Rose Gold tracker with a grey-blue silicone band. You can also buy extra bands so that you can change your looks. The classic and sports bands cost $29.99, the woven bands cost $34.95, and the leather bands cost $49.95.
Pros
It has a large touchscreen screen which makes it easy to see the information.
It has a light and thin design which makes it convenient to wear all the time.
It is completely waterproof and you can wear it in the shower or during swimming up to 50 m.
It is compatible with iOS, Windows, and Android devices.
It has an alarm, timers, weather app, and other interesting features.
It can monitor heart rate, steps taken, calories burned, sleep quality, female health, and other things.
Its mobile app is very useful and gives you access to lots of goal-based exercises.
You can share your stats with your friends and families.
It has a great battery life and you can use it up to 7 days without charging it.
It has Bluetooth and you can connect it to the GPS of your phone.
You get a 1-year warranty for the product.
Cons
It is monochrome; that is, it doesn't have a color display.
It doesn't have any WiFi.
There is no onboard GPS.

Final Verdict
With about 35 million loyal users, you can imagine how popular the Fitbit device is. The Fitbit Charge 3 is a high-profile activity tracker that will be useful to you in many ways. With its multi-sports tracking option, you will be able to track activities like running, biking, swimming, yoga, weight lifting, and more. The 0.8-inch monochrome touchscreen OLED display monitors heart rate, sleep, steps, and the number of calories you have burned.
It is an upgrade to its previous version the Fitbit Charge 2 and has additional features like sleep quality monitoring and water-resistant ability which allow you to wear it during a shower or even swimming. The battery life of this device is much improved also and you can use it for 7 days long without charging it.
You will find many cheaper trackers in the market but they won't be able to beat the quality of Fitbit. So, for a great experience, you should buy Fitbit Charge 3 Activity Tracker.