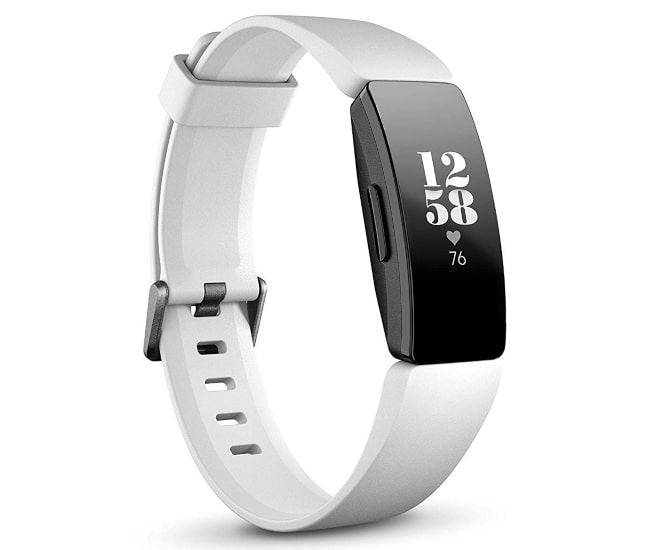 The technology is improving fast and now you can get wearables that allow you to do a lot of interesting things like pay at a coffee shop. The smartwatches and AI-infused wearables are giving an extraordinary experience to the users. An activity tracker is one of the most popular devices you will find today that is simple, yet highly functional. In this simple watch-like wearable, there are lots of useful health functions. There are different types of activity trackers in the market and some of them are jammed with multiple functions. If you are looking for something simple that will meet the bare essentials within a good price limit, then you should buy the Fitbit Inspire HR Heart Rate & Fitness Tracker. 
Design
It's simple and sleek design is attractive. You can choose from black, lilac, and white color. You get the option to choose whether you want it with the heart rate monitoring option or without it. If you are someone who finds the modern smartwatches to complicate to operate, then you will enjoy using this tracker. It is simple and easy to operate and is highly functional. You can buy an extra clip to attach it to your pocket or belt. The body of Fitbit Inspire HR is simple but the straps are very attractive. You can easily swap the bands using the pin system. You can choose from leather, woven, or metal straps. It has a grayscale display and you will be able to see the information. With single-button and touch navigation, it's very convenient to use. 
With this device, you will be able to track what distance you have run, how many calories you have burned, and other stats. It is water-resistant up to 50 meters; as a result, you can wear it during swimming or in the shower. It can track when you go to bed and wake up, so you can wear it in bed to know about your sleeping cycle. You will get insights into your sleep stages and know whether you are having a good sleep or not. 
You will be able to change the clock face or personalize the exercise modes by using the Fitbit app. The 'Today screen' of this tracker is unique and useful. It will show all your stats including weight, sleep, menstruation, and more. You can receive notifications here also.
Build Quality
It is made of quality materials that make it long-lasting. The base is solid and the straps are durable too. It has an automatic workout detection feature that lets you track your run, ride and other activities easily. It is water-resistant up to 50 m and has a swim tracking option. Though it doesn't have an in-built GPS, you can still sync it with your phone and get real-time stats of your activities. This device can help to track your sleep. So, you will be able to know for how long you woke up in the middle of the night and how long you had a deep sleep. It has a battery life of 5 days which is good.
Size
It is a small device that measures 37 mm by 12.6 mm. It has a narrow screen that looks very stylish. It is very light and weighs only 7 gm on its own and if you attach bundled silicone strap, then it will weight about 20 gm. It is 16.2 mm thick, yet you won't notice the thickness when you wear it. You get only one size of the belt that will fit all.

Comfort
Though it is a bit thick compared to the other brands, it feels very comfortable on the wrist. You will get a snug fit and feel as if you are wearing nothing. 
Effectiveness
This device lets you get access to various exercise modes, timer, and settings. You only need to swipe on the right and start logging your workouts. When you swipe downwards, it will reveal data such as distance covered, calories burned, and more. Using the Fitbit app, you will be able to log your food and water intake. 
With this tracker, you will be able to monitor your all-day activity. The battery remains charged for 5 days. It has SmartTrack technology that automatically recognizes activities. It has automatic sleep tracking that helps you to understand your sleep patterns. You will get useful bedtime notifications as well. It has a 24/7 heart monitoring system that tracks your heart rate and informs you about the condition of your heart. It offers a guided breathing mode which you can do in 2 to 5-minute sessions and heart rate tracking as well. It will buzz when you deeply inhale and exhale. 
You can connect the device to your phone's GPS to see real-time information about your walks, rides or other activities. There are more than 15 goal-based exercises installed here that helps to reach your real fitness goals. The Fitbit app is compatible with Android and iOS devices. So, you will be able to get access to various exercise modes and useful information using any device. You can receive notifications of messages on this device which will make your life much easy.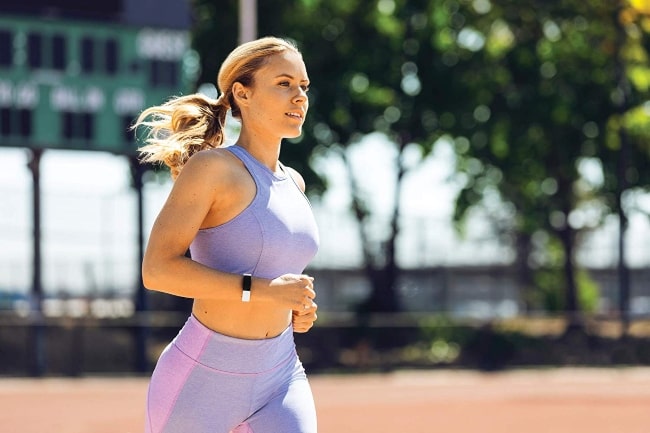 Price
This activity tracker is affordable and will cost only $99.43 at Amazon. Spare bands will cost about $24.95 and you can choose from the double wrap, leather, silicone or stainless steel. You will be able to buy clips for it so that you can wear it on your belt or pocket as well instead of your wrist.
Pros
It is small and light so feels comfortable on the wrist.

It is simple, yet fashionable.

It is a great device for viewing daily stats and fitness tracking.

This tracker is affordable.

It has a battery life of 5 days.

It is water-resistant up to 50 m, so you can wear it when swimming.

The screen is bright and vivid.

It is easy to operate.

It can track up to 15 different indoor and outdoor workouts like running, swimming, weightlifting, and more.

It has a guided breathing mode that helps you to do useful breathing exercises.

You can sync it to your phone's GPS.

You can get access to different goal-based exercises in the Fitbit app.



Cons
As the screen is small, you may need to do a lot of scrolling and the texts may be difficult to read sometimes.

It doesn't include Android Quick Replies; so you will have to use the phone to reply to the messages you receive.

It doesn't have a colored screen.

There is no built-in GPS.
Final Verdict
Fitbit Inspire HR is for those who are looking for something simple, and not something as complicated as a Smartwatch. Using this device, it will be pretty simple to take control of your fitness. It is something that you can simply put on and go without having any prior knowledge about it. It is light and sleek which makes it very stylish. Though the screen is small, you will be able to see information clearly on any lighting condition.
You will be able to accurately track and record your steps and sleep. It is waterproof and so can be used during swimming as well. You can monitor your heart rate and breathing. The Fitbit Inspire HR is one of the most affordable fitness bands you will find in the market today. It is a great device that you can use to track your fitness journey. It is a good fitness band overall.
Buy Fitbit Inspire HR Heart Rate & Fitness Tracker