If you are not a fitness enthusiast, then you might think about how an exercise band can be useful. It's only a flat band made of rubber or latex but provides lots of fitness benefits. It is also known as resistance bands as it provides different levels of resistance depending on the age and fitness level of the user. You can get similar benefits as free weights and machines using the exercise band. You can do cardio workouts, upper, and lower body workouts using this exercise band. You can also combine them with yoga, Pilates, and stretching exercises.
The gym membership is expensive and fitness tools like an exercise band can provide an affordable and easy solution for fitness enthusiasts. You will find exercise bands of different brands in the market. They differ in quality, color, and size. If you buy an exercise band from a good brand, then it's elasticity will stay for a long time. The Fitness Insanity Resistance Band is a popular product and here we are going to review it in detail.
Design
You will get a set of 5 different bands each of different resistance and color. The resistance will vary from 10 to 50 pounds. The bands are color-coded and have clear resistance markings so it will be easy for you to pick the band of the right resistance you want. You can use these bands individually or in combination with other bands to get more resistance to perform the intense workout. You get a lot of accessories with this set of resistance bands including handles, door anchors, ankle straps, a carrying case, and exercise guides.
These exercise bands are lightweight and portable. Each band is 1.2 m or 48'' long which makes it comfortable to hold. You can also add the handles to the ends. You can stack up the bands to up to 150 lbs. The bands are made up of high-quality material and that's why they are strong. These bands are flexible enough to perform various types of exercises and are suitable for users of all levels. So, you will never get bored and will always find something to experiment with.
Build Quality
This resistance band set is made with high quality and eco-friendly natural latex which makes them professional-grade bands. This resistance band is stackable, which means you can use it with other bands to increase the resistance. The bands are portable and you will be able to carry them anywhere. This set of bands is durable and will be able to withstand intense workout sessions. You get 2 cushioned handles with it so that you can workout comfortably for long hours. The various exercise guides that you get with it will help you to do different types of exercises. You get a lifetime warranty for the product.
It has anti-snap technology and so the bands will be able to maintain the resistance for a long time. They are double-layered that provides maximum resistance and makes them durable. These resistance bands are great for toning your chest, abs, biceps, triceps, legs, and other parts of the body. These bands are suitable for beginners to experts.
Size
It is a set of 5 color-coded bands, each representing different resistances. The resistances of different bands are: yellow has 10 lbs, blue has 20 lbs, green has 30 lbs, black is 40 lbs, and red is 50lbs. The length of each band is 48''. You can either use them alone or stack them to get a combined resistance of up to 150 lbs.
Comfort
The handles are ergonomically designed, so you get excellent cushion while exercising. It helps to tone your muscles quickly as you will be able to exercise comfortably for a long time. A door anchor and ankle straps are also included for performing various workouts. You get an exercise guide to help you with your workouts and a waterproof carrying case so that you can carry it outdoors as well.
Effectiveness
These resistance bands are very effective. They can work with your different muscle groups. You can easily adjust these bands according to your resistance levels. You will get enough resistance from these bands for toning and strength training. You will also be able to lose weight as it will boost up fat burning. You can combine different bands to get high levels of resistance.
These resistance bands are lightweight and are great for the beginners. Even seniors who are looking for a low level of resistance can use these bands. It is also ideal for those who are recovering from injuries. These bands provide low impact workout that won't cause any stress on your joints. If you are looking for low impact exercise, then you should use 3 to 6 pounds of resistance weights. For an overall workout, you must use 8 to 10 pounds of resistance weight and for the active users, 12 to 16 pounds of resistance bands are perfect. You can use more resistance weight for more intense workouts.
It is better to use 3 different bands for your different muscle groups. You will get many exercise guides along with this product to help you spice up your daily exercise routine. You also get 2 cushioned handles and ankle straps so that you can perform different exercises with it.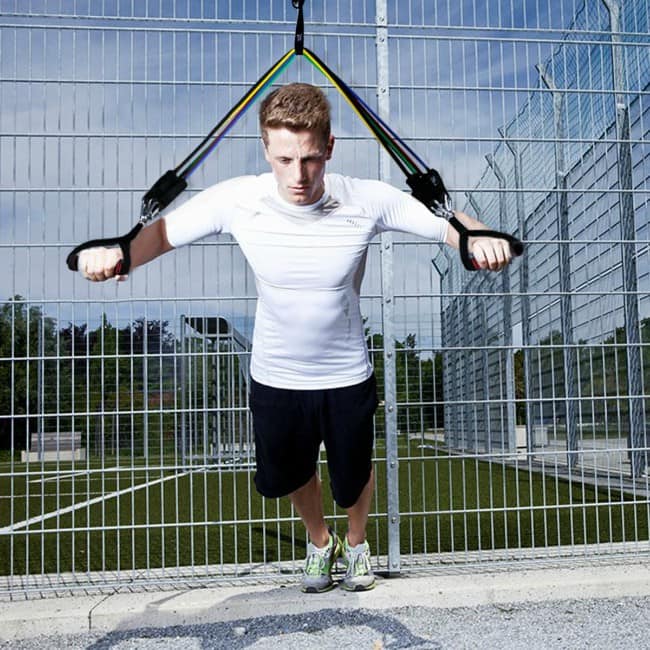 Price
This set of exercise bands is very cost-effective. You will be able to buy it for only $23.97 at Amazon. You will get a lot of use of it which makes this product a great value. You will get lifetime guarantee for it and the manufacturer promises 100% satisfaction. If you are not satisfied with your purchase, then you can get your full money back and even get a replacement.
Pros
It includes 5 resistance bands of different colors and resistance levels.
Each band has resistance markings, so it is easy to pick the right one.
You can use the bands individually or in combination to get the resistance of up to 150 lbs.
You get some free accessories with it including cushioned handles, ankle straps, exercise guides, and a carrying bag.
With this exercise band, you will be able to do various types of resistance training exercises.
You will be able to tone up different parts of your body with the help of these bands.
You get a lifetime warranty for the product.
Cons
Some customers have complained about missing pieces after receiving the product.
Handles are not very strong and they are also quite bulky.
The bands are quite long which some users find inconvenient.
Final Verdict
Exercise bands are small and lightweight so you can carry them anywhere. You won't have to skip your exercise routine even when you are not home. It is a great exercising tool for working professionals as they can use it in their office even.
Resistance bands can be an excellent addition to your home gym. They are durable, versatile, and affordable. They are lightweight and portable so you can carry them around easily. One of the best things about buying this exercise band is that you get a lifetime warranty and so you can replace the product if there is any problem or even get your money back.
You can use these bands instead of weights to help you build up your muscles. You will feel much stronger after exercising using these bands. If you are suffering from any injuries, then also you will be able to use the resistance bands and get health benefits from it.