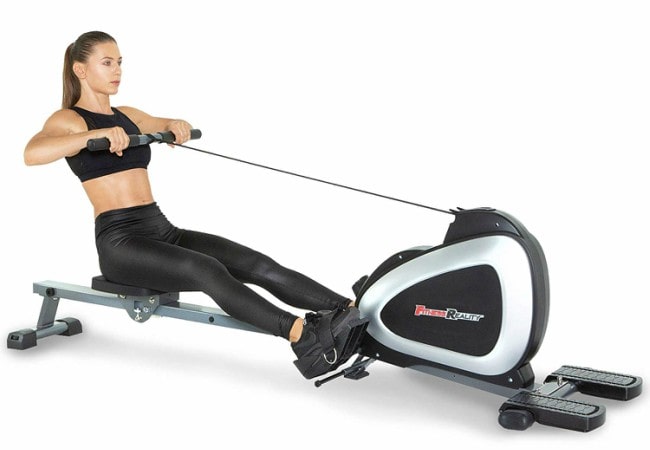 One of the best equipment for cardiovascular exercise and muscle building is the cable rowing machine. This equipment is so extraordinary that you will be able to get a fit body in no time. Also, it helps to build up stamina, giving you more energy to exercise more for better results. These machines come in different shapes, sizes, and functions. You can also get these in various price ranges. Some are designed for beginners, some for the professionals and some for both. Here, we are going to review one of the best-selling cable row machines in Amazon, the Fitness Reality 1000 Plus Bluetooth Magnetic Rower Rowing Machine. Let's check out the features of this machine that makes it stand out from the rest in the market.
Design
It is designed to give you the ultimate comfort during workouts. The foot and handgrips are ergonomically designed to provide an effective workout. It is foldable which allows you to store it easily when not in use. It is lightweight so you can easily move it from one place to another. It has a large LCD screen that displays the time, calories burned, strokes/min, and other stats. It has large anti-slip foot pedals that allow a wide range of motion. The strap rings keep the feet secure and allow you to work out comfortably.
Build Quality
It is made of a corrosion-resistant steel frame that is strong and durable. As it is made up of high-quality materials, it provides quiet rowing stroke even during intense workout sessions. The nylon rowing strap reduces noise. It can support a maximum weight of up to 250 pounds, thus making it suitable for heavy users as well. It is made with 88.5 inches by 21.5 inches rail which makes it longer than most other rowing machines made by this company. So, tall users of height 6'5'' can also use this machine without any problem. As the rail is not exactly horizontal, it provides more effective workouts, especially for the legs. It has adjustable cushioned stabilizers that make it stable and allow you to work out on any type of floor. It won't cause any damage to your floor.
It has dual transmission magnetic resistance system and that's why it doesn't need any power circuit to operate. You can vary the resistance to 14 different levels and challenge various groups of muscles. The resistance levels 1 to 8 provide low resistance which helps build stamina and recover from workouts. You can use higher levels of resistance to burning more calories.
Size
This rowing machine is suitable for users with a height between 4'9'' and 6'6''. You can fold it for easy storage. The folded size is 39.5'' by 21.5 inches by 53.5 inches which is quite compact. It is lightweight and has transportation wheels so that you can easily move it from one place to another.
Comfort
It has a large comfortable seat that is fully cushioned. You can adjust the seat from 9.5 inches to 12 inches according to your height. The pedals are wide with strap rings to secure your feet and provide you comfortable workout experience. The My Cloud Fitness app will help you to reach your goals quickly.
Ease of Use
It takes very little time to assemble, so you can start exercising right away. It includes detailed installation instructions and tools needed. It also comes pre-lubricated, so you don't need to give much effort into maintaining it.
Effectiveness
It provides a wide range of workouts for the legs due to the non-horizontal rail. The foot pedals are attached to the front base to help you perform varieties of exercises such as bicep curls, triceps extensions, stand-up rows, side and front raises, and more.
It has the Cloud Fitness applications that make it easier for the users to set their goals and keep track of their progress. You can set three-goal settings to keep you challenged. The app will view your historic data and track your progress. Using this app, you will be able to work out on different routes all around the world. You can also train with elite trainers from home.
Pros
It is made of a steel frame and has anti-corrosive paint on it which makes it durable.

It offers full-body workout targeting your biceps, triceps, legs, thighs, and shoulders.

It is a Bluetooth machine with a free My Cloud Fitness app that is available in both Android and iOS. So, you can track your progress easily.

The handlebar provides an extra-wide grip that makes it comfortable to use.

The pedals are wide and have straps to secure your feet.

It has 14 levels of dual transmission magnetic tension resistance that allows you to perform different challenging workouts.

It has a maximum user capacity of 250 lbs.

It has a large LCD screen that shows the distance, total count, time, strokes/min, calories burned, and more.

It has a comfortable and large cushion seat that will give you ultimate comfort.

It is foldable, so you can store it easily when not in use.

It doesn't produce any noise.

There are adjustable stabilizers on the rear base that makes it suitable for use in any type of floor surface.

It is easy to assemble.

You can get it at a great price.
Cons
Some people complained about the connection issues of Bluetooth.

It cannot monitor your pulse.

It has a short warranty period.
Final Verdict
If you are looking for low-budget fitness equipment for a total body workout, then you should buy this machine. You will get the same experience as you will get from high-end machines. It offers additional exercises that help to build up your biceps, triceps, shoulders, thighs, and other muscle groups. With 14 different resistance levels, you will get real results with this machine. You won't find such a good quality rowing machine at an affordable price.
Buy Fitness Reality 1000 Plus Bluetooth Magnetic Rower Rowing Machine