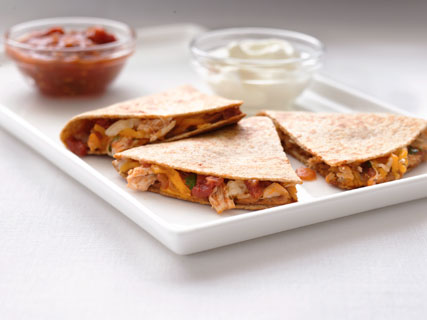 Crafted by Peta Bee, Food Swap Diet Plan is an exclusive diet plan, which will swap all your unhealthy foods items and meals with healthy and nutritious foods. The beauty of the diet is that you neither have to starve yourself nor have to refrain from your beloved foods.
Also, without being vigilant about the number of calories, you can lose massive weight in a very short period of time. Peta believes that little changes in food habits are capable of bringing radical changes in your health and weight.
The most realistic diet plan will provide you bountiful easy to follow recipes and techniques to replace various unhealthy foods with healthy ones and that too without asking you to compromise with your taste.
What is Food Swap Diet Plan?
Food swap diet plan is all about inculcating healthy eating habits in you. The diet plan contends that it's better to deter your body from gaining weight rather than making efforts to lose weight after growing overweight. Your healthy food choices not only enhance your youthful life but also keep you from myriad diseases such as high blood pressure, type 2 diabetes etc.
Forbidden Foods in Food Swap Diet Plan
There are some food items which you should try to cut or reduce from your diet. Try to avoid excess use of sugar and salt in your meals. Also, maintain distance from alcohol and unhealthy fats.
Tips for Making the Diet Plan Successful
You can successfully go along with the diet plan, should you adopt these tips.
Fill up your cupboards and kitchen cabinets with low fat and low calorie foods. Availability of healthy foods will encourage you to consume more of them.
While shopping for food items, don't get moved by attractive packaging, for they often have misleading information. Look at the nutritional contents of food items such as how much sugar, fat, and calories are there in them.
Recommended Food Swaps
Let's have a look at some of the recommended food swaps, Besides pruning your calorie consumption, these food swaps will also burn calories from your body and thus will provide you permanent solution of obesity.
Milk – Swap full fat milk with low fat or fat-free milk or unsweetened soy milk.
Chips – Swap the most prevalent fried chips with baked chips. Fried chips contain unhealthy saturated fat and their salt content is also high, due to which they increase your cholesterol level and blood pressure.
Bread – Swap white bread with whole grain bread. Instead of having bread with butter, prefer having baguette dipped in vinegar and olive oil.
Yogurt – Swap high fat yogurt with Greek yogurt or low-fat dairy yogurt.
Cheese – Swap regular cheese or full-fat cheese with low fat soya cheese.
Rice – Swap white rice with brown rice. Brown rice being rich in fiber is not a processed food.
Cereals – Swap sugary and instant oatmeal with rolled oatmeal. Prefer preparing the oatmeal on your own and modify it according to your taste by adding nuts, cocoa powder, stevia, fruits, honey, and cinnamon etc.
Corn Flakes – Swap corn flakes with bran flakes and add fair quantity of raisins in it. Raisins will enhance both taste and nutrition of the meal.
Meat – Swap white meat with red meat.
Snacks – Swap fries and other junk foods with fruit salad made up of fresh fruits.
Burgers – Swap full fat, beef burgers, and hot dogs with veggie or turkey burgers, and prefer to have them with wheat bun.
Condiments – Swap mayo, oils, and dressings used on sandwiches with mustard and ketchup.
Sweet – Swap refined or artificial sugar with naturally obtained honey, raw cane sugar, or agave.
Hard Drink – Swap alcohol with red or white wine.
Coffee – Swap coffee made up of whole milk with skimmed or low-fat milk.
Tea – Swap sugary tea with black tea or green tea without adding sugar in them.
Chocolate – Swap milk chocolate and other candy chocolates with dark chocolates. Dark chocolates being rich in cocoa have myriad antioxidant properties, which detoxify your body and enhance your youthful age. You can opt to have chocolates having almonds mixed in them.
Cooking Oil – Swap refined oil with virgin olive or coconut oil for cooking foods. Being low in fat they are easy for your body to digest.
Dry Fruits – Swap salty dry fruits with regular nuts. For instance, instead of having salted peanuts, consume them in their raw form.