Some celebrity couples are blessed with everything in the world, name, fame, love, money and a great family. Coleen Mary Rooney and Wayne Rooney are one of those blessed couples. He is a football star who has won hearts of millions of people and she is a well known TV Presenter with an amazing body. They have two very adorable kids, Kai and Klay. They are now gearing up to add a new member to the family. Let's have a look at how pregnant Coleen is taking the precautions to stay fit during her pregnancy and is turning out to be a fitness inspiration for all pregnant women.
Taking a Break
The mother of two was spotted by Mirror when she was enjoying a holiday in Portugal recently. Her two children were with her and they seemed to be enjoying themselves.
Eating at Leisure
The beautiful brunette was seen enjoying a high calorie meal of burger and some chips. She also ate a lot and we guess it's a good thing because she is eating for two people right now. We must also say it must feel awesome to have the foods you like without much of a restriction. And pregnancy seems to be a good excuse to indulge a little. Won't you agree?
Being Responsible
As the pretty lady was accompanied by her son near the poolside, she opted for having alcohol free beer and paid a lot of attention to the comfort of her son. (You can't have a break from mommy duties we suppose.)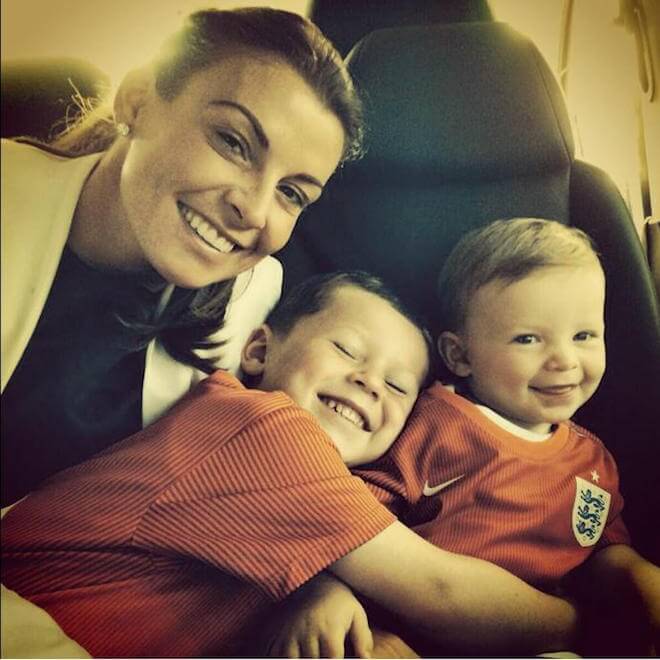 Breaking the News
The couple showed solidarity in breaking the good news to the world. They posted the arrival of new baby on Twitter, a few days back within a few minutes of each other. While the Manchester United star wrote that he is delighted that he and Coleen have a third baby on the way, the mum to be wrote that the couple are too happy and excited as the baby number 3 is on the way and will arrive in January next year.
Being Healthy
If you think that the wife of Wayne is probably relishing every food, she wants during her pregnancy, then, you are not correct. Credible sources have revealed that the product endorser is very strict about her own fitness and wishes to have a healthy pregnancy. She has already rendered the services of fitness model, Victoria Steede whose job it is to keep Wayne in good shape.
Eating Right
The Littlewoods designer is also following a vegan diet to stay fit. Though, it may seem that she is not counting the calories, but she is always cautious about what goes in her mouth and always sticks to freshly prepared meals, even when she is indulging.
Hitting the Gym
The columnist is also very serious about hitting the gym on a regular basis. A few days after announcing her pregnancy via Twitter, she wrote that she has hit the gym three days (back to back) and her body is feeling it. She also added a tag #hardwork which denotes that she is not afraid to work hard for a healthy baby and a fit body.
The Previous Victory
Losing pregnancy weight may not be a problem for the nation's mum ambassador as she has done it before. After giving birth to her second child, Klay, she opted for using Technoshape to lose the additional fat quickly. She also took assistance of personal trainer Elise Lindsay and did aerobic sessions regularly. The results of her efforts were astonishing and we are sure that she will get the same results this time around.
For now, we just hope that she has a smooth pregnancy journey and a healthy baby. Good Luck Coleen.