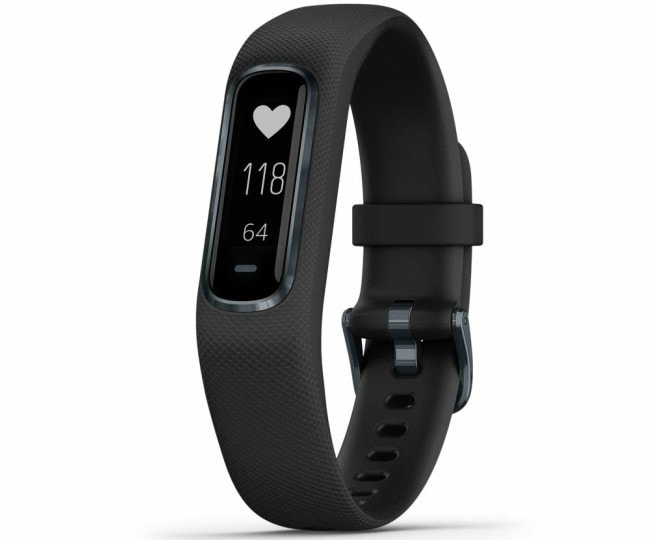 Fitness trackers have gained a lot of popularity recently. It is very comfortable to wear and you can wear it in the gym, office or anywhere. A fitness tracker is packed with features that help to keep you fit and healthy. It can monitor your heart rate, breathing, sleep, and other important things about your body. You can wear a fitness tracker to keep track of your fitness and achieve your fitness goals. You will find many types of fitness trackers in the market. If you are looking for good quality and an affordable device then you should buy Garmin Vivosmart 4 Activity and Fitness Tracker. This device has received a lot of positive reviews and is one of the best budget trackers you will find in the market today. Here, we are going to review this device in detail.
Design
This is a slim and smart activity tracker that is extremely fashionable. It has an aluminum bezel around the screen and a stylish metal accent that looks great. You can get it in multiple colors like berry with a gold bezel, azure blue with a silver bezel, black with a slate bezel or powder grey with a rose gold bezel. The bright display is easy to read. It includes features such as sleep monitoring, blood oxygen saturation gauging using the Pulse Ox sensor, heart rate monitoring, stress, and relaxation breathing tracking, and more. It includes activity timers for walks, yoga, swimming, strength training, and others. You will get vibration alerts for calls and texts. You can easily connect it to your smartphone's GPS to get accurate tracking when you walk or run. You can wear it to the gym, the office or the pool. 
Build Quality
It has a comfortable silicone strap that makes it more stylish. The traditional watch buckle keeps the silicon strap in place. The lens is made of polycarbonate. It has 6.6 mm by 17.7 mm OLED display which has a resolution of 48 X 128 pixels which is very good and you will be able to read everything. The display is on only when you need it, thus it saves battery. It automatically adjusts to ambient light levels, so you can see things even in bright sunlight. It responds to your touch and so is very convenient to use. There is a physical button at the bottom of the screen which you need to press to get to the menu.
The tracker is waterproof, so you can wear it in the shower or pool. You can wear it throughout the day and night without feeling uncomfortable. The battery life lasts for up to 7 days. It is waterproof and so you can use it during showering or swimming. 
Size
It comes in 2 sizes – small and medium. The small one weighs 16.5 g and can fit wrists with a circumference of 122 to 188 mm. The large one is 17.1 g and will fit wrists with circumference 148 to 215 mm.
Comfort
This device is very comfortable to wear. You can wear it 24/7 without experiencing any discomfort. The silicone strap is very comfortable and will fit you well. It is lightweight and slim, so you won't feel uncomfortable wearing it.
Effectiveness
This is a multi-functional device that you can use for various purposes. It has a Pulse Ox sensor that can estimate your blood oxygen saturation level. A good night's sleep is vital for your health. You can use this activity tracker to monitor the quality of your sleep. It can track your light, deep, and REM stages of sleep. It has body battery monitoring ability to track your heart rate, sleep and activity data, levels of stress and relaxation. So, at the end of the week, it can give you an overall image of your body and show how you are feeling. The tracking the time interval between each heartbeat this device can tell you whether you are stressed or in a relaxed state. It has a 'Relax Reminder' feature that alerts you if your stress level increases during the day. The relaxation breathing timer helps you to go through the Fourfold breathing technique to calm your body and mind. 
Overall, it can give you an idea about your current fitness level. It will give you alert if your heartbeat rises unexpectedly or if you are inactive for more than 10 minutes. So, you will always remain on your toes with the help of this activity tracker and stay fit. Along with staying active, you will be able to stay connected as well with the help of this tracker. You will be able to check the weather, receive notifications, control music, reply to text messages, and access your social media notifications. 
With this device, you get to set a personalized goal every day. You can track your progress in every step and know how much you are achieving. Besides activity tracking, it also tracks floors climbed, calories burned, and more. There are preloaded activity timers that help to track your exercise times. When you do strength training, it will estimate our reps, sets, exercises, work, and rest times. You won't even have to set up a timer as it will automatically keep track of your activities. You can share your activities with the Garmin Connect online community. 
Price
You can buy it for $129.99 from Amazon. It is a budget tracker and covers all the features you want from a good quality activity tracker. So, it will give you better value for money. 
Pros
It has a slim, fashionable design.

It has a body battery metric that can let you know when you need to be active and when you must rest.

It has a Pulse Ox sensor to measure blood oxygenation level during your sleep.

It can track your sleep and let you know when you were in deep sleep and when you were awake.

It is compatible with smartphones and you can easily connect it to your phone's GPS.

It can set a timed activity for you automatically.

It is waterproof and so can be used in the shower or pool.

It has the Garmin Connect app that has a lot of features.

It has a long-lasting battery.
Cons
The display screen is small.

It doesn't have a built-in GPS.
Final Verdict
This slim and smart activity tracker has a load of fitness and wellness features that can make most of your active lifestyle. It includes all-day stress tracking and relaxation breathing timer. It has a Pulse Ox sensor that helps to check our blood oxygen saturation. It's body battery energy monitoring will help you to know when you need to be active and when you need to take rest. It is waterproof and so it is safe to wear during the shower or swimming. You will receive notifications of your call and text alerts. It can monitor your sleep and identify whether you have sleep apnea or other sleep-related problems.
If you are looking for a budget-friendly activity tracker, then this is the best choice. You will be able to meet your daily fitness goals with the help of this tracker.