Gerard Pique is a Spanish football player who plays for FC Barcelona as a center back. He played with Manchester United Club from 2004-2008. His team has won the UEFA Champions League for two years back to back. Pique debuted in the Spanish National Team in the year 2009. He played an important part in the Spanish National Team that won the 2010, FIFA World Cup. The energy and the stamina, which make Gerard a strong part of the FC Barcelona Team, can be any fitness lover's dream. But what is his fitness regimen and which diet plan he follows? Read on to learn about his workout and diet regime. Gerard is a professional and so renowned sports fitness experts and dietitians closely monitor his fitness routine. His physique has transformed over the years, and this transformation is not a miracle, it is the result of his hard work.
Gerard Pique Workout and Training Secrets
Secret Of Pique's Outstanding Power On The Field
The secret of Gerard's outstanding performance on the field is the result of trainings that maximized his power. He trains three to four hours every day on an average and this ensures low fat density in the body. Gerard begins his workout with a warm up session that involves 20-25 rounds of the football field. He then follows it with running 25 km, which is followed by jogging, for a short span. This helps Gerard to get accustomed to sudden fluctuations that take place in the football field.
How Pique Overcomes His Injuries So Early?
Gerard Pique undergoes high intensity training or rigorous sprinting exercises for short periods. It helps to increase his power on the field. To overcome injuries in the hamstring area, which is so common among footballers, he performs hamstring curls, regularly and for this he takes the help of a partner. The Spaniard also performs side bends and lunge to keep him free from other injuries in the hip area.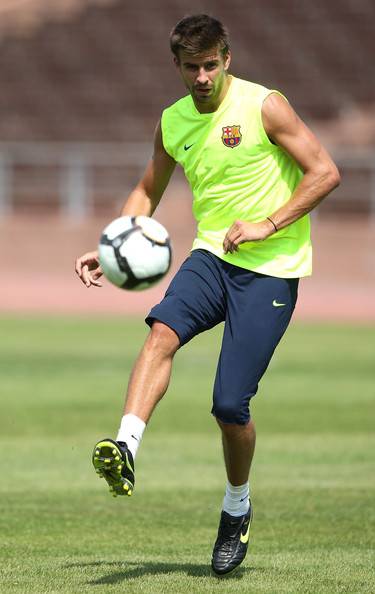 Training That Makes Pique Apart From Other Players
Technical drills form a significant part of Pique's professional workout routine. Apart from ball control exercises, he performs hurdle and mirror exercises, lateral lunge and hurdle hop as per his trainer's direction. Football tactical drills also form part of his training to improve understanding on the field with the teammates. He also performs regular gym exercises to strengthen certain muscles including pull-ups, deadlifts and pushups.
Gerard Pique Diet Plan
No matter how good is the training routine, it must be tagged along with appropriate diet plan and this is something that Gerard Pique understands very well. His performances on the field speak volumes about his strength, stamina and agility. He takes six meals a day including two main meals and two snack meals. He eats twice between meals. Eating less each time and distributing the meals through out the day is the idea behind.
Diets Rich In Nutrients, Is a Must For Gerard
A good sleep followed by breakfast comprising whole grain breads, milk, eggs and fresh fruits can bring about prolific upshots. Lunch is light and often includes pasta and chicken Caesar salad. The diet is rich in nutrients and high on carbohydrates but low in calories. Gerard consumes these in various forms. He eats breads, potatoes, fresh fruits, milk and pasta. Besides this, he takes energy bars before a football match, but avoids drinks and foods with high sugar content.
Maintaining Daily Intake Of Protein And Carbohydrate
To make an allowance for this, Pique maintains daily intake of 15% protein, 60% carbohydrates and 30% fat. Gerard makes carbohydrate a primary replacement for fuel. Green vegetables and fresh fruits when served together with olive oil boost the energy of the player. As far as eating is concerned, Gerard solely focus on regular schedule and endeavor to abide by diet plan including three meals and healthy snacks. For Gerard, low fat and carbohydrate rich diet is must before each game.
Alike other football players, Gerard continues to devour enough calories that support his large and strapping physique. As per the recommendation of ADA or "American Dietetic Association", it is very imperative for a football player to consume 5000-9000 calories on game day and that is what applicable with Gerard as well.