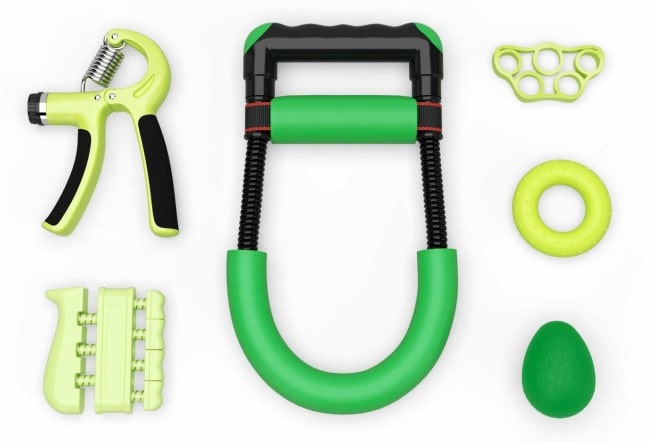 Whatever you do during the day, you need to move your wrists. Whether you are carrying a bag from the supermarket, doing computer works or playing basketball, you hardly can put your wrists at rest. Sometimes when doing heavy works like weightlifting, your wrists may pain and that's when you get into trouble. Your productivity in work, sports or other activities may decrease as you may not get the necessary strength needed to do the works. You need to exercise the wrists to make them strong and a wrist exerciser can be the perfect equipment for it. Here, we are going to review the GGAI Hand Exerciser and find out why it can be the ideal choice for those who are suffering from weak wrists.
Design
It is an all-in-one hand exercise kit that will help you to strengthen your forearm, wrist, and fingers. It is black and green in color which looks very colorful and attractive. The accessories include a finger stretcher, finger strengthener, hand grip strengthener, forearm strengthener, and a stress relief ball. All these are in fun lemon and green color which will boost your mood. It is designed to be suitable for both men and women. It is portable, so you can use it anywhere. Even during a busy day, you can take out some time at the office and exercise with it for a few minutes.
Build Quality
It is made of carbon steel springs and heavy-duty ABS plastic which make it sturdy and strong. It won't corrode due to sweat or rough use. So, you will be to exercise with it for many years. It is adjustable, so you will be able to have a snug fit and workout comfortably. It has a foam grip which gives comfort. You won't feel any pain even after working out for a long time. The accessories are also made of high-quality materials. So, you actually get a good kit for your entire forearm. It will save you a lot of money as you don't need to purchase them separately.
Size
The size of the wrist exerciser and the accessories are suitable for any hand size. So, it can be used by both men and women. You can also adjust the size to fit you perfectly. So, it won't come off lose while doing exercise. You will be able to exercise for a long time comfortably.
Comfort
It has a foam grip to give you the ultimate comfort during exercise. You won't feel any pain after a long exercising session. As the exerciser fits your hands perfectly, you won't have any uncomfortable feeling while using it. You can use it every day and get outstanding results from it.
Ease of Use
It is very easy to use. It is adjustable, so it will fit your hands perfectly. It is very easy to use. Even the accessories are comfortable to use. A proper instruction manual is provided, so you won't have any trouble using it. The exercises that you can do with the equipment are quite straight forward; so you will be able to perform easily.
Effectiveness
This exerciser is perfect for forearms, wrists, and fingers. They are great for strengthening hands and therapeutic exercise as well. By exercising, you will be able to improve hand movements like squeezing, crushing, and pinching. You get a lot of accessories with this equipment. The silicone finger stretcher will help you to train each finger separately. Over time, you will be able to improve your dexterity and get relief from carpal tunnel pain or arthritis. If you are an athlete or a musician, then this wrist exerciser will help to improve your performance. You will be able to perform different exercises with it and get stronger wrists to do your daily chores and sports activities.
Pros
It is colorful equipment that looks very stylish along with the different accessories.
It is compact and portable; so, you will be able to use it anywhere and store it easily as well.
It is made of high-quality carbon steel making it durable.
It has a foam grip that makes it comfortable to exercise.
It is designed to fit any hand.
You will be able to use it easily with the help of the user manual.
You can do various types of exercises with it to strengthen your forearm, wrists, and fingers.
You get many different accessories with it that are very useful.
The price is affordable.
It can be used for rehabilitation purposes as well and is ideal for those suffering from arthritis or carpal tunnel syndrome.
It is a great equipment for the athletes and the musicians and can help to improve their performances.
You get a full refund if you are not satisfied with the product.
Cons
The resistance cannot be varied much.
It may not be appropriate for professional trainers.
Final Verdict
If you are worried about your wrists and want to get back the strength you once had, then you must buy this wrist exerciser. You will be a winner if you buy this as you will get a lot of accessories with it that will help you to achieve more than wrist strength. You will be able to strengthen your fingers and forearm as well. That way you will become more productive in whatever you do as you will be able to work more efficiently with your hands. Whether you are doing daily chores, working at the office, lifting weights, participating in sports or playing music, you will be able to get lots of benefits from using this wrist exerciser.
This equipment is made of high-quality steel that makes it sturdy and comfortable to use. It is absolutely safe and you can use it for longer hours. You will feel very comfortable to exercise with this equipment and won't suffer from any wrist pain. In fact, you can get relief from any pain if you exercise with it. So, without hesitating, buy it today and get the best value for money.