Flat abs, kick ass beauty, Gina Carano is an American actress, model, and former mixed martial artist. The action girl made her debut into Hollywood with the movie, Haywire, and her very first movie itself had her voted as the best actress in Critics Choice Awards. Afterwards, Gina appeared in blockbuster movies such as Fast and Furious 6 and In the Blood.
Her name and fame had her got entitled as Face of Women's MMA and ranked among the Top Ten Influential Women of 2008 by Yahoo. Credited with ample assets, Gina takes great care of her body and practices grueling workouts to maintain her athletic body. However, she seldom wishes to be super skinny, which is one of the most prominent attributes expected from Hollywood actresses. She contends we all differ from one another in looks, physiology and psychology, and trying to be like someone else is nothing but creepy nonsense.
Her awestruck stunning figure equipped with incredible strength and power are what makes her look extra hot and positively alienate her from the crowd. Her lean and fat free body purely is the outcome of insane workouts she practices. She shares, the thought of being faced with trained athlete in the ring has always inspired her and get her going at times when she felt tempted to evade from her training sessions. And now, since she has developed a habit of doing them in routine, it has been helping her in maintaining lithe and curvy figure.
Gina Carano Workout Routine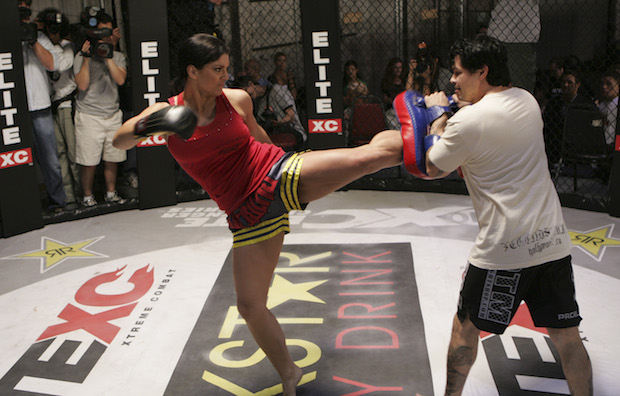 Entering into an absolutely new line of profession i.e. acting, was an entirely new and thrilling experience to Gina. Despite having initial skepticism, the stunner took on the opportunity with great courage and left no stone unturned to play the action role she was to perform in the movies. The MMA pro is addicted to practice arduous workouts. When she had a fight, she used to dedicate two hours in the morning and two hours at night on her practice sessions. Muay Thai and Jiu-Jitsu, etc. are some of her daily workouts, which she doesn't forget to do to enhance her stamina. The brunette being religiously dedicated to her workouts does not miss even one-day's workout.
The tough yet hot girl, Gina who has always embraced strenuous workouts such as cardio workouts, strength training, martial training, interval training, etc. to be in enviable shape recently has shifted to lighter and holistic workouts such as yoga. She adores her newly developed love for Bikram yoga and feels incredibly refreshed after being through her sessions with hot yoga. She doesn't stay confined to indoor workouts and loves doing outdoor activities such as running, hiking etc. Apart from bestowing speed and stamina to her body, these activities also chill her mind and make her perspective broad and positive.
Gina Carano Diet Plan
The spectacular beauty was seldom cautious about her diet. She rather consumed what she was being offered. Having made her entry into glamor world, she learnt some valuable lessons concerning the consumption of foods. Now, her food habits, which welcomed all foods just like that, have transformed into discreet ones. While relying on nutrient density of foods, she has started incorporating high protein, high fiber, healthy fat, and foods rich in omega 3 fatty acids in her diet. She steers clear from over processed, salty, sugary, and fatty foods.
Improvement in eating habits indeed aided Gina in securing better health and figure. However, she confesses of being defied by transient splurging which she actually considers critical to stay honest to healthy eating habits. She comprehends the significance of calorie deficit and therefore stabilizes her intake of surplus calories by practicing little bit more workouts. Her cellulite free body accentuates her abs and the hot chick loves flaunting them in bikinis.
Healthy Recommendation For Gina Carano Fans
Here are some weight loss tips, which will eradicate your doubts and will melt away pounds from your body faster. You might be consuming enormous green tea and lemon with hot water supposing that you are assisting your body in scorching pounds. However, the reality is your metabolism grows more and more sluggish with the consumption of hot beverages. You can strip off far more calories from your body, should you nurture the habit of drinking cold beverages.
Apart from that, vitamin D is one the most vital nutrients, which amplify weight loss process in your body. In cold weather when there is dearth of sunlight, make sure you consume sufficient supplements of vitamin D to stop reaching weight loss plateau. The fad of sunscreen lotion has been made so eminent by cosmetic companies that women avoid direct exposure of sun. However, you need to be in direct contact with sun for minimum thirty minutes in a day. Doing so will not only speed up your weight loss process but will also keep you from bacterial infections.