If you want to strengthen your core, then there is nothing better than a stability or exercise ball. It is one of the best ways to develop your abs. You will be able to engage lots of muscles using this exercise ball. These balls are not only used as an exercising tool, but also as school or office chairs. This results in better posture and helps to reduce back pain. Surprisingly, it also improves focus and concentration on work. You will find these exercise balls in almost every gym and they are also used in rehab. You can also use it in your home as it can be easily deflated and stored in the closet.
You will find exercise balls of different brands in the market. When buying one, you should make sure that the ball is anti-burst tested at 2,000 pounds and includes a pump for inflating and deflating the ball. GoFit Pro Exercise Ball is one of the top sellers at Amazon. You will find many unique features in this ball that will give you lots of health benefits.
Design
You can get this ball in 3 colors – red, blue and gray. It comes in sizes that are suitable for people of a height between 4'8'' and 6'5''. The ball has a round unstable surface and you need to train your primary muscle groups and the smaller stabilizing muscles as well to exercise with it. The design of this ball is very unique as it has exercise printed directly on the ball, so it will be fun and challenging to exercise. This ball has been anti-burst tested and so you will be able to do various exercises without the risk of any injury. You can use this ball for alignment, balance, and posture. This ball is not recommended for weight training routines. It comes with 2 ball plugs, exercise guide, and a ball pump.
It has a textured surface that minimizes slipping and maximizes your workout results. You can stretch at any length without causing any injury to yourself. You will get much control and peace of mind by using this exercise ball. This is a perfect exercise ball for the beginners. If you just spend some time of the day by sitting on the ball, you will see positive results. So, you can imagine what results you can get by exercising with this ball. You will soon notice improvements in your core strength and posture. You can start slowly and then do high impact workouts later.
Build Quality
This exercise ball is made of weightiest PVC plastic that doesn't contain any latex, which makes it environmentally friendly. This exercise ball is stronger than many of the competitors. It is a commercial-grade exercise ball that can strengthen core stability. This ball will make exercise fun and effective. You will be able to tighten and stretch your body in different ways. It has extra thick walls that can withstand weight up to 2,000 pounds.
With this exercise ball, you get an unstable surface to workout. That way, you get to train your primary muscles groups and the smaller stabilizing muscles also. These stabilizing muscles are very important for balance, posture, and alignment. If you exercise with this ball regularly, you will be able to see results quickly. Before you exercise, you need to make sure that you allow the ball 24 hours to inflate it in its full capacity.
Size
You should by the ball according to your height and weight. The size should be large enough for you to sit on it. You must make sure that your knees are bent at a 90-degree angle. For example, for someone who is 5.5' to 6' tall a 65 cm ball is recommended. The recommended weight limit for this ball is 300 lbs. This ball is available in 3 different sizes of 55 cm, 65 cm, and 75 cm.
Comfort
This ball is made of extra-thick walls that make it strong and durable. The surface is anti-burst tested and so won't puncture during exercises. The surface provides excellent grip and so you will be able to exercise comfortably.
Effectiveness
When you workout using this exercise ball, you get to elevate various parts of our body and thus engage different muscles groups. This challenges your ability to maintain posture can balance. You don't have to step on a machine or go to the gym anymore. You will be able to do multiple workouts using this exercise ball. The versatility of this exercise ball is one of the reasons why people choose the GoFit Pro Exercise Ball.
It is not only useful for fitness enthusiasts but is also good for those who are working through an injury. If you are looking for a low-impact seat to ease the tension in your spine, then also you can use this exercise ball. It is a great tool for people with spine or posture issues as they can use the ball for seating instead of a chair. Using this exercise ball regularly will help to increase your strength, balance, and functionality.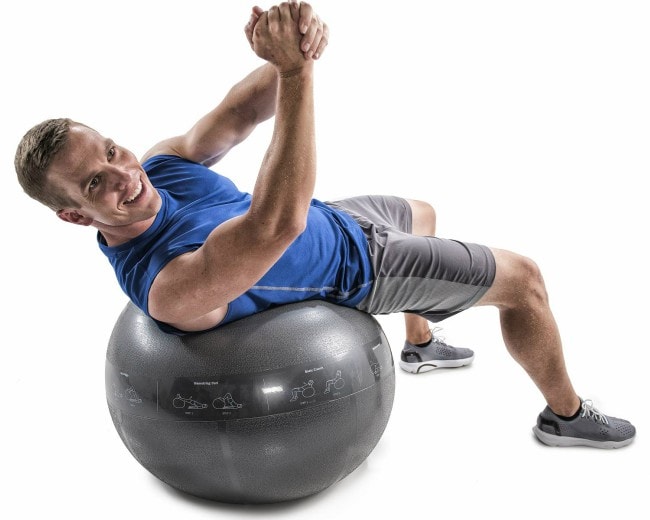 Price
The price of this exercise ball will be between $23.99 and $47.86. The price varies according to the size of the ball. You can get good deals at Amazon.
Pros
It is made of extra-thick walls that make the exercise ball durable and strong.
It is latex-free which makes it environmentally friendly.
You can get the ball in different colors and sizes.
It can withstand 2000 lbs of weight at full air capacity.
This exercise ball is best for core training routines.
You can use it to get relieved from back pain and improve posture.
You can use it as a replacement for your office chair.
It is affordable compared to the other products in the market.
You get ball plugs, training DVD, exercise booklet, a foot pump, etc. free.
You get 90 days manufacturer's warranty for the product.
Cons
Not many sizes are available to choose from, so you may not get the ball of the perfect size according to your height.
You may get a plastic-like odor.
Final Verdict
This exercise ball comes with a lot of free accessories which makes exercise more fun and easy. As there are exercise booklets and DVD included, you will be able to work out efficiently and get better results quickly. You can use this exercise ball not only to improve your muscles or tone up your body but also to strengthen your core and improve your balance and posture. This ball can be used to help you recover from injuries or back pain. You can easily use it instead of your office chair to get the health benefits from it.
You can choose from different colors and sizes which makes this exercise ball lucrative. You can use it at home, gym or even at home. It is appropriate for both men and women. Using this exercise ball, you will be able to get fitness benefits that no other fitness tool can provide. So, buy this exercise ball today and take your fitness to a new level.