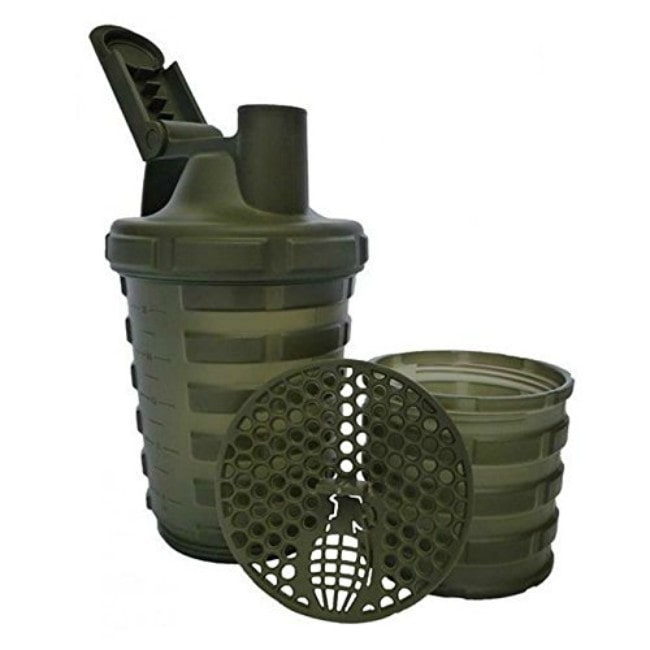 Protein helps to build body muscles, makes us feel energized, and reduces the recovery time after workouts. Protein supplements have gained popularity around the world for the health benefits it provides. Most athletes consume protein shakes before or after workouts. In the past, you needed a bulky blender to make the protein shake; but not anymore. Now, you can make your protein shake using a bottle shaker. All you need to do is just shake the bottle and you will see that all the ingredients have mixed perfectly. You can get protein shakers in different sizes and shapes in the market. It has the mechanism to make a protein shake just by shaking the bottle with the hand. The proteins break down and blend with the liquid in the cup. Protein shakes are very useful for athletes when they are on the go. Here, we are going to review the Grenade Shaker Bottle.
Design
This bottle looks like a grenade, so it is definitely eye-catching. It is found in 4 different colors which include army green, gunmetal grey, desert tan, and black. It has multi-storage compartments that are easily removable. So, you can store your powder and pills in separate compartments. It has a leakproof strainer which ensures that no solid particles are left behind when mixing the drink. The design makes it perfect to store everything perfectly.
Build Quality
The bottle is made of strong durable plastic that is BPA/DEHP free. So, it won't cause any harm to the environment. You can put it in the microwave or freezer, without ruining it. The bottle has 3 removable storage compartments; the top one is for capsules and the bottom one is for the powder with the capacity to hold 3 scoops of powder. The middle compartment will contain the liquid which can hold 20 oz or 600 ml of liquid. There is a filter that ensures that you can make a smooth protein shake. The bottle is sturdy and durable. The lid seals comfortably and the cap also snaps perfectly. So, it is convenient to carry it when you travel.
Size
It is found in only one size. It has a 20 oz main compartment and a 600 ml powder compartment. You can easily carry the amount of protein shake you need for the day in this shaker bottle. 
Comfort
It is easy to open and close the lid, so unlike other bottle shakers, you won't have to give much effort to open it. As there are 3 compartments, you can put the dry and wet ingredients separately. You can keep your capsules in a separate compartment as well. So, in one bottle, you can have everything you need for the workout. To make the protein shake, all you need to do is add the right amount of protein powder to the middle compartment and shake it a few times. Your protein shake will be ready in no time at all!
Ease Of Use
This bottle shaker is very easy to use and that's why it's so popular. Just twist off the top, then fill it up with 1 or 2 scoops of your protein. Then, add milk or water and shake vigorously a few times. Your protein shake is ready to try. 
Effectiveness
A protein shake can be useful for pre-workout and post-workout sessions. It can give you the energy to survive through the strenuous workout session and also help to shorten the recovery period after the exercise. It has the capacity to hold 20oz of protein shake, which is enough for the day. It has a leak-resistant lid that makes sure that the drink doesn't spill when you are traveling. It has a built-in mixing filter that helps to blend and mix the protein shake to give you a smooth and even consistency. You can put the bottle in the microwave or freezer without spoiling it. Drinking a bottle of protein shake will keep you energized and help you get going. It can also help you to recover from workouts.
Pros
It is a stylish grenade-shaped bottle that will surely turn heads.

You can find it in different colors.

It is sturdy and durable.

It is made of BPA/DEHP free materials.

It has a removable storage compartment that has the capacity to hold 3 full servings of protein powder.

The middle section can hold 20 oz of liquid.

The capsule storage is located in the lid and can hold up to 4 capsules.

The bottle is microwave and freezer safe.

You can wash it easily in the dishwasher.

It is affordable.
Cons
If you don't tighten the cap, it may leak.

Some users found unpleasant odor in the bottle.

There is no hook to hold it.
Final Verdict
The patented grenade design of this bottle will motivate you to drink the protein shake and head to the gym. You will notice heads turning towards your bottle while you are at the gym. It has removable storage compartments that let you store protein and capsule in separate compartments. It is made of environment-friendly materials and doesn't contain anything toxic. So, you can drink your protein shake without worrying about any health issues. This bottle makes it very easy to make the protein shake. You just need to add the right quantity of protein powder into the bottle, put on the lid, and shake it a few times. The built-in strainer will hold back any solid particle so that you get a smooth drink.
This bottle is portable, so you can carry it anywhere. With multiple compartments, it makes things much easier. You will not find a bottle shaker with such a distinctive design in the market. It is affordable and of high quality. So, you won't have to worry that the bottle might break easily. As it is dishwasher safe, you can wash it comfortably without much hassle. Buy this bottle shaker today and go to the gym in style and confidence.