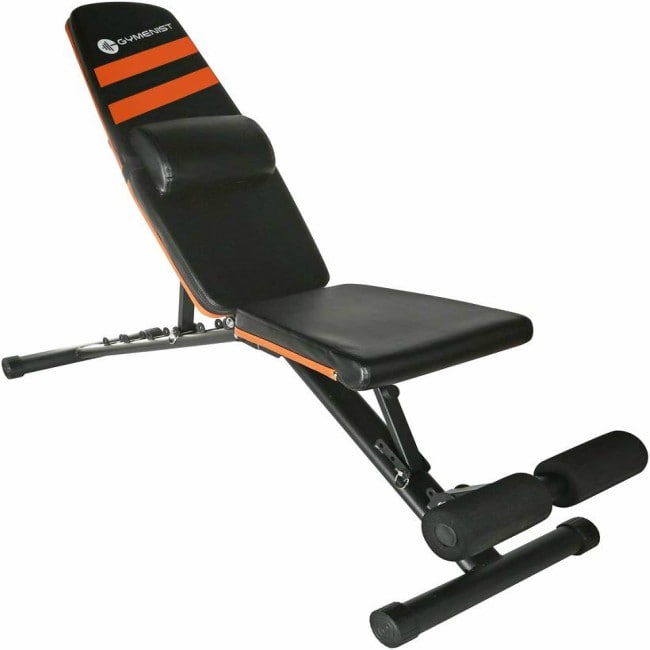 A gym bench is an important unit in any gym. You can include it in your home gym as well. It is simple equipment that offers lots of workout options and challenges. It is mostly used in weight training; however, it can be used by everyone to enjoy exercise more. You will find different types of gym benches in the market which vary in features and designs. When buying a gym bench it's important to understand your needs first and then choose one accordingly.
There are flat, adjustable, and Olympic benches. You should choose the type of bench according to your level and intensity of the workout. A gym bench is not very expensive and it can be very handy equipment for your fitness journey. You will be able to tone up your body and maintain your strength with it. Here, we are going to review Gymenist Exercise Bench which is considered to be one of the best budget-friendly gym benches in the market today.
Design
It is light and has a folding design; so you can easily fold it and store it when not in use. It takes up less storage space, so is perfect for use at home. When folded, the size becomes so compact that you can also travel with it. All the 4 corners of the bench make contact with the surface which makes it very stable in any position. You can change it to adjustable positions of incline, flat, and decline options. You can adjust the back of the bench to 6 different positions and the legs to 3 different positions. You can also adjust the seat to 3 different positions; so you can get the best position to work out and get the best back support. These different positions will open up possibilities of doing different types of exercises.
The upholstery is robust, comfortable, and durable. It can withstand regular abuse and remain in good condition. There is an extra cushion to support your back. You can move it up and down to a suitable position so that it can support your back and prevent any pressure on it while lifting heavyweights. It has leg rollers that will keep the feet in place when doing exercises like bench presses or situps. This bench is suitable for the beginners and the intermediate bodybuilders alike.
Build Quality
It is made of a solid powder-coated steel frame which is built to last. This gym bench is strongly built to withstand the irregular weights. It will still maintain its solid structure even after you use the bench for intense workouts. It is suitable for doing different types of exercises. It is an excellent option for people who like to stay active even when they are traveling. The bench can be folded to a compact size and is suitable to take along with you when you are traveling. There are various adjustment options available which let you flatten, incline or decline the bench according to your preference. The seat is also adjustable which gives flexibility during exercise.
Ease of Use
Unlike the other gym benches that require you to assemble the parts, this bench comes ready to use. So, there is no need to assemble any piece. Without wasting any time, you can start exercising right away. Adjusting the bench is simple you just need to use the pins to adjust to your desired position.
Size
It has a dimension of 36 inches by 18 inches by 10 inches. The size of the seat is 14.5 inches and that of the back is 31.5 inches. It can support up to 600 lbs of weight. The bench is ideal for small spaces due to its folding design. It is so compact that you can save on your storage space and it is suitable for traveling and as well.
Comfort
Comfort is one of the main concerns when working out on a gym bench. This seat and backrest of this bench are padded so that you feel comfortable during exercise. The Gymenist exercise bench has a cushion that will provide you the ultimate comfort. You won't feel any discomfort while stretching or doing other exercises. Your back will be well supported during your weight training. You can move the cushion or pillow up and down to get the right back support. This ensures that you have the proper posture before you begin your weight training.
Effectiveness
You can do a wide range of exercises with this gym bench. You can do the bench press, incline press, decline press, dumbbell row, triceps extension, situps, bicep curls, step-ups, crunches, pushups, leg raises, and more. You will be able to challenge yourself and get your body toned faster with the help of this gym bench. You will burn fat quickly and improve your endurance as well.
This exercise bench can support 600 lbs weight which is a medium weight range. You must remember that the bodyweight of the user is included in this weight. So, if suppose someone weighs 300 lbs, then he can only use 300 lbs of weight for exercising. The bench is designed in such a way that you can lift weight constantly and become a serious lifter soon. So, you will be burning calories faster and getting your desired fitness result in no time.
Price
You can buy this gym bench for only $89.99 at Amazon. This is very affordable considering the unique features it has. You get a free cushion with it which will help to support your back during exercise.
Pros
It has an attractive design.
It has a sturdy construction that can withstand the different weights.
The upholstery is comfortable, strong and durable.
The seat and backrest are padded for extra comfort.
There is an extra cushion which you can use as a backrest for extra support and move it to any position you want.
It can be adjusted easily to the incline, flat and decline positions.
You can adjust the bench to 3 different seat positions and 6 back positions.
It can support up to 600 lbs of weight.
It can be folded easily for storage.
It is compact and ideal for traveling. You can even put it in the trunk of your car.
Leg rollers are available for extra stability.
Cons
The bench may wobble in the inclined position.
Though the manufacturer claims that no assembling is required, the bench comes in parts and it must be assembled.
It may have stability issues when heavyweights are used for exercising.
Final Verdict
The Gymenist Exercise Bench is a great bench for working in small spaces and for traveling as well. It can support up to 600 lbs of weight which gives plenty of opportunities to do different exercises. The seat and backrest are padded for extra comfort. Both the seat and backrest are adjustable.
If you want to have an attractive body, then you should buy the Gymenist Exercise Bench. You can use it for bench press, shoulder press, chest flies, dumbbell rows, and lots of other exercises that will tone up your entire body. It is great for the beginners and the intermediate users and it only costs about $90. So, if you are looking for equipment to make your home gym more functional, then you should buy the Gymenist Exercise Bench.