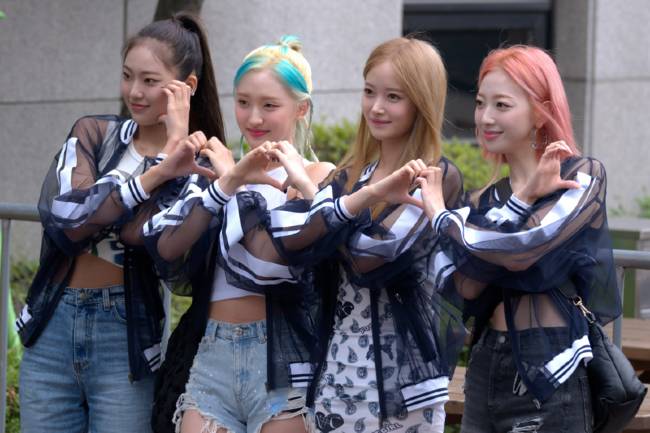 H1-Key is a 4-member South Korean pop group that was formed by the Grandline Group in January 2022. The quartet comprises of the members Seoi, Yel, Riina, and Hwiseo. The group's refreshing and upbeat sound has found huge popularity, mostly among the younger generation of K-pop fans. With the success of songs like Athletic Girl, Run, Rose Blossom, Catch 'n' Release, Crown Jewel, Dream Trip, Ring the Alarm, You Are My Key, etc. the group's fandom continues to grow slowly but steadily.
Members
Past Members
Sitala – Vocalist, Rapper
Origin
Seoul, South Korea
Genres
K-pop
Labels
Grandline Group
Sony Music Korea
Formation Date
2022
Singing Portfolio
In January 2022, the band made their debut with a single album titled Athletic Girl.
H1-Key's second single album called Run released in July 2022 and featured tracks like Catch 'n' Release, Run, and Heart Light.
Rose Blossom, the group's debut EP peaked at #19 at the Circle Albums Chart upon its release in January 2023.
H1-Key Facts
The group's name H1-Key is meant to be pronounced as 'High Key' and it represents the group members' desire to be seen for their confident and healthy beauty.
Their fandom is referred to as M1-Key.
H1-Key was originally launched with Sitala as its 4th member in January 2022. However, she left the group in May 2022 and was replaced by Hwiseo in July 2022.
Seoi is the oldest member and the leader of the group while Yel is the youngest and the maknae of the group.
H1-Key is known for featuring really tall members in its group. The shortest group members are Seoi and Hwiseo at 5 feet 7 inches in height and the tallest members are Yel and Riina at 5 feet 8 inches in height.
The group was nominated in the 'New Female Artist Award' category at the 2022 Seoul Music Awards. But, they did not end up winning the award.
Hwiseo has described the main concepts of H1-Key as 'sportiness, healthiness, and energy'.
The group members shot the music video for their feel-good summer song, Run in the stunning locations of Los Angeles, California in the United States.
In August 2023, H1-Key released their 2nd mini-album titled Seoul Dreaming.
Featured Image by Mang2goon / Wikimedia / CC BY 3.0