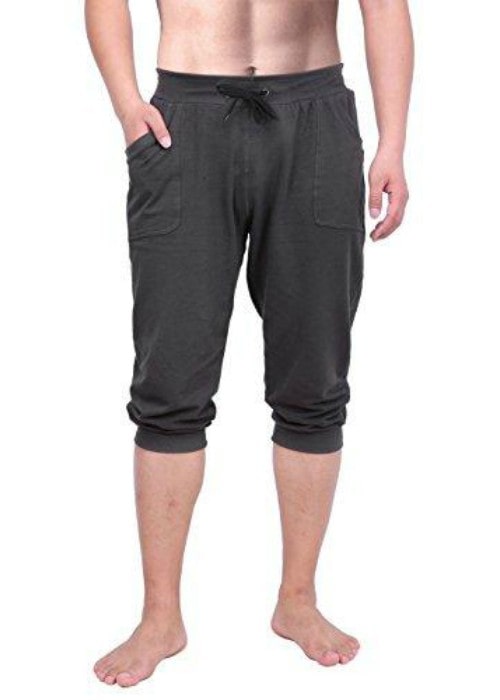 Many people who do yoga don't understand the necessity of having a good yoga pant. The fact is that yoga pants can help to improve your performance, so you will be able to achieve your fitness goals easily. Inappropriate clothes can get in the way of your performance and distract you. Yoga is an exercise that needs a lot of movement and flexibility. You need to do a lot of bending and stretching and you should wear the right pant to perform these moves comfortably. So, if you are serious about yoga, you need to invest in a good yoga pant. Here, we are going to review the HDE Men's 3.4 Yoga Capri Pants and find out the unique features that make it perfect for doing yoga.
Design
You can get these pants in black and charcoal colors. The pant is loose fitting and comfortable. It has a slim cut but still, it is roomy. You will be able to move around freely without feeling restricted. It has an elastic waistband and a drawstring closure that helps to keep the pant secured and fit. The cropped pant has the right length to give you a stylish and athletic look. The ribbed cuffs ensure that the pant stays in place when you do poses like handstand and other inversions. There are 2 side pockets; each is 8'' deep and long as well so that you can keep your Android or iPhone comfortably. You can also keep your bank cards, keys, and other accessories here. It has a below-knee design to protect your feet during winter. It has tapered legs that provide a flattering fit, so you get a chance to show off your toned legs.
Build Quality
These pants are made of 95% cotton and 5% spandex. The cotton used is 100% pre-shrunk, so the fabric won't shrink after washing. The fabric is lightweight and breathable, so it wicks away sweat easily. The stitching is of high quality and the pant won't tear even after intense yoga sessions. The fabric is skin-friendly and you won't have any skin irritation. To maintain it in its best condition, you need to wash it by hand. That way you will be able to retain its shape also.
Size
You can get these pants in different sizes from Small to XX-Large. The small size has waist 28'' and length 29''; the medium size has waist 30'' and length 29''; the large size as waist 32'' and length 29''; the X-Large size has waist 34'' and length 29''; the XX-Large size has waist 36'' and length 29''. You should choose the size of the pant according to the size of your waist. The pant has an elastic waistband and drawstring that provides a better fit and gives proper support.
Comfort
These pants are designed to give you the ultimate comfort. When you wear the pant, it will hug your legs and it will feel as if it is not there. You can use this for yoga and other exercises and sports as well. The pants will stretch with you so that you can perform at your best. It has elastic waistband and drawstring to make sure that the pant fits properly and supports your waist. It is very comfortable to wear and it won't restrict your movements in any way.
Ease of Use
The elastic waistband and drawstring make it very easy to use. You can put it on easily and go for your yoga classes. You can use the drawstring to ensure that the pant fits you perfectly. The slim cut makes it stylish and you can also use it as casual wear. It won't shrink after washing, so the pant will remain in good condition all the time.
Effectiveness
These pants are perfect for yoga, pilates, running, basketball, or lounging. The pant is also ideal for outdoor workouts or casual wearing. The pant hugs the legs and allows you to perform any movement comfortably. You will not feel awkward doing different yoga poses like inversions. It wicks away sweat and is breathable. You will be able to perform at your best wearing these pants. It won't restrict your movement in any way.
Pros
It is soft and comfortable.
It is lightweight, so you can exercise with ease.
It will stay put in inversions.
As the cotton is pre-shrunk, it will retain its shape even after washing.
There are 2 side pockets to keep keys, mobile phones, and other accessories.
It provides a great fit; it is neither too tight nor too loose.
The relaxed waist helps you to move around freely.
Its slim three-quarter length feels comfortable and convenient for doing yoga.
Its fabric is lightweight and breathable.
You can get it in different sizes.
It is affordable.
Cons
It absorbs some sweat during vigorous exercise and may get wet and heavy.
The choice of colors is limited.
You can only wash it by hand.
Final Verdict
This pant is as comfortable as your sweatpants and even lighter and shorter to give you freedom of movement. There is a drawstring to adjust the waist. The elastic cuffs hug the calves, so the pants don't slide when you are doing the inversions. This pant doesn't shrink as it is made of pre-shrunk cotton. The waistband and cuffs retain their shape for months and even after frequent washing. This pant is not as tight as the compression pant or too loose like the baggy pants. They are slim and decent, providing enough room for exercise. The pant is affordable and you can buy a pair of them as well. It's a great pant for doing yoga and you won't feel restricted or awkward when performing different yoga poses, including inversions. If you are looking for high-quality and comfortable yoga pants for your yoga classes, then you should buy these pants.