Heidi Klum is a perfect model, a superstar, a family oriented person and a successful businesswoman. Despite donning all these roles, the stunner still looks gorgeous all the time and people often wonder how? Would you believe us if we tell you that she is not into regular exercising and nor does she believes in starving herself? Yes, it's true. Here are the details of her actual workout regime and diet secrets.
Workout Routine
The judge of America's Got Talent (2006-Present) rarely finds the time to workout as per a predefined schedule. She just tries to be as active as possible and isn't a couch potato. Heidi says that she is so busy that she is always running around. Running around after her kids is a workout too. As she can't find an hour on a treadmill or lift weights often, she tries to compensate by doing outdoor activities. Heidi loves bike riding, dogs hiking and jumping on the trampoline.
Some other methods she uses to stay fit are walking the stairs or hitting the treadmill in the attic, even for just 30 minutes. Her advice to people is that you should do those exercises that don't feel like work but are fun.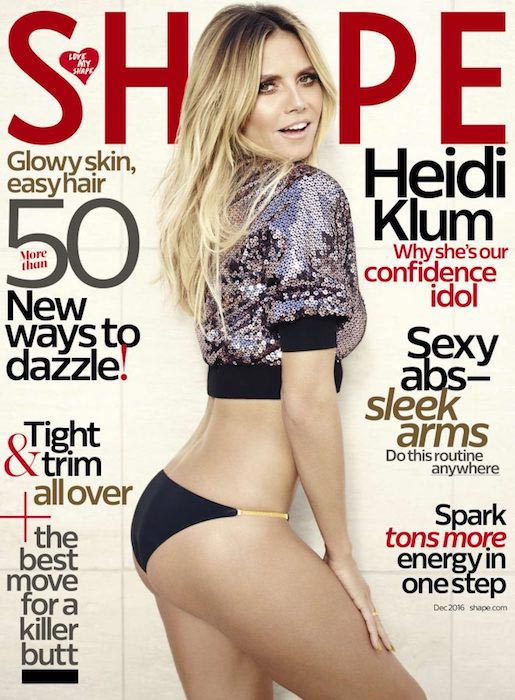 Preferred Exercise
The preferred workout of the former Victoria's Secret angel is running, especially if she is outside. She loves running to the beat of a song that makes time fly away. Sometimes, she likes sharing the time and distance on Instagram, especially when she is using a treadmill. Heidi admits that she is not the fastest but she is doing it. She believes that doing it matters more than being the fastest. (And we agree!!)
Loves Her Shape
The mother of 4 loves her shape because it's hers. She told Shape magazine that it's not about how others perceive her body, it's about how she sees it. She is working on her body and owning it.
As a mother who has birthed four kids, her body has changed a lot and she has breastfed the kids too. So, it's not perfect. Klum just embraces it and recommends other people to embrace their bodies too.
Workout Motivation
The host of Project Runway (2004-Present) says that when she needs some motivation to hit the gym or eat right, she just thinks of the big picture. She makes herself realize that she is being active and eating right in order to live a healthier and better life. She wants to be as healthy as possible for not only herself but her family as well.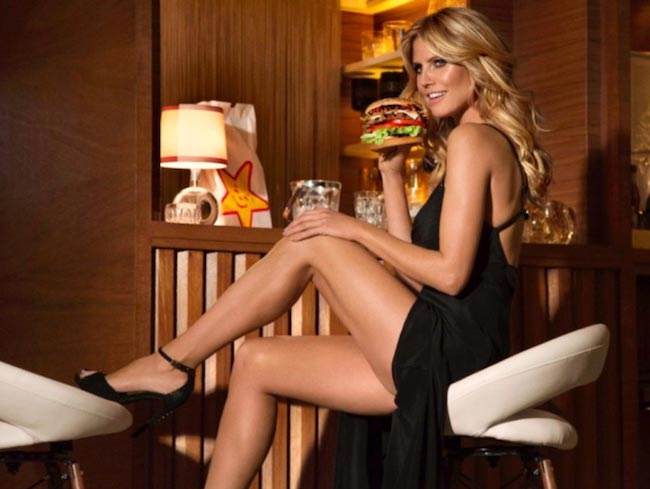 Swimsuit Shopping Advice
The diva believes that a perfect swimsuit is out there, one just needs to find it. She suggests that women should buy a swimsuit that has a shape which fits you and makes you feel happier. Her recommendation is to go for lingerie staples such as a t-shirt bra, a plunging neckline bra, and a sexy lace bra. Her personal favorite is a triangle bikini and A Corps Perdu.
Advice on Feeling Sexy
The lingerie designer suggests that people should be themselves. If you are comfortable in your own skin, you will feel sexy. It would show to the people near you.
No Fear
The executive producer told People that she loves being the girl on the beach and she will probably be a girl on the beach with no top when she reaches 60 years of age. She adds that maybe her stomach and boobs won't be the way they are now, but it's just who she is.
Heidi has no fear about being topless on the beach when she is 60. Her belief is that a body is still beautiful when it gets older. You must not hide yourself just because your skin is not like a 20-year-old anymore. You should always own the way you look. (And we agree with her again!!)
Women in Public Eye
In a chat with EOnline, The Body admitted that being in the public eye is not easy, especially for women. She has dealt with that too. If she puts on a few extra pounds while enjoying a holiday or overindulging, people start speculating whether she is pregnant again. If she loses a few pounds, people criticize her for being too skinny. She has always struggled with weight because she often has either 5 pounds extra or 5 pounds less.
No Kids While Working Out
The beauty simply doesn't allow her kids to get in the home gym. They are not allowed to touch the treadmill or the weights because they might end up harming themselves. (Good idea!!)
Diet Habits
The ex-wife of Seal wants to tell people that models do not skip lunch. Heidi adds that models do have to choose the food options more wisely than others because their jobs demand them to look great. She believes that though exercise is vital, good food is the vehicle to stay healthy.
Diet Secrets
The German-American model says that she has no specific diet plan either. Her diet varies daily thanks to her kids. Mostly, they all have eggs in the morning and each one prefers them differently. Some prefer soft boiled, while others prefer fried or scrambled eggs. These kids eat the eggs with fresh fruit smoothie. The fruits include pineapple, kiwi, mango, blueberries, etc.
During other meals, they have everything from lamb chops or meatballs with potatoes and string beans, a huge mixed salad with grilled chicken or some sauerkraut soup.
The diet of the nominee of 6 Emmy awards revolves around having fresh fruits and vegetables like kale, spinach, etc. She also likes salads, fish, eggs, chicken, and yogurt. The foods she avoids are fried foods and the ones with too many additives.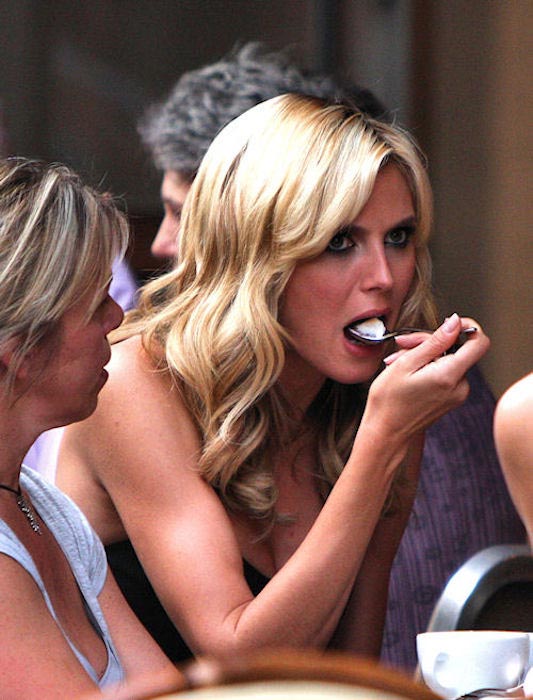 Diet Indulgence
The television personality likes to indulge in a plate of spaghetti Bolognese occasionally. She has it in moderation. (Wise move)
Signature Dish
The entrepreneur likes to make chicken soup every Monday. She takes the help of her kids in washing and chopping the vegetables so that they can learn the value of eating healthily. They also assist in cooking the chicken and seasoning the soup pot. This exercise lets them learn what exactly goes into the foods they are having.
Diet Trends
The LA-resident does not follow any diet trends. She firmly believes that there should be a lot of variety in foods and sticks to healthy and fresh options.
Beauty Funda
The hazel-eyed celebrity likes to keep a simple beauty routine in real life. She always remembers to keep the skin moisturized. Heidi believes that beauty is inside out. What you eat would reflect on your skin. So, her advice would be to eat healthy and drink loads of water.
A Perfect Day
The girlfriend of independent art curator Vito Schnabel told Sporteluxe that a perfect day for her would be when it's warm and sunny outside and she gets in the backyard with her family grilling on the barbecue. Her kids would be playing in the pool and she would listen to them laugh and have fun. (Seems perfect to us too!!)
Did you like the workout and diet ideas of Heidi? If so, you can follow her on Facebook, Twitter, and Instagram. Her official website seems nice too.