Heidi Montag has a near perfect family. She has a husband who has loved her since 2006, a marriage that has been growing strong since 2008 and now, a little bundle of joy who has made her happier than ever before. Apart from having a perfect family, she also has a near perfect figure which she achieved just a few weeks after the birth of her baby boy, Gunner Stone. How? Let's find out.
Heidi Montag Workouts are Unusual
The Hills (2006-2010) star has already lost 25 lbs. of baby weight, and her secret lies in training with Michael Casey. But that's not all, she is being super active these days and often spends 4 hours straight while being on the bouncing ball with her baby.
She is also running around her kid a lot and credits breastfeeding for the weight loss too. Running around with her dogs also helps her lose the extra weight. She is so busy that sometimes, she doesn't rest for an entire day.
Heidi Montag Diet is Quick but Sensible
The mother of one says that she splurged a lot when she was pregnant, so her focus is on making the right food choices now. She is so busy as a mother that she barely has the time to sit down and have proper meals, she just shoves food into her mouth whenever possible.
Her focus is on ensuring that she has protein in every meal. She also ensures that lunch and dinner include some form of vegetables or whole grains as they fill her up. She also snacks a lot as the process is quicker than having a proper meal.
Weight Gain in Numbers
The stunner says that she gained more than 40 pounds during her pregnancy and her weight shot up to 150 pounds. Now, her weight is 121 pounds. She thinks she lost 10-15 pounds on her own since the birth, as Gunner was just 6.12 pounds and she lost loads of fluid as well.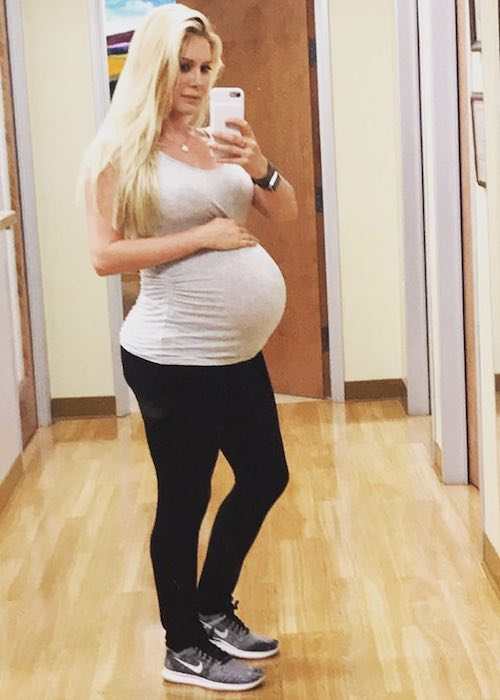 Fitness Motivation
The beauty admits that her biggest fitness motivation is that she wants to be strong for her son. She wants to be capable of holding him and walking around with him especially when he is upset or needs her to hold on simply because he wants to.
Apart from being strong, she would also like to look good enough to wear a bikini when she is on vacation. Her mother was very outdoor loving and strong, so she wants to be the same as a new mom.
The Reward
The wife of Spencer Pratt says that she is blessed to have a healthy baby boy and thinks that birthing him was the most rewarding and hardest experience of her life.
Pratt says that the experience was
"officially the most lit day of his life".
A Fit Pregnancy
The TV personality was very committed towards fitness when she was pregnant. She often exercised rigorously and even trained with resistance bands when she was pregnant.
Great Dad
While pregnant, she thought that her husband would be a great role model for their son because he is very loving, smart and genuine person who is full of strength and has a great heart too. She also assumed that he would be a very active dad who cares a lot about his son. (We think her assumptions were true as he is often seen taking care of their kid in her social media posts)
In an interview, Pratt said that he wants his son to pursue his passion as he himself wasn't able to try as many things he would have liked to try when he was younger.
We think having a great partner also helps Heidi to stay happy and strong, won't you agree?
Featured Image by Heidi Montag / Instagram