6 feet 1 in, handsome and dashing British star Henry Cavill, having the most spectacular body certainly deserves to be called "Man of Steel."
Popular for his role in Superman, Henry reveals the secrets behind his shirtless scenes. Despite not appreciating, the idea of sacrificing food while keeping his health at stake, Henry himself starved once for giving shirtless shoots. He justify himself by saying, it was just for once.
Henry and "The Process of Self-Discovery" Under the Guidance of Mark Twight
Mark Twight, owner of Gym Jones in Salt Lake City, his personal trainer has all the words of praise for this daunting hero. Trained by Twight for his roles in 300, Superman, and Man of the steel, Henry went through vigorous training, just like a soldier. It's certainly not possible for everyone to endure such brutal series of trainings for the sake of roles in the movies but Henry did it with his iron will.
Henry Cavill's Transformation
This young and heroic hero was not much in shape in his younger childhood days. In fact, he used to be very bulky and girls often teased him for his weight.
His journey to shedding weight and sculpting his body started in 2002 with his movie, The Count of Monte Cristo. He dropped one and half stone or 21 lbs for his role in the movie.
Henry doesn't forget to mention the great contribution of his trainer Mark Twight, who is responsible for making the transformation feasible to him. He considers meeting Twight as the turning point of his life. Pleased with his trainer, Henry calls him an incredible man. He describes Twight as a wonderful human being, who understands human psyche and guides them accordingly.
Henry and the National Guard
Highly impressed with his workout regime, the National Guard invited him for a series of videos and promotional ads. To set perfect example in front of the new recruits, Henry put all his strength and endeavored to reach the highest of his limits before the shoot.
National Guard's videos named "soldier of steel" accessible on "SoldierofSteel.com" have showcased both Henry and Twight doing hard exercises and sharing the stories of self-discovery through the videos. The videos are meant to motivate people to come out of their comfort zone and start discovering themselves.
In the videos, Henry can be seen taking harsh training in his shirtless body and inspiring people to experiment themselves beyond their limits. Your body is far more capable of accepting challenges than you think it is.
Henry Cavill Diet Plan
Since Henry practices grueling and hard exercises for numerous hours in a day, his body requires 5000 calories to provide his body strength and stamina. The stud begins his breakfast with protein shake, which is a blend of banana, gram berries, protein powder, and almond milk. Apart from three regular meals, Henry's diet consists of three small meals, which includes green apple, almond butter, hummus with carrots, and other high calorie snacks.
In lunch, he prefers having vegetable soup, and chopped turkey combined with salad, and his diet for dinner includes chicken breast along-with honey chili sauce, snap peas, and quinoa. While preparing himself for his role in Man of Steel, Twight's instructions to Henry were to augment his calorie intake. Yogurt, coconut milk, heavy cream, and others are some of the contributory foods responsible for enhancing the number of calories in his body. Apart from that, he included food supplements such as multivitamins and other vital nutrients in his diet.
Henry Cavill Workout for "Man of Steel"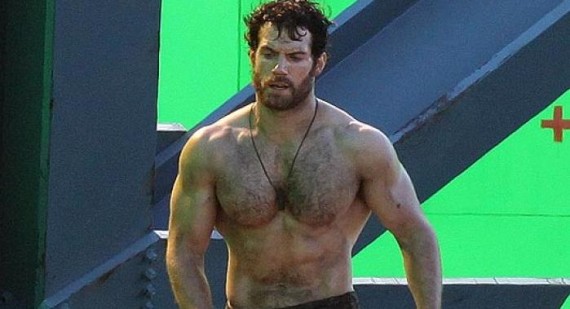 To render his iconic performance in the movie, Man of Steel, the superman went through intense training once again. His appearance in the movie is the outcome of five months of cumbersome workouts done in harmony with diets directed by Twight.
Cardio workout, weightlifting training, martial arts training, boxing workouts had been the parts of grueling exercises he took to prepare himself for his character in Man of steel. Under the guidance and supervision of Twight, Henry's training was allocated in two parts namely tailpipe and tailpipe recovery. Tailpipe includes 100 rep routine, targeted to scorch calories from his body. The workout exhausts his body completely.
And then Tailpipe Recovery is practiced for recovering the exhausted body by taking eight long and deep breaths. Both these training routines are complementary to each other.