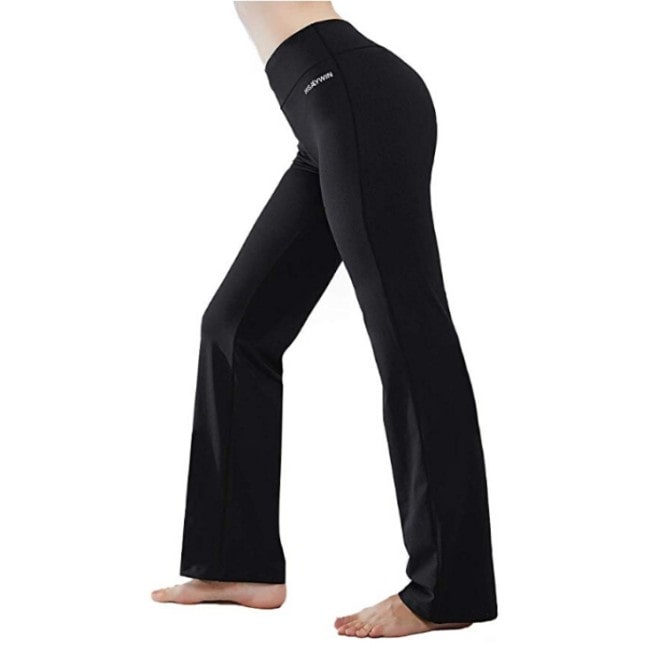 Yoga is a popular way of staying fit and healthy. Many people are now preferring doing yoga due to the benefits it offers. Yoga can improve your posture, flexibility, and balance besides helping you to lose weight and stay in shape. The good thing about yoga is that you don't need to go to the gym for it. You can also do it inside your house anytime. Unlike other forms of exercise, no equipment is required to do yoga. All you need is a good yoga pant. As yoga requires lots of difficult movements like stretching and bending, you need to buy a high-quality yoga pant to do all the poses perfectly.
When buying yoga pants, you should consider several things. You will find many pants that are fashionable and functional. So, you should go for those. The pant should allow easy movement as flexibility is required in yoga classes. It should be of the perfect fit so that it sticks to your body without causing any skin irritation. The pant must be breathable as well. Considering all these factors, we have picked up the Hiskywin Yoga Pant for review. Let's look into the various features of this pant and find out why it is one of the best yoga pants in the market.
Design
It is a very fashionable yoga pant. You can find it in more than 10 different colors, including black, blue, gray, red, and other colors. It is stitched with contrasting color flatlock thread which makes the pant looks stylish. Most of the yoga pants that you find in the market are of leggings-style. Some people may not feel comfortable wearing those skin-tight yoga pants.
The Hiskywin yoga pant is loosely shaped and has a wider bottom. So, it more or less looks like a formal pant but more comfortable. It has a high-rise waist which gives your full cover and ensures that no skin is showing during yoga classes. These bootleg flare pants are not only comfortable for doing yoga but also great for running. The gusseted crotch design gives better freedom. It has a small hidden pocket where you can keep your keys, cellphone, and bank cards safely. The pant is not see-through, so you can do yoga with confidence. You can get these pants in various sizes, so women of any height and weight can wear it.
Build Quality
This yoga pant is made of a blend of polyester and spandex. The heather dark gray pant has some cotton material as well. The fabrics wick away moisture and keep you dry and cool even after an intense workout session. The fabric feels soft to the skin, so you can wear it for a longer time. The flatlock seams feel comfortable and reduce rubbing and chafing. The pant is 4-way stretchable, so gives you lots of freedom in terms of movement.
Size
You can find these pants in different sizes from small to XXL. You should buy the pant according to your waist size; however, it is recommended that you buy a size up so that it fits you comfortably. The pant will fit you well if you buy them of the right size.
Comfort
This pant is designed to provide greater movement during yoga sessions. You will be able to do any pose comfortably as the material is stretchy and allows freedom of movement. The fabric is soft and feels good on the skin.
Ease of Use
It is very easy to put on the pant due to the elastic waistband. It takes very little time to get ready for a yoga class. You can wash it easily with soap and cold water and maintain it in good condition all the time. The pant can withstand any abuse and will last for many years.
Effectiveness
These yoga pants are very effective in improving your performance at the yoga classes. You can stretch and bend your legs comfortably wearing these pants. As the pant is breathable, you won't feel uncomfortable due to sweat. The best part of this yoga pant is that you can use it for running and other exercises as well. After finishing your yoga class, you can wash it off with cold water and soap. The yoga pants are super comfortable and you can wear them both indoors and outdoors.
Pros
It is a stylish pant and it will make you feel extremely fashionable.

You can get it in multiple colors and sizes.

It is made from a blend of polyester and spandex which makes it soft and durable.

The fabric is stretchy, allowing for more freedom during yoga classes.
It is breathable and moisture-wicking, so it won't sweat and will keep you dry.
You can wear it for other activities like running as well.
There is a mini hidden pocket where you can keep your keys, cellphone, and other important accessories.
You can wash it easily using cold water and soap.
The wider bottom and loose-fitting makes it comfortable to wear.
It provides full-body coverage.
It is affordable.
Cons
Some users don't feel comfortable wearing the pant due to its loose shape.

The pant is of small fit, so you need to buy one size larger.
Final Verdict
These pants are a perfect combination of style, performance, and function. It is a great choice for yoga and other exercises. As it is long and has a slight flare at cuffs, it makes a leg-lengthening silhouette, thus providing a stylish and elegant look. It is made of top-quality materials which makes it durable and soft. The design of the pant is unique and you will enjoy your yoga session by wearing these pants. It is long and has a nice shape which will make you look very attractive. It is affordable compared to the other yoga pants in the market and so it will be a great investment if you buy these yoga pants for your yoga classes and other exercise sessions.