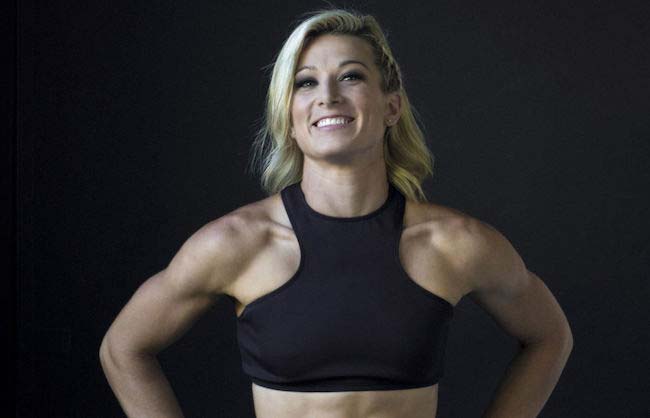 The obstacles in American Ninja Warrior appear unconquerable as several conditioned athletes fall during different stages of the reality show. They look unbeatable until someone with laser sharp focus comes and nails them. The popularity of the show springs from the element of unpredictability. It takes all the grit and determination the participants can gather to dominate the course apart from being in prime physical condition.
The show that celebrates Elite Fitness
As one of the executive producers of the show puts it, no matter how good or experienced an athlete you are if your head is not in the right place, on any given day you can fall. Now that's humbling!
A franchise of the world famous Japanese obstacle course, Sasuke, the show requires the participants to get past a series of obstacles without falling through different stages in increasing order of difficulty until they make it to the top of Mount Midoriyama; a 75-foot rope climb meant to be made within 30 seconds! It's been over 8 years since the show first started and only two athletes in season 7 managed to complete the entire course. Every season, there are new twists. Veterans often exit early and rookies sometimes go unexpectedly far.
Primarily a male-dominated reality show, you don't see many women participants in it. Those who do participate usually get eliminated by the first 2-3 obstacles. Women are not particularly known to focus on upper body or grip strength and the men who have gone far in this reality show have an elaborate athletic background further supported by year around training with an intention to compete in every season of the American Ninja Warrior.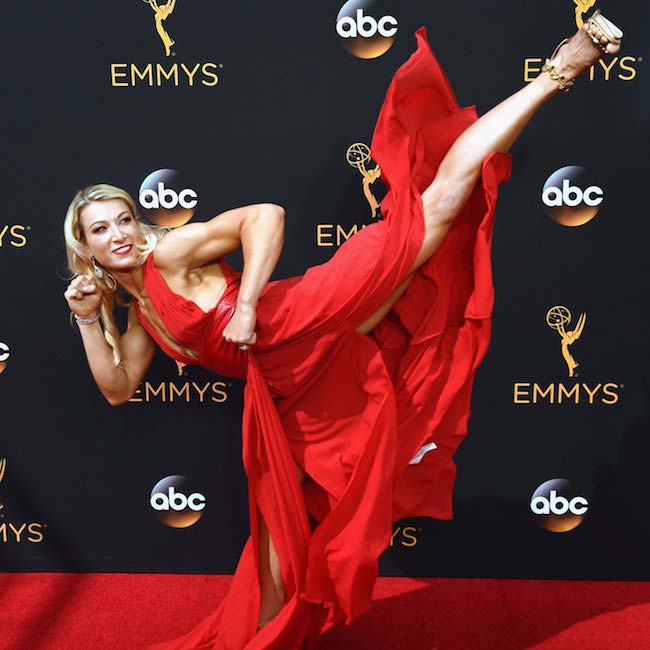 The Woman who Broke the Glass Ceiling for Other Women
Jessie Graff came and stunned everybody with her performance in 2016 by timing every move to perfection. Though she participated in prior seasons and could not quite nail all the obstacles which included the 14-foot warped wall, she was a force to reckon with in Season 8 (2016).
Her grip gave in at the second last obstacle in LA qualifying final, but she still made it far enough to attempt stage 1 in the national finals becoming the first woman ever to complete it. For now, Jessie is also the only woman in the world who has managed to beat stage 1 designed by the Sasuke franchise.
Watch her impressive run below in a costume inspired by Green Lantern.
Who is Jessie Graff?
No, she is not related to Steffi Graf, but her athletic prowess is not any less extraordinary. She eagerly took to circus gymnastics at the age of 6. By 12, she was a trapeze artist. A pole-vaulter in high school, her initial plan was to make it to the Olympics. Despite being a record holder at her university, her performance was not good enough to qualify for the Olympics. From there on, she shifted her focus to finding a break in Hollywood. She faced dead ends as far as acting gigs were concerned, but an agent noticed her track and field accomplishments to redirect her towards finding stunt work.
The knowledge Jessie has gained from a college degree in aerospace engineering and subsequent training in Taekwondo, Kung Fu and other martial arts is all directed at being a better stunt woman. At the age of 12, Jessie wanted to be a superhero. At the age of 32, she is living her childhood dream!
Movie Credits
Jessie was a part of high profile movie projects such as The Dark Knight (2008), Transformers: Revenge of the Fallen (2009), G.I Joe: The Rise of the Cobra (2009), Knight and Day (2010), Bridesmaids (2011), X-Men First Class (2011), Ted 2 (2015) apart from offering behind the scenes assistance on popular TV shows. Her most recent work on prime time TV projects includes Supergirl and Agents of S.H.I.E.L.D.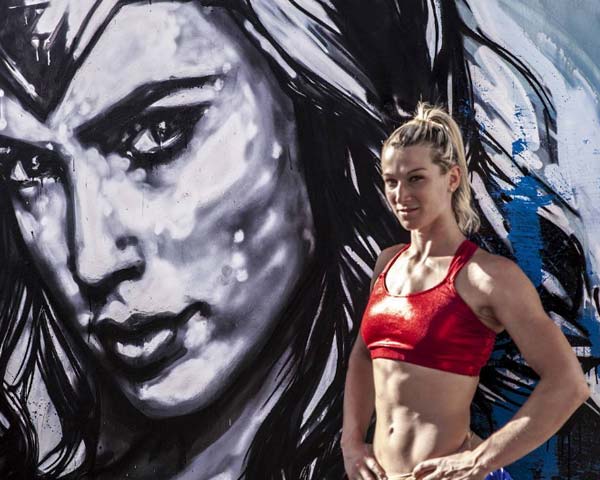 The Attitude takes to become Physically Superhuman
What looks superhuman is merely a grip on a range of different skills and a basic understanding of biomechanics to develop a plan of action that will culminate in a stellar performance. The following traits helped Jessie do all she is capable of doing today.
Adaptability – Jessie claims her biggest strength is having the interest to constantly try out different activities. Last minute changes and uncertainty in fight choreography of her stunt work has given her the instincts to time her movements correctly to overcome different obstacles.
Resilience – Despite her keen understanding of the obstacle course, Jessie found herself lacking in enough grip strength, pull-ups, and explosive leg power to make it far in the competition. She explains every person is likely to have their own individual weaknesses and it is important to strengthen those elements in the gym apart from practicing the general skills in preparation of an intense physical competition.
Balance – Rest and strength training are extremely important to keep the body safe from injury. They are also the most boring aspects of any training. After ACL, MCL and meniscus tear in her knee; training for injury prevention is Jessie's top priority. The more muscle one works on gaining, stronger becomes the body's armor to protect your joints provided the muscles are not constantly overused to failure.
Jessie's Top Tip to Retain Long-Term Motivation
Try out a new activity (an exercise class or a sport) after every couple of weeks of dedicated strength and conditioning routine. She highly recommends aerial yoga to improve spatial awareness.
Jessie's Main Cautionary Counsel
Don't get too excited to try too much too soon. This is one advice that she herself struggles to follow. Getting stronger is a painfully slow process and impatience can sometimes make you forget your body's limits. It took 2 years for Jessie to progress from doing mere 3 pull-ups to doing 30 in a row!
Workout and Training Approach
Seeing the success of rock climbers in nailing the difficult obstacle course, Jessie asked for fellow ninja, Dr. Noah Kaufman's assistance to help build her upper body strength. Surprised to realize that her body was incapable of moving up even the most elementary rock climbing structures, she started devoting special attention towards an intense 'pull' routine.
Greater Focus on Back, Biceps, Forearm and Grip Strength
Instead of training back and biceps once a week, she started training them after every 3 days till failure. Relying less on machines in the gym, pull-ups became her primary training move. She usually performs a tri-set of shoulder width (overhand grip) pull-ups, followed by wide-grip pull-ups finished off with chin-ups and takes a 2-minute rest between each tri-set. Jessie aims for as many repetitions as her body can manage till she feels her muscles quivering and at the verge of giving up.
Back training is followed by performing dead hang variations and ends with a bicep burn-out circuit. She exhausts her guns from all possible angles switching grips between pronated (reverse bicep curls), supinated (standard bicep curls) and neutral (hammer curls) finished off with preacher curls for greater isolation of the biceps.
There is more than one way to hang
Hanging from a bar is all you need to build iron-strong grip strength. Jessie recommends hanging one arm at a time. When that gets easy, attempt pull-ups holding on to towels vertically hanging from the bars. To amplify the strength in her fingers, Jessie also uses the Beastmaker fingerboard and follows the workouts that come along with it.
Beastmaker fingerboard is a popular prop used by rock climbers to improve the strength in their hands and hence reform their climbing skills. The following video demonstrates a typical dead hang workout performed on it.
Jessie's top training move to nail the warped wall:
Sprinting up the stairs.
Favorite exercise for agility and balance: Speed–skaters
Jessie Graff Diet
Jessie's day starts with a hot cup of latte prepared using flavored coffee beans that also works as her pre-workout. She uses a scoop of chocolate or vanilla whey protein as a substitute for milk or creamer.
Post-workout breakfast is usually a wholesome serving of scrambled eggs cooked with onions, spinach, and broccoli.
For lunch, Jessie usually eats a kale salad. She often uses Greek yogurt as a salad dressing sprinkled with blueberries and cranberries to make the salad more satiable.
The physical intensity of Jessie's routine makes it impossible for her to enjoy a hearty meal during the day. It makes sense to ensure that dinner becomes the heaviest meal of her day so that all the extra, nutritious calories can help Jessie's body recover from the ravages of her stunt work while she sleeps.
So, dinner contains a serving of green vegetables alongside chicken or steak and a portion of any grain.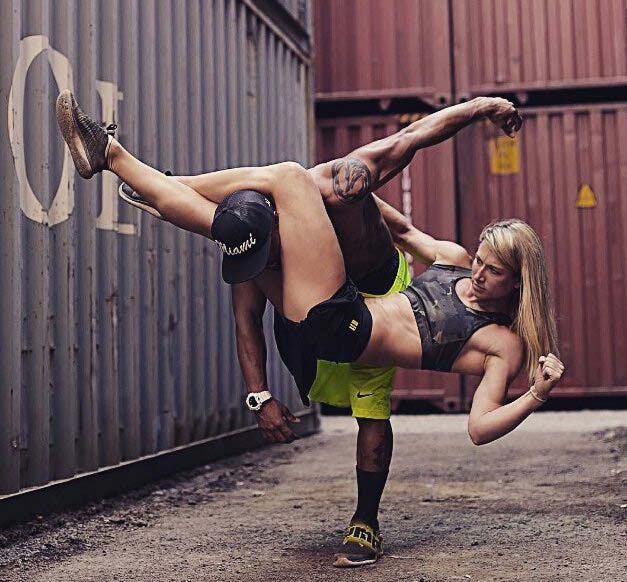 Jessie's favorite snack in between meals: YUP protein bars
Favorite Dessert: Greek Yogurt with a generous smattering of dark chocolate chips.
Jessie's typical on-set meal while competing in the American Ninja Warrior: A turkey-spinach-tomato-avocado sandwich supplemented with a couple of protein bars and coffee prepared using dark chocolate espresso beans.