Hustle and grind is what Michael B. Jordan strongly believes in. He wants people to see him as the go-getter, he likes to identify himself as. Behind his every suave, dignified public presence, lies years of work experience that began at the tender age of 12 with brief, one-episode appearances in sitcoms like Cosby and The Sopranos.
What casually started with modeling for sporting goods and a toys brand led Michael right into the thick of the acting profession. However, a chance introduction to facing the camera did not immediately convert into a barrage of plum projects coming Jordan's way. He still had to put in the struggle to earn the life he is living right now.
Everything worth having in life needs time and commitment
At 14, Jordan got a part in a Keanu Reeves movie, Hardball, followed by a key role in HBO's season one of The Wire. The character played by Michael had everyone sit up and take notice, but he still had to persevere for more work. He put in three years of work in a daily soap increasingly convinced that he would never like to revisit that genre as an actor.
Once relocated to Los Angeles, Michael fought for the smallest appearances in all the leading prime time drama series such as CSI, Cold Case, Lie to Me, Without a Trace, Law & Order, Burn Notice and House.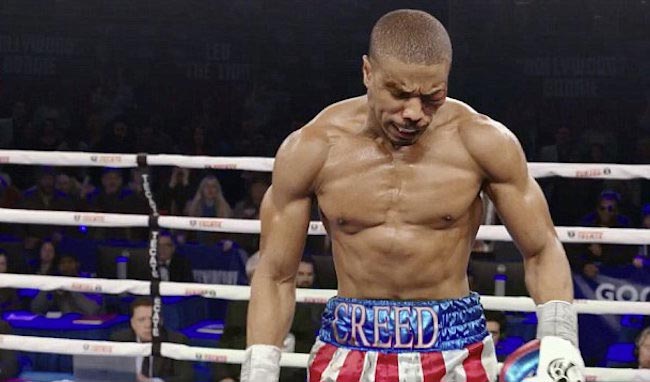 He broke new ground, playing a quarterback Vince Howard in NBC drama, Friday Night Lights and earned a recurring role in Parenthood, a family drama featured on the same channel.
Michael's first major success accompanied with critical acclaim finally came with the lead role of Oscar Grant in Fruitvale Station (2013). Earlier in 2015, he played Johnny Storm / The Human Torch in Fantastic Four reboot. With Creed, Michael B Jordan's character is all set to provide a new dimension to the storyline of the famous Rocky franchise. He will play Apollo Creed's son Adonis Creed with Sylvester Stallone playing mentor both on and off screen.
Staying steady is not good enough, raise your game as often as you can
Determination does not last long with a weak sense of conviction and it takes a lot of determination to fight both criticism and competition. Michael B Jordan keeps his fighting spirit up by taking the time to reflect upon his every career-defining move, mentally prepared for every decision that might backfire. Not wanting to play the stereotypical roles of a black actor playing a gangster or drug dealer, he goes out of his way to search for thought provoking content.
When cast as Johnny Storm / The Human Torch, Jordan had to face a lot of Internet hate since the character does not belong to a black male as per the Fantastic Four comic books. However, Michael did not let that bother him. He continues to play his film roles to the best of his ability and invests plenty of energy in his production company where his focus is to make engaging cartoons as well.
Whether it is career success or a shredded, fit body, both are a natural outcome of long-term healthy habits
Michael often reiterates that an actor has to hear a 'no' several times before hearing a 'yes'. Similarly, a transformation into looking like a top-notch boxer will have its share of misses before hitting upon what truly works.
While trying to get lean for the role of Johnny Storm like most people, Michael initially had the instinct to cut back on his usual meals to get lean. He confessed that starving himself only went on to make his body look 'soft.' The following were the main principles he used to get buff yet supremely cut for Creed.
Feed your body frequently and strategically, with high quality food
Michael reserves carbohydrate heavy meals for the first half of the day and limits carb intake past 1 pm. His typical meal plan goes as follows:
AM: GRITS, 4 eggs, turkey sausage
2-3 hours later: grilled chicken, broccoli, asparagus, brown rice
Mid-Afternoon: Tilapia, steamed veggies
Pre-Dinner: Shake
Dinner: Steak
Evening: Shake
Jordan trains all parts of his body and does not skip leg day. Sometimes, he ends up pushing 900 pounds on the leg press machine alone!
When in doubt, revisit the fundamentals and make them harder
To elaborate, rather than simply performing alternate sets of pushups and sit-ups in your living room, Jordan suggests performing the push-ups clockwise and then counter clockwise in pyramid sets of 12, 11, 10, … , 1 followed by 25-30 sit ups after every set. A video demonstration of clock pushups is available below.
Observe the champions to start functioning like one
Finally, Jordan's preparation would have been incomplete without studying the form of fighters who make more than a sound living off boxing. Michael particularly followed the likes of Floyd "Money" Mayweather and Amir Khan. True to boxing convention, running and jumping rope were his go-to forms of high intensity cardio for conditioning.