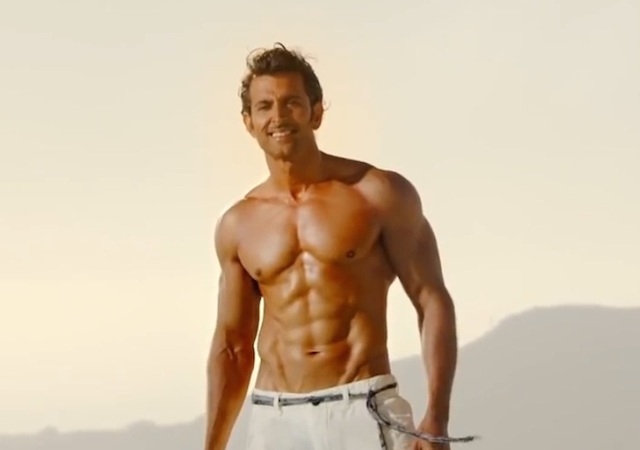 The handsome hunk of Bollywood, Hrithik Roshan is not only credited with charismatic look but also chiseled physique. With his spectacular looks, he undeniably can make any girl in the world fall for him. His recent appearance in the movie "Bang Bang" in which he is in spectacular cut shape, totally imprisons our eyes. "Rome wasn't built in a day," so was the lean and muscular physique of the actor. Based on his fitness objectives, Hrithik was supposed to attain desired results in twelve weeks but with his sheer efforts and perseverance, he acquired the goal in mere ten weeks. Let's have a sneak peek at the workout and diet secrets of dazzling star which are accountable for his captivating stud look in the movie.
Six Small Meals in a Day
Hrithik Roshan being a big foodie doesn't appreciate compromising with his love for foods to acquire ripped physique. He has sweet tooth which has him eat numerous sweet foods such as chocolates, ice cream, sweets etc. Hrithik has reserved one cheat day in a week to relinquish his cravings for junk and other fast foods. To groom his body for the movie "Bang Bang," the actor hired nutrition expert, Marika Johansson, who recommended him to switch three square meals with six small meals in a day.
She also incorporated nutrient laden foods such as healthy meatballs, whey protein, fish, egg whites, and protein muffins in his diet so as to render adequate nutrition to his worked out body. Aside from them also, he consumed bountiful nutrient dense foods in his diet. Best part of Hrithik's diet regime is that despite being opulent in nutrients, it is neither devoid of taste nor variety. The actor is so overwhelmed with his diet routine that he seldom feels tempted to switch back to his old eating habits.
Gym Workouts
The dashing actor hired a fitness instructor with a well defined vision in his mind which was to perk up his flexibility, strength, endurance, stamina and attain an athletic body. He executed strenuous workouts under the supervision of Kris Gethin. His workouts in particular were intense when he had to get ready for shootings. While working out twice in a day, he devoted four days for exercises. His workouts which are a perfect blend of cardio workouts and circuit training began with one hour of cardio workouts, around 500 crunches in the morning, and strength training in the evening. While devoting time on specific body parts, he executed workouts for one to one and half hours in a day. In the beginning, his fitness instructor targeted on enhancing the intensity of weights, but afterwards, he escalated the number of reps with same weights which helped him grow the number of lean muscles. His sample workout regime in the evening is a follows.
Day 1 – Biceps and Triceps
2-5 sets of each exercise with 8-15 reps
Straight Arm Dumbbell Pullover
Cable Lying Triceps Extension
Standing Dumbbells Triceps Extension
Concentrated Curls
Straight Arm Pulldown
Day 2 – Chest and Back
2-5 sets of each exercise with 8-15 reps
Dumbbell Bench Press and Hand Cable Pull
Declined Dumbbell Fly and Bent over Barbell
Inclined Dumbbell Fly and Lying T-bar Row
Day 3 – Shoulders
2-5 sets of each exercise with 8-15 reps
Front Raise
Side Lateral Raise
Military Press
Reverse Fly
Day 4 – Legs
2-5 sets of each exercise with 8-15 reps
Extensions Lying
Leg Curls
Leg Press
Weighted Squats
Workouts with Proper Technique
Having gotten injured his knees, elbows, backbone, shoulder, and head, Hrithik takes special care that he executes the workouts with proper technique. He warms up his body by executing myriad workouts such as lunges, walking smith machine squats, single-legged squats with stool. Warm up provides relaxation to his joints and thus cuts his chances to being injured. Since workouts needs to be done step by step, you only invite troubles for you if you miss the most vital step, i.e. warming up. You are likely to get rewarding results from workouts only when you abide by correct technique and process. He also performs some yoga postures which support his back muscles and render it flexibility.
Workouts with Right Attitude
Unlike most of the celebs who perform exercises just to shed weight and render definition to their muscles, Hrithik works out with rather more significant objectives. He uses workouts as a weapon to eliminate stress and acquire hale body with sound mind. And if we talk about chiseled and molded body of the actor, it can aptly be seen as one of the side effects of the workouts.
Age is Not a Barrier
Hrithik has already hit forty but from his physique and looks, he certainly looks one decade younger to his age. The actor who has been performing workouts since long didn't face much difficulty in extending the number of muscles. If you switch to workouts in your early twenties, your body develops muscle memory which trims down your efforts with aging. With aging, your body needs extra care and workouts to revitalize both your body and mind, so instead of avoiding, shake hands with them.